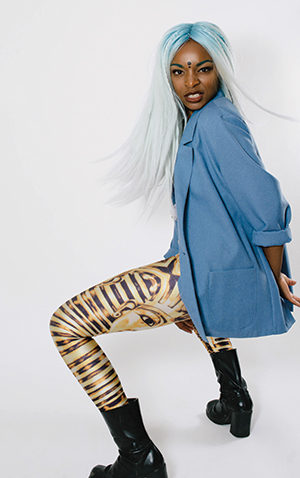 Photographer: Joelle Blanchard
Musician
How you would describe your style: I'm an old soul, as they say, so some things I wear are old lady-ish and sensual, but I also have an innocent side that comes out in my styling. Sometimes I feel like a 7-year-old whose mother told her she can wear what she wants for the day.
The part of your style you're known for: I switch up my style so much I don›t really think I have a signature look. That being said, my hair changes constantly and that influences what I decide to wear most times.
The piece of clothing or accessory you couldn't live without: Necklaces. I have a pronounced collarbone and broad shoulders, and I feel like they don't always work well with what I'm wearing. But the moment I put on a necklace, it changes my whole perspective. I love a good necklace.
Your style icons: Eartha Kitt, Naomi Campbell and Rhianna.
Any fashion regrets? In high school I used to wear tank tops over T-shirts. Not as cute as it sounds.
Where do you shop locally? Thrift! That's all I do—Salvation Army, DAV, Animal Lifeline, random shops. Every piece I've found has a story and a past, which makes me appreciate it more.
Passions: Music is my life. I have been fortunate enough to create music and art with the love of my life, Steven Bergeron. We formed Ancient Posse and had our debut show in August. Our music is mainly electronic rhythm and blues. I'm also a big food lover and love creating different ways to enjoy food. I'm currently working on a bunch of vegan recipes; my vegan mac-and-cheese is getting better and better.
Favorite thing to do in Des Moines: Listen to the trains and drive down east MLK on lonely nights, bumping my current tunes.