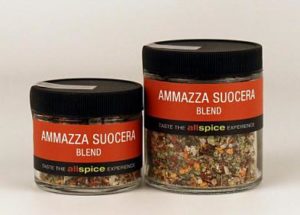 With her "Cooking with Alessandra" courses, Alessandra Meschini has brought cooks into her cocina kitchen at 333 E. Grand Ave. since 2010. Now, cooks can bring a little of Alessandra into their own kitchens.
Meschini teamed with Rory Brown at Allspice Culinarium in the East Village to package Ammazza Suocera, a robust and aromatic Italian herb-spice blend. The name literally means "kill the mother-in-law." Meschini is quick to explain that it's meant as a good-natured joke and a nod to the blend's heat level.
"The blend is a typical seasoning in south-central Italy," says Meschini, adding that the region produces other "mother-in-law" spice blends. Another one, for instance, translates as "make the mother-in-law sleep;" it's a blend of soothing sweet spices that hopefully will make the mother-in-law doze off when a young couple wants to be alone.
Ammazza Suocera blends sea salt, garlic, crushed cayenne pepper, parsley, basil, Mediterranean oregano and marjoram. Meschini says she uses it "everywhere" — on focaccia as well as in meatballs, sauces and in recipes such as chicken cacciatore.
Since buying this blend, I've found myself using it often, especially in pasta tosses as well as on eggs and vegetables. Not only does the blend add a zip of flavor, but it's eye-catching as well. It adds a finishing touch of both color and texture to a dish.
Find Ammazza Suocera at Allspice (400 E. Locust St.; 515-868-0808) for $3.45 (1/4 cup) or $5.50 (1/2 cup). Find out about Meschini's "Cooking with Alessandra" classes at cookingwithalessandra.com.
—Wini Moranville