Writer: Jane Schorer Meisner
The hottest trend in wedding planning may be spotting hot wedding trends.
Today's brides and grooms need only surf the internet to view thousands of wedding ideas, says Anthony Marinaro, owner of Out of Box Productions. When couples collect ideas that appeal to them, it helps them create a standout event that reflects their tastes and personalities.
"It's a question that we always ask in the initial meeting with a bride: 'What is your Pinterest link?' " Marinaro says.
Marinaro, Maya Boettcher, owner of Plum Event + Design, and Riley Mullane, director of operations at Unique Events of Des Moines and Cedar Rapids, identify five more trends that will make your wedding memorable.
---
Custom Creations
Today's brides and grooms don't mind tweaking tradition to create a one-of-a-kind wedding that reflects their interests. "Personalization is the bottom line of the events I help my clients create," Maya Boettcher says. "Couples really want to show people what they love and give their guests a taste of their version of a beautiful event."
Her clients Katie and Travis Sanderson, now of Ames, were married in May. Their theme: good food with a city vibe. Kate Spade was the inspiration for the bride's choice of bright spring colors incorporated with black and white stripes to create a crisp look.
"The venue was the Fitch building in downtown Des Moines, known for its art studios, exposed brick walls and contemporary style," Katie says. "Maya created an upscale loft feel."
Liz Bandstra Olson and Devin Olson of Pella achieved a unique design for their June wedding at Sticks on Southwest 61st Street by focusing on all things sleek and modern, says mother-of-the-bride Lori Bandstra. Contemporary retailer West Elm was their inspiration for a wedding atmosphere that allowed guests to mingle.
"Liz and Devin had a sitting area with a peacock-colored velvet sofa, two patterned chairs, a tripod lamp and a rustic wood-and-glass table, all on top of a patterned rug," Bandstra says. "This was such a nice area to sit and relax."
---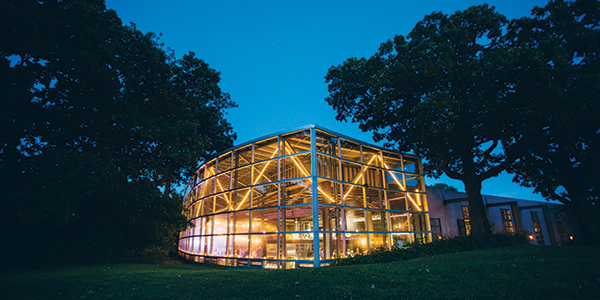 Sparkle and Shine
One word: lighting.
"Lighting is everything. In the right space, a lighting package can become all the decor you need beyond a lovely linen and great chair," Maya Boettcher says. "Candlelight and string lights are beautiful in evening photos."
"Countless couples spend hundreds, if not thousands, of dollars on centerpieces, cakes and dessert tables without even thinking about how they will look inside their reception space," Riley Mullane says. But by simply implementing lighting techniques, he adds, they can enhance their event's focal points.
Mullane has used pin spot lighting—a focused beam of light that shines directly onto an object, like a centerpiece or wedding cake. "To get the most lighting impact on an object, it needs to be lit from above," he says.
Mullane prefers "super bright" LED pin spot lighting that is wireless and magnetic so it can be attached from the ceiling, allowing guests to walk around the focal point without casting shadows on it.
Anthony Marinaro helped Ankeny native Morgan Temple and her groom, Travis, implement lighting ideas they collected from Pinterest. They used lighting on tables, one entire wall and all the window sills at their August wedding reception at Sticks.
"We wanted the space to feel cozy and welcome, and the lights stringing across really made the room feel more personal and intimate," Morgan says.
---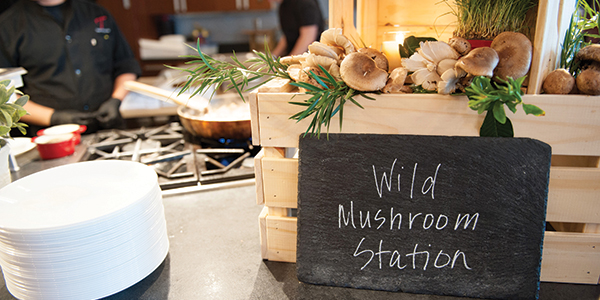 Fun Food
Many couples are trading formal dining room settings for the freedom of a cocktail-style reception. Later, they'll treat guests to a late-night snack.
"Late-night snacks used to be unique, but now they have become almost compulsory," says Anthony Marinaro, who arranged state fair-themed snacks—"corn dogs and things on sticks"—for an August wedding.
"Also, food trucks are a fun trend," he says. "If your venue allows it, you park a food truck outside."
Maya Boettcher helped Katie and Travis Sanderson deliver a creative menu at their wedding reception.
"We love food, and we love to travel," Katie says. "We wanted to share with our guests the culinary experiences that we've had."
Emily Gross at Taste to Go! and her team created food stations so the Sandersons' guests could be free to move around and mingle while tasting food options such as wild mushrooms, yellow vegetable curry with rice served in take-out boxes, South American-inspired small plates and—instead of a traditional wedding cake—flaming doughnuts.
---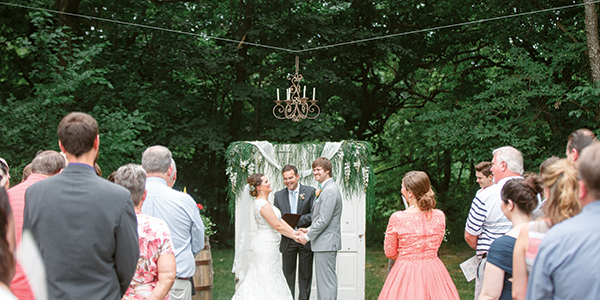 Favor From a Friend
Inviting a close friend or relative to officiate is a meaningful gesture for a growing number of couples Anthony Marinaro serves. "I would say the percentage is getting higher every year," he says.
Adults can be ordained by registering through websites such as Universal Life Church. The state of Iowa recognizes ministers who have been ordained free of charge through the non-denominational site, Marinaro says.
For their June wedding, Rumor and Oliver Leach asked Rumor's uncle, Kerry Thompson, to officiate. "We decided to have my uncle officiate because we wanted someone close to us to be a part of such a special day," Rumor says. "We also knew it would make us feel more comfortable and at ease. We loved having a loved one rather than a stranger marry us."
---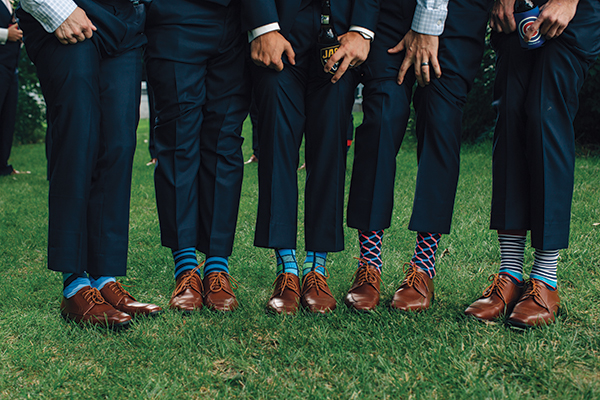 Attire With Attitude
The tradition of dressing all bridesmaids in one style of gown—or groomsmen in one style of suit—is eroding, Maya Boettcher says.
"Finding different dresses or suits that work for everyone can be tricky," she says. "But, if executed well, varying attire is my favorite look. I've seen floral prints, stripes, skirts and shirts or jumpsuits as options lately. I think it's a great way for couples to show off their fashion sense."
Morgan Temple's bridesmaids wore identical short blush-pink dresses from J Crew. But the men wore varied types of attire.
"The groom wore a full navy suit with ivory shirt and tie," Boettcher says. "The groomsmen wore just the navy vest with ivory shirt and blush tie, and the ushers just wore navy pants with light blue checkered shirts and navy ties."