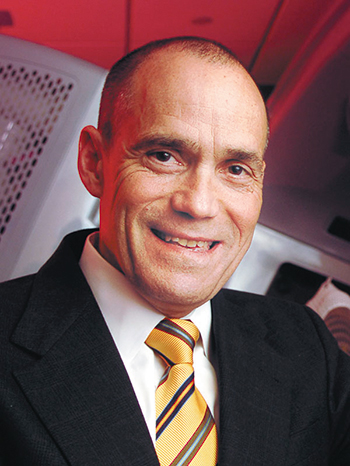 Written by Meghan Malloy
Richard Deming, M.D.
Giving hope to cancer patients and survivors
Dr. Richard Deming's work doesn't end when he leaves the Mercy Cancer Clinic at night.
"Being a cancer doctor means I can't compartmentalize my life, like, this is my job that I get paid for and then my personal life," the 57-year-old oncologist says. "Giving back to the community is a reflection of how deeply involved I get with my patients."
That involvement includes working with cancer survivors through the YMCA of Greater Des Moines, where he was honored as Volunteer of the Year in 2010. As volunteer medical director of the Y's Livestrong program, Deming leads educational programs and a spinning class for cancer survivors—including those still undergoing treatment—at the Y's Healthy Living Center in Clive.
Vernon Delpesce, president and CEO of the YMCA of Greater Des Moines, says Des Moines' Livestrong program is the largest in the country, something he largely attributes to Deming's volunteer work. "I'd say 600 to 700 survivors have gone through the program in the last two years," Delpesce says. "He has been absolutely instrumental in Livestrong's development."
Beyond the Y, Deming, medical director of the Mercy Cancer Center and the Cyberknife Radiosurgery Center of Iowa, also sits on the boards of directors at Mercy Medical Center, the Community Foundation of Greater Des Moines and the Iowa Advisory Council of the American Cancer Society (ACS), among other groups. In May, he was given a Quality of Life Award by the ACS.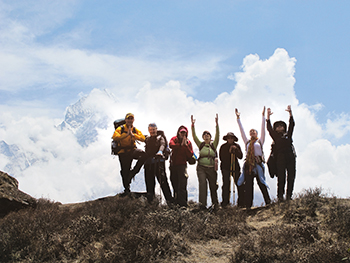 Deming, a South Dakota native, attended Creighton University School of Medicine in Omaha. After graduating first in his class in 1980, he joined the Navy and lived throughout the United States before joining the Mercy Cancer Center team in the early 1990s.
"Living in Iowa felt like I was returning to my roots," he says. "What started as a career has become a ministry, and what started as a community has become somewhere that I am deeply connected to."
This past April, Deming's commitment to serving cancer patients and survivors extended across the globe to Nepal. Deming and 14 cancer survivors—some just a month out of chemotherapy—climbed to the first base camp on Mount Everest. "It was an outpouring of thanksgiving, for the people and the circumstances that had brought us all there," he says.
At the base camp, they held their own "Relay for Life"—an annual national cancer awareness walk sponsored by the ACS—using homemade flags from cancer survivors and families of deceased cancer patients. The group walked the typical four laps, each lap having a significant meaning. The third lap is to remember people who lost their fight with cancer.
"I don't think any of us were ready for how emotional that ended up being," Deming says. "The inspiration these survivors gave me … it was a sign of how deep people could dig into themselves when they needed to."
---
Bruce Hughes, M.D.
Strengthening the arts
As a neurologist, Dr. Bruce Hughes recognizes the effects that the arts can have on the brain.
"People who engage in the arts are often happier, often healthier," he says.
The positive effects of the arts go beyond the brain, though, he adds. "The arts in general are really pivotal in nurturing the human soul," says Hughes, who practices at Mercy Ruan Neurology Clinic. "Our day-to-day lives can oftentimes be ordinary. The arts give us the chance to experience the extraordinary."
Hughes grew up in Orange County, Calif., where his mother, who taught Shakespeare, took him to plays, operas and symphonies throughout his younger years. "My father was a bit of a philistine in that regard, so I went," he says. Though Hughes doesn't play any instruments or sing, that early exposure to the arts was enough to hook him.
Following medical school at the University of Texas and residencies at the University of Nebraska and the University of Iowa, Hughes thought he would return to his native California, but he chose instead to join Mercy Ruan Neurology Clinic in 1995. Since then, he has made it a quest to ensure that local arts are as "readily accessible as they had been in Southern California," he says.
That quest has led the 45-year-old Hughes to immerse himself in Des Moines' rich arts and cultural scene. He helped establish and served as president of the board of the Iowa Shakespeare Experience; is on the committee of the Des Moines Art Center's annual gala this year, which will be held Sept. 24; and is president of Des Moines Metro Opera's (DMMO) board of directors.
"We have a world-class summer opera organization," Hughes says. "Consistently, Des Moines ranks up there with London, England, (and) Sydney (Australia). In fact, 40 percent of our patrons come from out of state."
"Dr. Hughes is tremendously enthusiastic about the sustainability of the opera," says Robert Larsen, DMMO's founder and artistic director emeritus. "He's selfless in his concerns about it. He is truly an opera aficionado."
Hughes' interest in Des Moines' artistic community is continually expanding. "I've not been much involved with dance, but I think a strong ballet company is important to any city," he says.
Hughes is also dedicated to sustaining Des Moines' arts community for future generations. "My focus is always on doubling my efforts however I can to retain financial stability for our opera, Shakespeare Experience, our symphony, our Art Center," he says. "I believe in a need for conservative effort to keep these secure and successful in Des Moines."
---
Jose Angel, M.D.
Serving the Latino community
Helping underserved populations has become second nature to Dr. Jose Angel. The Mercy Jordan Creek Internal Medicine Clinic internist spent six summers during his college years providing free medical care to people living in poverty in the Dominican Republic.
But over the years, Angel, now 50, also saw plenty of need at home. With Des Moines' growing Latino population, an increasing number of whom can't speak English, Angel, the son of Cuban immigrants, wanted to provide a place where that community could access health-care services easily and safely.
So he took out a personal loan and started La Clinica Medica in 2004. That first year, the East Side clinic served 600 people a month. By last year, it was serving 600 patients a week.
Overall, the clinic serves 2,500 families, says Angel, who moved to Des Moines after graduating from the University of Iowa's Carver College of Medicine and completing internships and a residency at the University of Nebraska College of Medicine. "The need for a place like Clinica will continue to grow. These families are young, they have young children, and will have more children than average."
The clinic offers general primary care services, including cardiology and pediatric specialties. If patients need more critical attention, the clinic has working agreements to send the individual to a hospital, "no questions asked," Angel says.
"What I have noticed is that when people have access to health care, they get the same quality of care as anyone else," he says. "But language and culture are the barriers when it comes to seeking health care. If you weren't born here, if you don't speak the language and if you don't have a doctor, you don't have access to health care."
Eva Eagle, a family nurse practitioner and co-owner of La Clinica, says patients visit the clinic from as far away as Cedar Rapids and Ottumwa. "Dr. Angel is very respected in the Latino community," Eagle says. "He took out a personal loan to start the clinic. Funding is well and good, but grants and loans can dry up after time. He felt it would've been worse to start services, only to have it go away later. The goal is for the clinic to be self-sustaining."
La Clinica Medica also offers a safe haven for undocumented people fearing repercussions from immigration authorities if they seek medical care, especially if they have a sick child.
"I am not (Immigration and Customs Enforcement); I'm a doctor," Angel says. "My job is to help people and provide care. The other issues are not my problem. We do not discriminate here, and our patients trust us."
Angel and three other physicians volunteer their time caring for patients at La Clinica when they aren't at their regular clinics. La Clinica also has three nurse practitioners.
Angel, a father of six who lives in Van Meter, hopes his children will continue the spirit of philanthropy passed on to him by his own parents years ago. "By serving others, you find yourself," he says.
---
Kendall Reed, D.O.
Helping the homeless
While in San Diego five years ago, Dr. Kendall Reed got an idea.
In that city, a truck, customized into a medical clinic on wheels, traveled to serve people who otherwise wouldn't be able to easily access basic medical attention.
"We said, 'We should do that here,'" Reed, dean of the College of Medicine at Des Moines University, said of the school's Homeless Outreach Club. "Some of our students were taking blankets, food and clothing out to the homeless population. We wanted to add a medical aspect."
Reed, a Texas native, applied for federal money to purchase a truck and have it customized to include two examination rooms. The truck arrived at the medical school last year.
The mobile clinic attends to Des Moines' homeless community twice a month, with doctors providing basic exams. Should a patient need more than basic care, the Homeless Outreach Program has a working relationship with Broadlawns Medical Center's family practice clinic.
As of press time, the plan was for the truck to be "on the road daily" this summer, Reed says, as Broadlawns extends its obstetrical care to women in the Ames area. Another nonprofit group, Proteus Inc., uses the mobile clinic to provide care to migrant workers, many of whom are financially unable to seek medical services or have no transportation to access those services.
"The homeless have the least access to care, especially because of the lack of transportation," Reed says. "Their access to basic medical care is the emergency room. With our mobile clinic, we are able to provide the care they need while keeping the emergency rooms open for patients with medical emergencies."
Homelessness doesn't strike a specific group or individual, Reed says. "Any one of us could find ourselves in that position, and really, this is a wonderful population of people to work for," he says.
"Dr. Reed is a visionary and a leader, not just here in Des Moines, but nationally," says Dr. Michael Flood, the outreach program's medical director. "What he has done with the mobile clinic unit has been a great service to the homeless population in this community."
Reed, 64, came to Des Moines in 1986 after medical school at Kansas City University of Medicine and Biosciences' College of Osteopathic Medicine, a residency in Texas, a fellowship in Minnesota and a stint in the military. In Des Moines, he had a private clinic until 2006, when he retired to focus on his position as dean. He and his wife, Marjean, have seven children and four grandchildren between the two of them.
"I want my kids, and my students, to understand that here in the United States, we have it pretty darn good," Reed says. "And as much as we complain about our health-care system, its expense and its inefficiencies, at the end of the day, we have it good. We also have a responsibility to be a part of fixing that system. Not one of us doesn't have that responsibility."
---
Lisa Menzies, M.D.
Serving children at home and abroad
As a child, Dr. Lisa Menzies knew she wanted to do two things when she grew up. "I was 8 when I said I wanted to go into medicine," she says. "And I wanted to go into the Peace Corps."
Though the Peace Corps didn't pan out, Menzies, a pediatrician at Blank Children's Hospital, has combined her passions for practicing medicine and for helping others by going on medical missions to Jamaica and Tanzania the last seven years. The trips are organized by the Issa Trust Foundation and Outreach Africa, respectively.
Every child has the right to health care," says the 47-year-old Menzies. "I see these trips as repaying my debt to the world. I have a lot of good in my life; there has to be someone to thank for that."
The missions to both locations offer the services of practitioners in several care specialties, including surgery, pediatrics and cardiology, to assist the local hospital.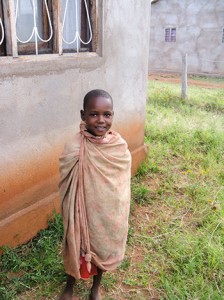 Menzies took her 13-year-old daughter, Amina, on the last trip to Singida (pronounced San-gee-DUH), Tanzania, last year. While the doctors offered basic medical and surgical care to village children, there was other work to be done. Amina fit each child with a pair of shoes, which is considered vital as shoes protect children from picking up parasites and becoming ill.
"I think (the trip) helped her realize how much we actually have here," says Menzies, a Canadian native who graduated from Rush Medical College in Chicago.
Menzies keeps photo journals of her mission trips. Leafing through the album pages of children with deformities, severe burns and loving smiles, she can recall a story about each child—some who could be helped, some who couldn't.
"There are certain things you just cannot fix," Menzies says of the village children with chronic conditions. "I could start a treatment, but who would be able to continue it after (our team) left?"
She will not go on the Tanzania trip this fall, but feels a twinge of wistfulness as she hears of team members making preparations. "They're addicting," Menzies says of the medical mission trips. "They bring a great feeling of fulfillment."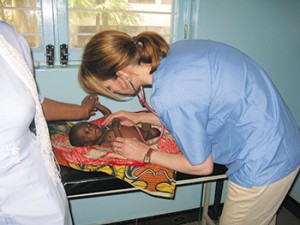 In Des Moines, Menzies' focus is on her special-needs patients, including those at Blank Pediatric Clinic, where she has practiced for 17 years, and children who live at ChildServe in Johnston. (Full disclosure: The son of this article's writer is one of Menzies' patients.)
"Dr. Menzies puts her whole heart into everything she does," says Dr. Peter Hetherington, a pediatrician at Blank. "She can't say no. Many times when she's not supposed to be in the clinic or supposed to be on call, she makes herself available to her patients and their families. That's reassuring."
The rewards of treating special-needs children outweigh the difficulties, Menzies says. "I have seen kids do things that people said they'd never be able to do," she says. "Each child is so special. They're miracles."