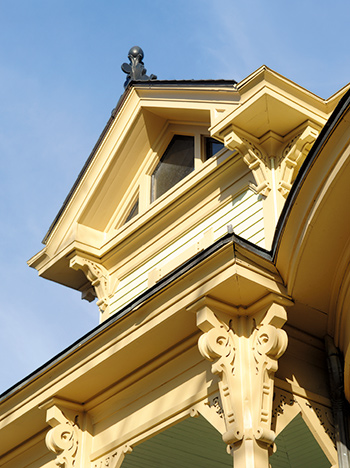 Written by Kelly Roberson
Photos by Duane Tinkey
From the outside, the home at the corner of 17th and Center streets looked as though it might be ill. Covered in sickly pink and green asbestos siding, by 1971 there was little left in the way of charm to the 1882 structure.
But Ralph Gross—a long-time local financial adviser who at that time was a graduate student—didn't see it that way. He saw past the rotted eaves and porch railings, the collapsing stairways and the caving roof. He believed in many things: in the potential of the home to reclaim its glory, in his ability to learn whatever it might take to help it along the way, and—buried under layers of paint and dilapidated roofs marking the houses on adjacent streets—in the neighborhood of Sherman Hill. His wife, Marty, came along for the ride, and the project would take them nearly 40 years.
When nearly complete, the couple decided to take their experiment one step further, seeing if an unexpected fusion of modern furniture and eclectic accents would work against a historical backdrop. It did, and today the home is a testament to Ralph's clear vision and the power of good design, no matter the century.
From the Outside In
Everything was possible, believed the young Gross couple when they bought the house for $6,000 and moved in. Once inside, they discovered the home—originally laid out in 15 rooms—had been divided into 10 rentals, each with an old-fashioned icebox and a little gas stove. "It was a complete disaster," says Marty, who worked with Ralph as a financial adviser and now is retired. "But when you're young, you look up, see gutters rotted out, and think, 'That won't take too long to fix.' "
Built for $10,000 and named the Maish House for its original owner, a prominent banker, the 4,264-square-foot home combined Italian and Victorian elements: a hip roof, gables, two corbeled chimneys, a three-sided porch, a double door. Inside, there were plaster arches, five slate fireplaces, an oak staircase and built-in cabinets.
Little by little, the Grosses toiled away, working as time and budget allowed. In the early 1980s, the couple decided to renovate the kitchen, so they threw out the stove and started dining out. It became an anomaly that turned into a habit and then a way of life: Both were busy, the house always needed their attention, and they found out they didn't miss cooking. And instead of finishing the kitchen, they let the house breath for a while, concentrating on work, on travel to exotic locales and on enjoying life together.
Contemporary Considerations
Then in 2006, Ralph and Marty decided to make one last push to complete the house, this time the way they wanted it, creating spaces that were suitable for large and small groups. They called in Hal Davis, a Des Moines interior designer, and Keith Rollenhagen, an Ames custom builder and renovation expert. Each man would play a key part in the finished project: Davis concentrated his efforts on interior design, Rollenhagen on the design and finish-out of bathrooms and kitchens.
Davis helped select paint colors, carpet, furniture, pillows and accessories. "Ralph and Marty used to have Victorian furniture, but it was never the look or feel they wanted," says Davis. "It was too heavy and not inviting. They knew I decorated my houses with a more contemporary feel, and that's where they wanted to be, but they didn't know how it would translate in their home."
The couple relied on pieces, some in minimal black and gray, from Projects Contemporary Furniture in the East Village. Enduring elements—black leather ottomans, Cortina and Selene chairs, a Minotti coffee table, a Stricto sofa—provide functionality and mobility in order to serve a gathering of two as well as one of 60 or more.
Davis retained just a few Victorian pieces to soften lines here and there. "Victorian furniture is its own art form, as is contemporary furniture," says Davis. "They are both classic and timeless, and how they balance in a room creates a whole picture."
Davis also used striking accents—a Tibetan rug, a canoe from the Amazon, photographs by Ralph—to give depth and personality to the space. The Grosses collected many of the items on their travels; over the years, their sense of adventure took them to Papua New Guinea, Borneo, Mongolia, Peru, Ecuador, Mali, Ethiopia, India, Morocco, Egypt, China and Japan.
Distinctive Woodwork
Challenged with creating the kitchen, half-bath and second-floor bath, Rollenhagen leaned heavily on wood to create visual interest. He also pushed back against the notion of creating a historically accurate space in any of those rooms, particularly the kitchen. "In the 1880s, there wasn't such a thing as we think of as a kitchen," he says. "You can mimic the historic features in the house with a new kitchen, or you can just go in another direction entirely, and ultimately, that's what they decided to do."
The kitchen—by no means expansive—retains its original 11-foot walls, tall doors and windows and has several small overlapping spaces: food preparation, serving, gathering/conversation and eating. Central to the room is a curving island, pulled out from the wall so as to not hide or damage the original wainscoting. Rollenhagen combined bird's-eye maple and quartered mahogany, echoing the tones of the home's original woodwork but establishing a palette of materials with its own distinctiveness. Above the island hangs a four-tiered custom light, as much artwork as it is function. A "chofa," a decorative ornament found on the rooftops of Buddhist temples and other structures in Thailand, sits atop the counter.
Rollenhagen used the same woods in the bathroom, creating sculptural sink countertops and cabinets that curve and bend in undulating patterns. In the library, large cabinets made out of cherry provide plenty of storage for books and artwork.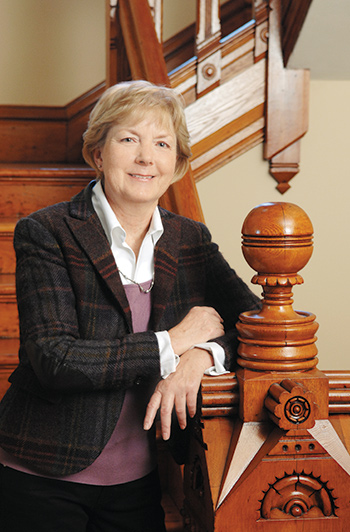 The Final Push
And then one day in early 2008, in the midst of all the decisions and planning, Ralph didn't feel well. Just three weeks later, on Valentine's Day, cancer would claim his life, and Marty would be left with the place that had inspired and motivated him, but with a home in which every room was torn up in one way or another.
As Ralph's health deteriorated, Rollenhagen and Davis helped Marty push forward, finishing the kitchen in time for Ralph to see before he died. "Ralph had incredible persistence and never wanted to throw in towel," Marty says. "He was never daunted by anything, and taught himself how to do every skill until he mastered it."
Today, the home is equal parts elegance and tradition, modern and minimalist, personal and heartfelt. Beyond the distinctiveness of nearly 130-year-old finishes, against the backdrop of sleek spaces, there is in every surface the unmistakable touch of a couple who saw beauty where others saw trash. And for that, it is a fitting testament to Ralph.
"The biggest surprise is that we could have purchased a house that had porches falling in, an interior all messed up, and be able to put back together," Marty says. "I never in my life dreamed it would be half of what it is. He could see it 40 years ago, and it has become really beautiful. I think he would be very pleased."