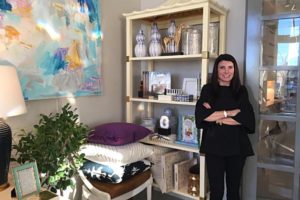 Interior designer Amanda Reynal's new retail shop and design studio downtown may not occupy a big space — but it makes a big impression. When we stopped in last week for the opening party, we thoroughly enjoyed browsing the furnishings (couches, chairs, ottomans and more), decorative items and accessories (accent pillows, bookends, candles, frames, among others), artwork, and even home and garden coffee-table books.
The selection is impeccably curated. Reynal "chose brands not available or well-represented elsewhere," she says. That includes the artwork, created by emerging or established national artists whose works aren't found locally.
In addition, Reynal wanted to ensure a mix of price points, from a $25 vase to couches that may run into the thousands. "We work in a variety of budgets," she emphasizes. "You can have a higher-end look and not break the bank."
As a designer, Reynal's aesthetic combines tradition — rooted in her studies of art and classical design — with a fresh and updated sensibility. Her fluency in a variety of design styles, from antiques to modern looks, is evident in both the retail space and the studio.
Amanda Reynal Interiors is located at 1417 Walnut St., Suite D. "When I decided to expand, I knew I wanted to be downtown — in the heart and soul of the community," she says. For more information, go to Reynal's website and check out this story from the dsm archives.