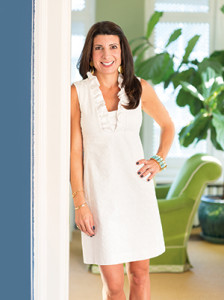 Written by Heath Hardage Lee
Photos by Rick Lozier
When interior designer Amanda Reynal moved back to Des Moines from London eight years ago with her young family, she had just a few days to find a home. Luckily, she got the inside scoop on a house that wasn't on the market yet and persuaded the owner to sell it. Built around 1912, the South of Grand residence possessed the elegant bones and smooth flow Reynal desired, but it needed an injection of 21st-century decorating to restore the home to its former glory.
To that end, Reynal incorporated vibrant colors, lush fabrics and customized details to rejuvenate the residence yet preserve its timeless appeal. Her overall design approach employs several key thematic elements throughout the home to promote a unified look and feel. Specifically, Reynal incorporated both old and new furniture in each room and then chose varying shades of blue, which she reinterpreted throughout the residence.
Reynal's aesthetic is rooted in her study of art and classical design. She majored in art history at Trinity College in Connecticut, and she also studied art in Italy and elsewhere in Europe. She then earned degrees at two schools—New York School of Interior Design and Parsons The New School for Design—followed by three years in London, where she focused on the decorative arts. Reynal also worked in New York as a designer. In 2009, Traditional Home named her one of the "Twenty Young Designers to Watch".
Reynal, who owns Reynal Interiors, focuses on combining her respect for history and tradition with a fresh and energetic decorating dynamic. For example, she breezily juxtaposes modern photographs and paintings with European antiques acquired while living abroad. Reynal also gravitates toward bright, glossy colors and rich textures, like the foyer's hot pink lacquer walls that contrast with a bright green oversized urn.
In addition, Reynal cites "piping and trim in the seams of upholstery, well-curated and installed art collections, beautiful linens and original fabric selections" as integral to her look. "I go out on a limb with fabrics," she says. "The inclination is to keep textiles simple, but I love customized details like tape or nailhead trim on a chair and bespoke pillows."
The house's classic center hall plan and double-width doorways promote a gracious flow. Because of this, it was imperative that the colors and furnishings in all the rooms harmonize with one another. "If all the walls came down," she says, "the decor in all the rooms should all still work together."
To read about the rooms pictured below, click on the photo.