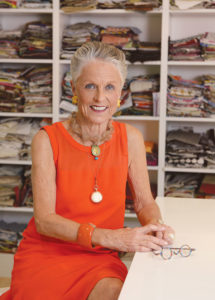 Writer: Laurel Lund
Photographer: Duane Tinkey
Rosalie Gallagher's tony townhome is in the city but not of it. Nestled in Des Moines' Druid Hill neighborhood, Gallagher's two-story townhome overlooks century-old oak trees, a nearby pond and a gateway to Gray's Lake Park. Four minutes from downtown, the idyllic setting affords convenience and the solitude that reminds this well-known interior designer of her rural Iowa roots.
"It's wonderful to be able to walk out my first-floor design studio to a secluded backyard. I have my own secret garden," Gallagher says.
The home marks a dramatic change from her former residence in Owl's Head Historic District. Her 1886 Victorian house in that neighborhood offered the same opportunity to commune with nature, but the three-story structure was labor-intensive from both a maintenance and design standpoint.
Gallagher says she "loved the neighborhood, but it was time for a change. I wanted an entirely new environment."
When she learned there was one lot still available in the Druid Hill townhome development, she snapped it up. "Because the townhome was not yet built, I had the opportunity to literally design the interior space from the ground up," she says. Although she was required to maintain the exterior footprint of the original design, she was able to reconfigure the interior space to suit her personal and professional needs.
The furnishings are the same that she had in her old home, but the end result is a study in contrast. Where her former house consisted of many walled-off rooms with colorful glazed walls, her new residence is open and filled with light.
To free up space, she eliminated several walls on both floors to create a seamless flow for the friends and family she loves to entertain. In the upstairs living space, she doubled the width and length of the Italian porcelain-topped kitchen island. It not only offers plenty of storage but also serves as a buffet and bar. In addition, it anchors the three open-plan conversation areas and the eating area, which has two dining tables.
"I adore cooking, and guests are always in my kitchen, so I just made the kitchen the focal point of the space," Gallagher says.
As a canvas for her furnishings and collectibles, she washed the walls in white, complementing neutral-tone maple floors. Three walls of 6-by-6-foot windows bathe the room in natural light. The original vaulted ceiling was lowered to accommodate recessed lighting.
Surrounding space includes built-in cabinetry, antique storage pieces and wall areas that display art and collectibles from her world travels. All combine to punctuate the space in a masterful mash-up of color and texture.
"I love travel. I love art. And I love my clients," Gallagher says. "I'm passionate about what I do. I want to enhance people's lives through design."
The medley of materials in her own furnishing, textile and art collections shows off Gallagher's sense of spontaneity, her eclectic design sensibility and an almost whimsical use of color, all of which are her design signatures.