Writer: Wini Moranville
Photographer: Duane Tinkey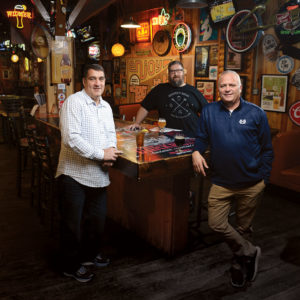 Jan. 30, 1997: We've arrived in—of all places—Waco, Texas, for a New Year's Day wedding. After driving through Kansas, Oklahoma and a dull slice of Texas, let's just say that things haven't gone our way, dining-out-wise. For example, somewhere along I-35, we ate at a steakhouse so hopeless that it served room-temperature salad dressings in repurposed Elmer's glue squeeze-bottles.
In Waco at last, we stumble into a restaurant called Buzzard Billy's. By now, we merely hope that the food won't be awful. Turns out, not only is the Cajun- and Creole-inspired food not awful, it's downright top-notch. We are giddy with gratitude—it's amazing how happy a solid meal can make you feel after a spate of bad ones.
That's how, two years before they came to Des Moines, the owners of Buzzard Billy's had made inroads into my ever-grateful food-loving heart. They had lifted us out of a bad funk in Waco. Since then, with each new restaurant they've opened in our city (starting with Buzzard Billy's in 1999), my affection for them has only deepened.
So who are these guys? Full Court Press is the umbrella brand for a group of restaurants that includes 10 in Des Moines, each with a distinctive personality. Under this umbrella are nine corporations linked by a labyrinth of exactly who owns what.
But the guys mostly driving the bus these days are brothers Andy and Dan Massoth—who started that original Buzzard Billy's in Waco in 1993—and partner Jeff Bruning, a Carroll native who began working for the brothers as a waiter at the Des Moines Buzzard Billy's in 1999.
The Massoths grew up in tiny Madison, Kansas; both became engineers by trade. Early in his career, while employed by Trane, a Lacrosse, Wisconsin-based manufacturer of heating and cooling systems, Andy traveled the country visiting factories.
"I loved using my expense account to go to the most unique places I could find," says Andy, now 52. "I found myself collecting menus. From there, conceptualizing restaurants became a hobby." He made a career move to Waco, where he found little to love on the food scene. So Andy, Dan and two friends opened Buzzard Billy's in a vacant downtown warehouse on a lean budget of $80,000.
"By the time we opened, we were out of money," Andy says. "The first night's beer sales went to buy beer for the next night."
Andy kept his day job until Buzzard Billy's took off, nudging the brothers to branch out. After launching a highly successful Buzzard Billy's in Lacrosse, they sought further locations.
"We were looking for midsized cities that needed help with their downtowns," Andy explains. With plenty of empty warehouse buildings in and around Court Avenue, Des Moines more than fit the bill. Buzzard Billy's opened on Court Avenue in 1999. On the heels of this success, another Buzzard Billy's opened in Lincoln, Nebraska, in 2000.
Soon after, Andy's passion for conceptualizing restaurants sprang to bricks-and-mortar life in Des Moines. They established the Full Court Press brand with the opening of the Royal Mile (a British pub) in 2001; afterward, with varying partners and ownerships, they opened a string of one-of-a-kind restaurants: Hessen Haus (a German beer hall) in 2003; the High Life Lounge (a 1960s-style corner bar and grill) in 2005; El Bait Shop (a craft beer taproom with Mexican food) in 2006; Sbrocco (a fine-dining restaurant that has since closed) in 2008; Fong's Pizza (an Asian-Italian pizzeria with a Tiki bar) in 2009; Mullet's (a riverside roadhouse that they've since sold) in 2010; University Library Cafe (a campus-neighborhood bar and grill) in 2012; another Fong's Pizza in Ankeny in 2015; and the Iowa Taproom (a bar-grill that showcases Iowa craft beer) in 2016. They also operate the Red Monk, a Belgian pub tucked above the Royal Mile.
Note a pattern here? You might have to look closely; after all, what does a kooky Polynesian pizzeria/tiki bar have to do with a straight-on British pub? How does a schnitzel-serving German beer hall relate to a tater-tot-slinging '60s-style corner tap? What, exactly, is the common thread?
"Beer," Jeff Bruning says. "We're thematically driven places that focus on beer. We are beer-centric."
Indeed, from the 50 German beers on draft at Hessen Haus to the 120 Iowa beers on draft at the Iowa Taproom—not to mention El Bait Shop's 220 American craft brews—beer-obsessed might be the best way to describe the otherwise disparate venues. While the Des Moines Fong's might be an exception, the newer Ankeny Fong's upped the beer ante, with 88 on tap.
Beer-obsessed might also describe Bruning, 46, who once told me that the only time he didn't have a beer-bottle opener on him was when he was in the shower.
"Others might do beer, but we do it best," he says, adding that being the kingpin of beer in this town takes more time and effort than one might think. "You don't get interesting beers handed to you. You have to earn them through your sales."
That requires everything from hiring and mentoring beer-passionate employees to building relationships with brewers and distributors, to managing such nitty-gritty details as keeping the 700-plus collective tap lines in peak condition.
Still, what about the food? "Orchestrate does food," Bruning says when pressed on the question. "We do beer." (Orchestrate is the umbrella group that manages Centro, Django, Malo and other local restaurants.) Nevertheless, Bruning says he'd never consider opening a venue that doesn't serve food. "Reasonable people eat when they drink," he says. "There's trouble when you don't sell food."
Yet as much as Bruning downplays the food, in my experience it's hardly an afterthought. While I don't often fawn over FCP food, I do find myself jonesin' for it. The bangers and mash at Royal Mile bring immensely satisfying homemade English-style sausages. I crave the too-goofy-for-words but surprisingly tasty crab Rangoon pizza at Fong's. I appreciate the way the food at the High Life Lounge—pot roast, pot pie, liver and onions, and goulash—sounds like it sprang straight from a midcentury Betty Crocker cookbook, and satisfies in exactly the same way. Right now, as I'm writing this, I'm hankering for an oyster po'boy from Buzzard Billy's.
What I appreciate most, however—beyond the beer or the food—is the commitment to showing customers a fine old time for a fair price. For what it costs to dine at a rote sports bar, you can be transported to Germany, England or a New Orleans roadhouse; you can time-travel to 1964 (Andy Massoth's birth year, which inspired the decor at the High Life Lounge); or raise a glass to the here-and-now of the craft beer movement at the Iowa Taproom, surrounded by reclaimed wood and furnishings from around the state.
They're our city's most dedicated good-time joints, and the partners work obsessively to get the groove just right. They have traveled extensively to nail the decor, from England and Scotland for the Royal Mile to Germany for Hessen Haus to road-tripping through Wisconsin for the High Life Lounge.
And they fuss and finesse until it all comes together, ripping out what they've started if it's not quite right. (It helps that they're their own builders and contractors.)
"We don't just throw junk up on the wall," says Andy. "Everything has to come together, and it has to be right. We don't want cheesy."
Indeed, the venues decidedly avoid farce. While you may, for example, step into the High Life Lounge thinking you're slumming it for laughs, you'll soon feel the love. The retro decor, with its dark wood paneling, tubular lamps and vintage beer dioramas, isn't meant to mock. Rather, you get the idea the partners truly cherish this sort of midcentury corner bar, and simply want to resurrect its warmth and conviviality for others.
It's evident that before the partners even begin pounding nails, they start with a sincere desire to show people a good time. While Dan Massoth, 50, deals with various moving parts of the business—recruiting, benefits, taxes, regulations, marketing—when I caught up with him at Buzzard Billy's, he was rearranging tables and chairs for the night's rush. Though he initially tried to bow out of being interviewed for this story (I think of him as the George Harrison—the Quiet Beatle—of the group), he nailed a certain ethos at the core of all of the properties.
I mentioned to him that—painting in broad strokes—Andy seemed to be the concept guy, Bruning the beer guy. What, I wondered, is Dan's passion?
"I love watching the birthdays, the anniversaries, the people getting engaged, the connection, camaraderie and the excitement," he says. "I get great satisfaction knowing that we're making people happy."
Which takes me back where my journey began, with my feeling of immense gratitude—and joy—on a winter's night in Waco, Texas.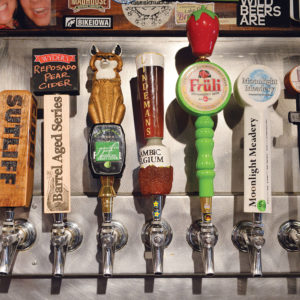 Full Court Press Venues
Buzzard Billy's
615 Third St.
515.244.2899
buzzardbillys.com
El Bait Shop
200 S.W. Second St.
515.284.1970
elbaitshop.com
Fong's Pizza (Des Moines)
223 Fourth St.
515.323.3333
fongspizza.com
Fong's Pizza (Ankeny)
1450 S.W. Vintage Parkway
Suite 120
515.243.8888
fongspizza.com
Hessen Haus
101 Fourth St.
515.288.2520
hessenhaus.com
High Life Lounge
200 S.W. Second St.
515.280.1965
highlifelounge.com
Royal Mile
210 Fourth St.
515.282.2012
royalmilebar.com
Red Monk
210 Fourth St.
515.282.2012
theredmonk.com
University Library Cafe
3506 University Ave.
515.255.0433
thelibrarydm.com
Iowa Taproom
215 E. Third St.
515.243.0827
iowataproom.com