Above: The Dave's Burger #1; Photographer: Duane Tinkey
By Wini Moranville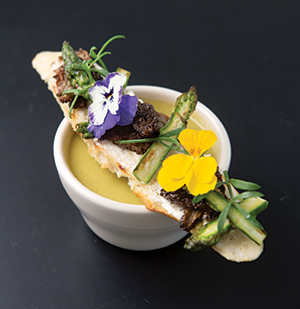 Tangerine, a respected local catering company that took over operations of the Des Moines Art Center's restaurant last February, is serving the kind of ambitious, modern and fine-tuned food that you'd hope to find in an important art museum.
Though my initial visit fell on a chilly, bleak day, the longing for warmer weather made me say, "Yes, please" to the cream of asparagus soup (pictured above). What I loved was the way subtle-but-insistent za'atar seasoning added a toasty warmth, while still letting the produce's brightness shine through. The woodsy cream of mushroom soup felt equally alive.
Who orders a burger at the Art Center? From now on, I'll be eyeing it. The Dave's Burger #1 (pictured left) brought an artful stack of beef, pepper-bacon, slow-roasted tomatoes, garlic-herb and cheddar cheeses and fried leeks. I can hardly wait to find out what Dave's Burger #2 will bring. 
Ultimately, my dining companion and I floated out the door on a high note thanks to both the ultra-moist almond cake with burnt orange marmalade and the chocolate marquise (an insanely decadent chocolate dessert that's denser than mousse but more elegant than a flourless chocolate cake).
Who are these people? Tangerine owners Cherry Madole and Susan Madorsky have quite the culinary pedigree. Madole trained at New York City's Culinary Arts Pastry and Baking Program and honed her craft in the pastry kitchen at Cafe Bouloud, among other spots. Madorsky has worked from Portland, Oregon, to Chevy Chase, Maryland, with stops in San Francisco (to train under famed pastry chef Jim Dodge at the Stanford Court) and Washington, D.C.'s Willard Hotel.
The chef is Dave Malfara, who has worked at Bistro Montage, Grand Piano Bistro, 801 Chophouse and Baru 66. The pastry chef is Kelsey McCreight Williamson, who spent the last decade perfecting her craft in Minneapolis, including stints at Rustica Bakery, Spoon & Stable and Bellecours.

Tangerine at the Art Center is at 4700 Grand Ave., 515-277-4405; desmoinesartcenter.org/visit/restaurant

Wini Moranville writes about food, wine and dining for dsm magazine and dsmWeekly. Follow her on Facebook at
All Things Food–DSM
.