Relive …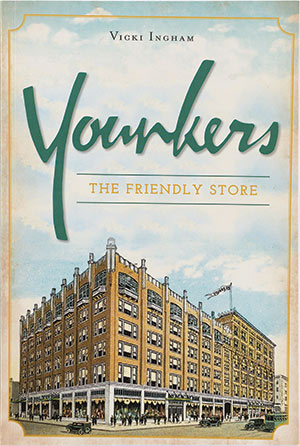 … the story of that icon of Iowa finery, Younkers Department Store. Des Moines writer Vicki Ingham has captured the grandeur of bygone retailing in a new book, "Younkers: The Friendly Store" (The History Press, 2016; $21.99).
"I love historical research," says Ingham, a frequent contributor to dsm and its statewide sister publication, ia.
"There's a certain sector of the population that gets very nostalgic over these homegrown department stores," she says. In fact, The History Press has a series of books about grand department stores across the country.
"They recall a time when shopping was a fancy experience, and the department store was an emporium; you put on your hat and gloves to go shopping," Ingham says. "It was like a mall, but in one beautiful, elegant space."
Younkers began in 1857 in Keokuk, opening a Des Moines store in 1874 and constructing the grand downtown building of recent memory in 1899. The store offered fashion, furnishings, travel and health services—and anything else the 20th-century consumer might need or want. "I was just blown away by how elaborate it was," Ingham says.
For example, at the dawn of the 20th century, "Younkers had a fur department, and they would make fur coats to order," Ingham says. "You could bring in your own bear skin or other furs, and they would make your coat for you. They had storage vaults for 10,000 fur coats."
Ingham's 153-page book has about 50 historic images. The store's motto was "Satisfaction Always," and managers went to extraordinary lengths to live up to it, Ingham says. That commitment apparently gave the store quite a reputation, she notes: "'The friendly store' is what some newspaper out East labeled them."