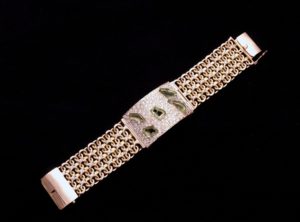 Reviewer: Michael Morain
When the sun catches it just right, you can't miss it: A golden seam runs across the limestone floor in the Des Moines Art Center lobby.
It used to be an ordinary crack, filled with almost 70 years' worth of everyday dirt and waxy buildup. But with syringes and a skinny funnel, the New York artist Rachel Sussman recently replaced the grime with a mixture of resin, bronze powder and 23½-karat gold dust. She was inspired by a Japanese tradition of repairing ceramics with gold in a way that makes them more beautiful for having been broken.
Keep that in mind the next time your dentist spots a cavity or you find another crack in your driveway.
"Actually, there are little cracks all over the floor," Art Center curator Laura Burkhalter said of the lobby. "Once you start looking, you'll see hundreds of them."
The same can be said of the connections that run through Burkhalter's dramatic new show, "Alchemy: Transformations in Gold," which opened with a packed reception Friday night and remains through May 5. Sussman's gold seam leads like a lightning bolt to a showcase of contemporary artwork by 16 other artists from five continents, each with something to say about the role gold plays in history, religion, commerce and science.
As an examination of a single material, the new exhibition is like Burkhalter's memorable 2013 show called "Transparencies: Contemporary Art and a History of Glass." It's the art-show equivalent of the books that started crowding shelves a dozen years ago, when the best-seller "Guns, Germs and Steel" led to everything from "Salt: A World History" to "Cod: A Biography of the Fish that Changed the World."
But gold is different, and Burkhalter is the first to admit that a single exhibition can only scratch its lustrous surface. "Few materials carry more thematic baggage than gold," she writes in the show's handsome catalog, designed by Connie Wilson. "Gold represents power and the abuse of that power. It can be a vehicle for spiritual enlightenment, adorning objects of faith or commemorating critical moments. Wearing it signals glamour, enhances beauty, and shows the world how rich we are."
Accordingly, the show explores both human nature (greed, love, racism, ingenuity) and various forms of art (jewelry, painting, photography, weaving and sculpture).
The Vietnamese-born artist Danh Vo gilded a cardboard Coca-Cola box to honor his homeland's custom of gilding Buddha statues and to connect that tradition to pop art and globalization.
A Cuban duo called Los Carpinteros (The Carpenters) raises questions about form and function with a beat-up demolition hammer onto which they affixed a drill bit plated in lovely but useless gold.
Two of the show's most stunning works are a pair of gold bracelets adorned with tiny shards of windshield glass that were extracted from the murdered victims of drug traffickers in Sinaloa, the Mexican state where the artist Teresa Margolles worked in a morgue.
All of the pieces in the show are beautiful — especially in chief preparator Jay Ewart's elegantly lit, black-painted gallery — but some of the conceptual nuggets are hard to pry loose. The sparsely worded walls mean you'll have to pick up one of the display copies of the catalog to understand what some of the artists want to say.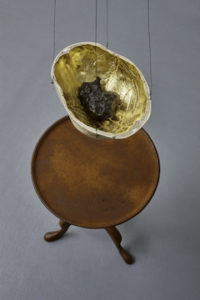 The catalog sheds light on an installation by the Irish artist Dorothy Cross, for example, which involves a brass telescope suspended above a small iron table and half of a gilded human skull, which cradles a meteorite. Maybe you wouldn't need the catalog to guess that the sculpture "suggests movement between the earthbound and celestial" — but you might.
Even the catalog has trouble explaining Charles Lindsay's cryptic installation of scientific gear arranged behind an antique wooden door with a cluttered hodgepodge that includes an ornamental key, a golf ball, a few crushed beer cans and the gilded carcasses of some horseshoe crabs. That the artist calls it a "Field Station" to conjure up some sort of science lab on another planet seems too clever for its own good.
But then, alchemy requires a bit of mystery. That's what separates it from chemistry: It makes ordinary things extraordinary in a way that defies easy answers. So if you're into questions, this show is a golden opportunity.
The exhibition runs through May 5 at the Des Moines Art Center, where admission is free. Visit www.desmoinesartcenter.org for information about a gallery talk, an artist Q&A, and a spring-break program called "Staycation: Treasures in Your Town."