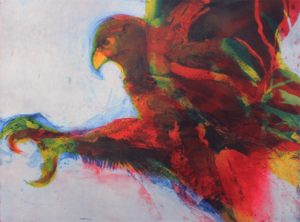 Chilly winter evenings are well spent in galleries, and Des Moines is prepped to offer you several opportunities. Just look at the variety available:
Olson-Larsen Galleries opened the exhibit "Seven Printmakers" with a reception Feb. 17. Running through April 15, this show includes the work of Richard Black, Joel Elgin, Austen Ortiz, Levi Robb, Jeanine Coupe Ryding, Alyssa Tauber and Larry Wello.
Des Moines Women's Club: The annual free art exhibition of more than 150 works by Central Iowa artists is open through Feb. 26 at Hoyt Sherman Place. This 109th annual exhibit is be open daily, from 10 a.m.to 4 p.m. with an evening reception on Friday, Feb. 24, from 5 to 8 p.m.
Moberg Gallery: A large and diverse group of artists are featured in the ongoing Winter Group Show, with details available here.