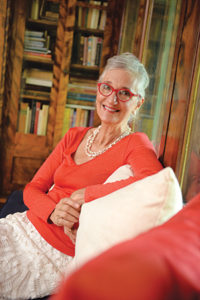 Writer: Vicki L. Ingham
Photographer: Duane Tinkey
Mobile apps have changed how people communicate, but when it comes to holiday greetings, Loulou Kane still prefers the old-fashioned way: sending Christmas cards through the U.S. mail. And not just any card will do. Kane makes her own cards by hand, creating mini-artworks for 50 to 60 lucky friends each year.
A freelance art appraiser and a former associate director at Salisbury House & Gardens, Kane (pictured below) has spent her career immersed in art, but with a focus on research, writing, curating and administration. Making holiday cards gives her a chance to express her own artistic talents. "I like to make things with my hands," she says, and designing and producing the cards is both challenging and satisfying.
In making her cards, Kane starts with an idea—repurposing paper bags, for example—and plays with it, tearing out shapes, adding images and drawing in details until she arrives at a design she likes and that she can reproduce fairly efficiently.
Themes can come from anywhere: the art and architecture of Morocco, where she and her husband, Mark, served in the Peace Corps; a star-like motif in an Oriental rug; or her collection of vintage crocheted potholders. Over the years she has used a variety of techniques, from silk screen and linoleum block cuts to potato prints, collage and photos taken with her iPhone.
Kane started making holiday cards in the late 1960s, "back when I didn't have any money to buy cards," she says. "The beauty of all this is you can work at a corner of your kitchen table. A pair of scissors, a pot of glue, some markers, some paint, and you're off." She continued the practice off and on over the years, but in the last decade it became an annual ritual.
Making cards is time-consuming, but it's worth it for Kane. "I like to stay in touch with friends, and I like to get mail," she says.
Combine that with her desire to create, and the result is a rewarding holiday tradition. "Why buy cards," she asks, "when we have all these materials on hand to create something that you can put your personal stamp on? It's highly creative, relaxing and satisfying."
---