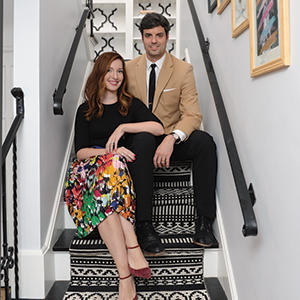 Writer: Vicki L. Ingham
Photographer: Duane Tinkey
For Liz Lidgett, a house isn't a home until it has art on the walls—art that you love, installed in eye-catching ways that let the artwork sing.
She believes so strongly that everyone should be able to enjoy original art in their homes that four years ago she founded Adore Your Walls, a consulting service through which she helps people find the perfect pieces for their style, space and budget. Installation is part of the package, and that's where her own South of Grand home comes in.
"I use my house as a sort of testing ground to try things out," Lidgett says, "so I'm able to tell my clients, 'I tried this in my house and I know it's going to work.' And because it's my own home, I can break the boundaries a little more with trying to display art in interesting ways."
Sometimes her ideas are so interesting it gives her husband, Nick Renkoski, pause. He couldn't quite picture what she had in mind for displaying a sun-faded Edward Hopper poster he'd bought for $5. "As I recall, she told me she wanted to paint over the bottom half of a poster and I told her I'd have to think about it," Renkoski says. "Liz has a unique way of hearing the words 'I'll have to think about it' as 'Go ahead and do it, please,' because the next thing I knew it was done and it was perfect, as her most creative ideas always are."
Lidgett starts with some basic guidelines for hanging wall art, such as positioning the middle of a piece about 5 feet above the floor, the average eyeline height. She also tends to frame all of the artwork in a room in a similar way, which allows pieces of different styles to live well together. "I like to go with gallery-style or museum framing, because I want the artwork to be the star of the show," she explains.
"Other than that, the more I learn what the rules are, the more I want to break them," she adds. "I love having pieces high above a window or in front of a window or in a vignette. It's about having fun with your artwork and enjoying your collection."
Of course, she cautions, you have to be conscious of materials. A steamy bathroom or direct sunlight is never good for works on paper, but that still leaves plenty of room for creativity in the art of display.
Things tend to move around in the house as Lidgett experiments with groupings and arrangements. "I really like to switch things up," she says. "Nothing is permanent or so sacred it can't be changed up or switched."
As much as she enjoys devising new ways to present art in the home, Lidgett also relishes the chance to help clients become educated and passionate collectors. The more her clients understand the context, content and process of a piece, she says, the more they can connect to its story. Here, too, she speaks from experience. The pieces she and Renkoski have acquired so far are redolent with associations—pieces made by artist friends, reminders of places they've been or references to special interests.
"It's important to us to have artwork that means something to us and that we really love," she says. "That gives the collection meaning." ■
---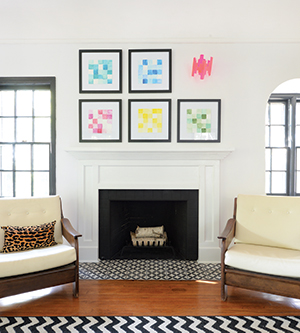 Instead of grouping six identically framed pieces above the fireplace, Lidgett introduced a hot pink acrylic sculpture by Michael Peter Cain. "I really enjoy hanging 3-D pieces on the wall with flat artwork," she says, as it's an unexpected way to add depth and interest to an otherwise two-dimensional gallery grouping. The framed pieces are her own. "I don't sell my artwork, but it's something I like to do," she says, "and it's a placeholder until I find something I really love." Lidgett's father built the mantel and helped her lay the black-and-white tile hearth, underscoring the room's color scheme. She chose a gallery-white paint to focus attention on the art.
---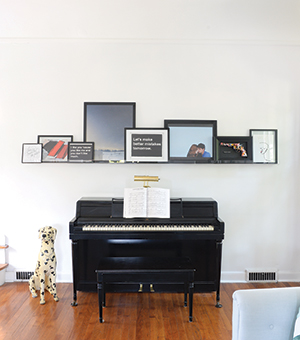 A clear acrylic gallery shelf from CB2 is one of Lidgett's favorite techniques for displaying a changing selection of framed photos and prints. She chooses pieces of different sizes and organizes them to move the eye up and down as well as across the row. Each piece has a story: The Phyllida Barlowe print brings to mind having dinner with the artist when she was in Des Moines; a nighttime photograph of Clear Lake by a friend, Joe Crimmings, reminds Lidgett of summers spent there. On the floor, the painted plaster Dalmatian, while not technically art, has a story, too: Similar statues were prizes on the TV show "The Price Is Right," and Lidgett's grandfather called the show to find out where he could buy one for his wife.
---

Lidgett figured out how to sandwich a work on paper between sheets of acrylic so it would appear to float above the wall. Regal Plastic Supply Co. in Clive cut the acrylic to size and drilled the holes for the bolts, which Lidgett found on Easy.
Once I figure out the process," she says, "I can tell clients how to do it."
---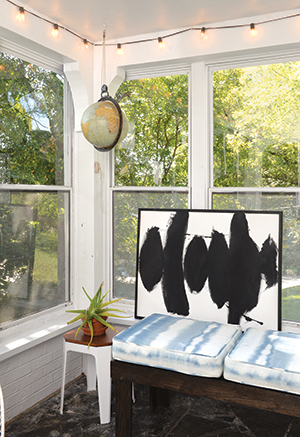 This artwork is one of Lidgett's own, an experiment in novel placement behind a bench in the sunporch. The globe came from a one-room schoolhouse, where it would have hung on a rope and could be pulled across the classroom as needed for each group of students.
---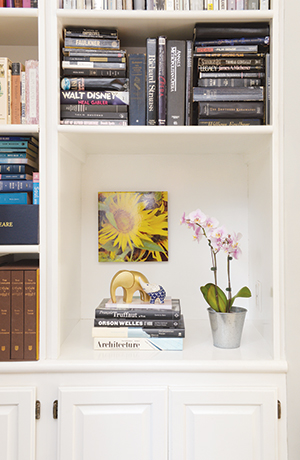 A bookcase cubby becomes a shadow box for a vignette of art and sculpture, with a stack of books as a pedestal. Lidgett included a digital-print tile by Greater Des Moines artists Bill Luchsinger and Karen Strohbeen.