Writer: Barbara Hall
Photographer: Duane Tinkey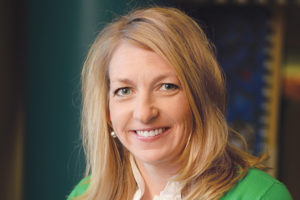 The Triathlete
Jennifer Groos, M.D., Blank Children's Hospital
Dr. Jennifer Groos, a pediatrician, was a high school athlete in Webster City and also ran on the cross-country and track teams at Loras College in Dubuque. By the time she got to medical school at the University of Iowa, she had set aside her running shoes for a while. But she returned to a fitness regimen after completing her residency at the University of Wisconsin in Madison. "I just wanted to get back in shape," she says.
When she began studying medicine, Groos was thinking about orthopedics or sports medicine, partly because of her interest in athletics.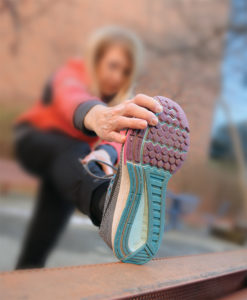 But after a rotation at Blank Children's Hospital in Des Moines, she knew she wanted to focus on pediatrics. Today, she brings her passion for fitness into her practice by working with patients and their families to combat the epidemic of obesity. She also recently served as president of the Iowa Chapter of the American Academy of Pediatrics, which focuses considerable effort on preventing childhood obesity.
When Groos was ready to get serious about training again, she joined health clubs and ran a marathon, but soon became bored. Turning her attention to triathlons, she heard that there was a tri training club in Norwalk, where she lives with her husband, Christopher Groos, and their son and daughter, ages 10 and 12. She decided to check it out. Check it out she did—and then some.
Her first triathlon, in South Dakota, was in 2011. "It was mostly for fun at that point," she says. Her children
soon got the tri bug and started to participate too. And because she wanted them to stay involved in fitness, she obtained a triathlon coaching certificate and has helped her kids in their efforts with the Des Moines-based Z3 Youth Triathlon Team while also training for her own races.
Groos soon had 33 competitions under her belt and qualified to participate on Team USA in the 2015 International Triathlon Union world championship in Chicago, where she placed 21st. She gets up at 5 most mornings and works out for an hour or two a day, six days a week. During the course of a week, she runs three times, rides her bike two or three times, and swims at least twice.
With a medical practice and a busy family, where does she find the time? "It's hard," she admits. "I use my time wisely. I think it's important to show my kids that it's good to stay healthy.
I'm a better mom and doctor when I'm training."
---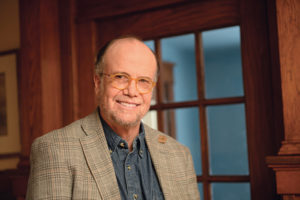 The Meditator
David Drake, D.O., psychiatrist in private practice
The first thing you see when you walk into Dr. David Drake's Des Moines office is a small sign asking you to remove your shoes. Lucy, a mellow 10-year-old Lab mix, greets you. Music plays softly.
The calm, welcoming setting reflects Drake's focus on helping patients achieve peace of mind. Drake, who grew up in Denver, studied religion at Colorado College and attended Harvard Divinity School before choosing medicine as his profession. That epiphany happened while on a bike tour of Hiroshima, Japan.
"I toured the Peace Park Museum and saw the magnitude of the loss of life," he says. "I wanted to serve the forces of peace and life." Once he chose medicine, his leaning toward psychiatry came naturally; his father was a psychiatrist, as is his brother.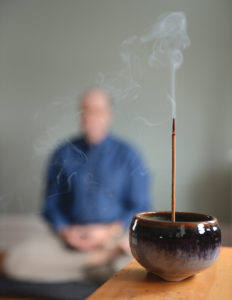 During his first year in practice, Drake decided to try meditating. He attended a weeklong retreat, which, he admits now, was a bit much for a beginner: "It was eight or nine sittings a day, for a week, getting up at 4 in the morning."
He didn't meditate again until another weeklong retreat a year later, at the same place in South Carolina. That time, it took. He's been meditating regularly ever since, sitting once a day for 20 to 40 minutes.
"I meditate first thing in the morning, usually. I practice Zen style, where you sit facing the wall," he says. "I start by lighting some incense and bowing to a statue of Buddha." Then he sets a timer. To keep his mind on track, he focuses on his posture and breathing: "When I feel that my breathing has gone off rhythm or I start slouching … I focus harder."
Meditation can be calming and often helps clarify thinking. "It's self-regulation rather than stress management," Drake says. "You take a step back and observe what's going on in your head. I find that it just seems to change the course of my day. Meditation helps you observe your thoughts. Thoughts aren't bad. You tell yourself, 'Those are just thoughts.' "
Meditation isn't for everyone, Drake says, but he coaches some patients to try it, along with biofeedback. Sometimes he encourages them to attend a group meditation session that he helps facilitate. He would rather see his patients help themselves through practices like meditation than through medication.
"I find that some folks can reduce or even gradually stop certain medicines as a result," he says. "I'm not anti-medication; I am just conservative with it."
Although he doesn't use guided meditation, in which a recorded voice or live coach helps you train your thoughts, some people do better with that than without, at least to start. The doctor's overall advice: "Do whatever works for you."
---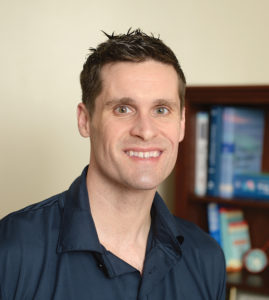 The Nutritionists
Jonathan Crosbie, D.O., the Iowa Clinic
William Schupp, M.D., The Iowa Clinic
Dr. Jonathan Crosbie and Dr. William Schupp not only practice medicine together in Waukee, they also share a passion for healthy eating.
Crosbie's focus on nutrition started in medical school and led to a 70-pound weight loss. Some med students lose weight just from the stress, but for Crosbie it was intentional: "I was tired of my knees hurting and my clothes not fitting." He shed the pounds by exercising, but he also changed his diet—for good. "I've tried every diet," he says. "The Atkins diet is not sustainable. Most aren't."
Schupp agrees. "There's no evidence that avoiding any certain food group is good for you," he says. "The Mediterranean diet is the healthiest—and the most palatable. Basically, you eat food that comes from the ground—fruits, veggies—[plus] red meat in moderation and alcohol in moderation."
Schupp adds that while exercise is crucial, strong health also requires solid nutrition. "You can't outrun your fork," he says. He prepares many meals in a Crock-Pot: "It's hard to add too much unhealthy stuff to something you make in a Crock-Pot."
Because he started his formal education as an accounting major and is a numbers guy at heart, Schupp is fascinated by applying numbers to health—the number of calories or the amount of exercise required to maintain or improve health, for examples.
Six days a week, Crosbie eats healthfully. Saturdays, it's anything goes—a B-Bop's burger or a Casey's pizza, perhaps. He drinks alcohol only on Fridays and Saturdays. Regarding meat consumption, Crosbie says, if it doesn't swim or fly, you should eat it no more than twice a week. Two exceptions: Elk and venison are nutritious compared with beef; they're leaner and higher in omega-3 fatty acids, which can help keep cholesterol levels under control, he notes.
Cardiovascular health is a better indicator of health than is weight, says Crosbie, who doesn't weigh himself and gauges his fitness by his running speed. "If my time is slower, I know it's time to change something," he says.
He has stuck with his exercise plan—twice a day, six days a week—and his diet plan. "Workouts are nonnegotiable. So is eating. I walk by this table of treats," he says, sweeping
his arm over an enticing plate of brownies in the clinic's break room. "If someone brings in treats on a Tuesday, I take one home so I can eat it on Saturday."
Both doctors say that, in addition to their interest in personal health, their experience with diabetic patients in medical school spurred their interest in nutrition as preventive medicine.
Today, when working with patients who have diabetes or other chronic diseases, Crosbie and Schupp discuss diet and exercise before prescribing medication. And they agree that setting an example for their patients is just as important, if not more so, than preaching a behavior.