Above: You can take a boat to tiny Bled Island, home to Bled Castle and the Church of the Assumption of Mary.
Writer: Kelly Roberson
Former U.S. Sen. Tom Harkin was just 10 when his mother died. It wouldn't be presumptuous to think that any ties he might have had to her home country of Slovenia would be tenuous at best.
But the 77-year-old Harkin has a knack for longevity; it's part of the reason he was so successful in Congress, serving five terms in the House and five in the Senate before retiring in 2015. Back in 1977, he got his first chance to travel to Slovenia, then a part of Yugoslavia. He visited his mother's birthplace and met people she had corresponded with, cementing his tie with this central European country bordered by Italy, Austria, Hungary and Croatia.
Since then, Harkin has made numerous trips to Slovenia, often taking relatives and friends with him for their first visit. "Every person that I have ever sent to Slovenia, when they come back they can't wait to go again," he says.
The relative obscurity of the country
as a travel destination mystifies Harkin. "People go to Italy, Austria or Croatia, but they haven't heard of Slovenia," he says. "On a seven- or 10-day trip, your money will go a lot further [in Slovenia] and you'll see the most beautiful countryside, mountains and sea."
Here are some of Harkin's favorite ways to enjoy a trip to Slovenia: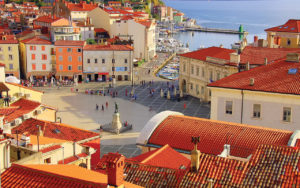 Seeing it all: Relatively speaking, Slovenia is small. "You could stay in the capital, Ljubljana, and go anywhere in the country in a day," Harkin says. That includes the Alps, with hikes that overlook glacial lakes; and the Mediterranean seacoast, where you can wander around Piran, which Harkin calls "the Venice of Slovenia."
Family history: Harkin's mother, Franciska Bercic—or Frances, as she came to be known—came to the United States when she was 25 to marry a man who had emigrated from her village of Suha. He was a coal miner in Iowa and they had three children; after he died in the mines, she married Patrick Harkin, and the couple had three more children, including the senator.
Frances' hometown, just outside Škofja Loka, is thousands of years old. "One of my favorite cities is my mother's city—it's enchanting," Harkin says. "I might even show you the apple orchard that my grandfather planted—and that my relatives still make that awful liquor out of."
A cultural mix: The heritage of many Slovenes is Slavic, but the country—today home to about 2 million people—has long had its borders, and its occupiers, change hands. For example, Harkin's mother's naturalization papers list her birthplace as "Suha, Yugoslavia," but her first husband's papers declare it "Suha, Austria."
"The same town was in different countries and the border changed a few miles," Harkin says. "But the Slovenes have been there since the earliest times, around 400 to 500 A.D. They always thought of themselves as a separate entity, even when they were part of Austria."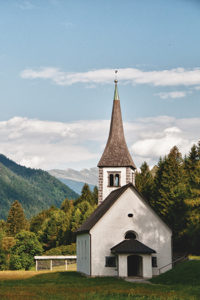 Castles and churches: There are Disney-like castles of all shapes and sizes everywhere, and churches too. For the most part, Slovenes are deeply Christian—mostly Roman Catholic—Harkin says: "There's a saying that if there's a hill, there's a church."
In his mother's hometown of Suha, St. John the Devine is known for its 12th-century frescoes. "When I first visited, men sat on one side, and women sat on the other, but that's broken down now," Harkin says.
Slovenian wine: To sample the country's wine, head east to Maribor; there you'll find the world's oldest grapevine—it's almost 500 years old—and Lake Bled, too. "Slovenian wine is as good as any Italian wine anywhere," Harkin says.
Take the gondola to tiny Bled Island and the Church of the Assumption of Mary. Bled Castle overlooks the lake, providing a magnificent view and a picture-perfect spot to have lunch, he says.
Speaking of food: Meat—veal, beef, pork, and, unexpectedly, rabbit—are staples, as is fresh seafood. "The Slovenes are very big on stews, and they're very good at it," Harkin says.
Museums and memorials: The world wars are still present in the country's landscape, particularly memorials to both World War I and World War II. Ernest Hemingway drove an ambulance near the Italian border during the former, and the Kobariski Museum details the war's effects on the area and its residents.
Memorials from both sides of World War II—the Axis and Allies occupied the country at various times—are scattered across the country, Harkin says. "Some of that area was on Germany's side and some was on the Allied side, and the Russians fought heavily against the Nazis," he says.
The language: Slovenian is the official language, but English is taught in school and many directions and signs are dual language.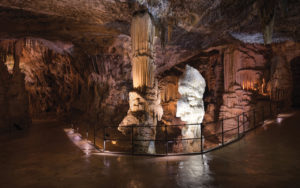 Valleys, rivers and caves: The Soca Valley is a hub of outdoor activity: You can white-water raft, zip line, hike and climb. Up in the hills, Harkin says, residents in huts offer soup and bread to travelers.
Another popular destination: the Postojna caves (the second-longest cave system in the country) and the Predjama Castle, which perches impossibly on a cliff and hides a network of underground tunnels.
To learn more about traveling to Slovenia, visit the tourism board's website: slovenia.info/en.