Above: Bison were hunted to near extinction in the late 1800s; today's population on the continent is about 500,000. It takes two years for bison to reach full maturity. First-year calves are the color of light brown sugar; second-year calves turn the darker brown hue typically associated with the species.
Writer: Beth Eslinger
Photographer: Duane Tinkey
On a sunny late spring day south of Badger Creek State Recreation Area near Van Meter, a newborn bison calf snuggles up to its mom before struggling to stand on wobbly legs. A passing car stops to study the scene, the driver rolling down her window to snap photos for her social feed.
This calf, one of 50 this year at Bare Bison, is the newest member of the thriving 250-head herd. Owned by five Greater Des Moines entrepreneurs, the farm is a growing attraction in Madison County.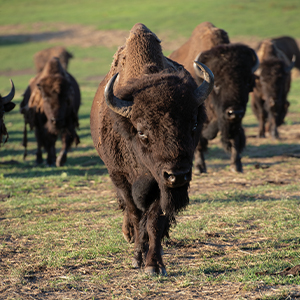 Female bison feature C-shape horns; males have larger heads and straighter horns. They molt their coats in the spring; visitors can touch one of the hides and see skulls on display in the event space.
ATV tours cruise the rolling pastures to get up-close views of the animals and discover facts about the iconic North American species: They can jump 6 feet straight up, run 30-plus mph, swim across ponds and grow to 2,500 pounds.
On a tour, visitors study the nursing calves and large males, including Billie and his brother Blackjack. After viewing the bison, day-trippers can shop for ribs, steaks, ground meat and Aronia berry bars, as well as super-soft hoodies, T-shirts and onesies featuring the company's modern logo.
The idea started over drinks several years ago, says co-owner Johnnie Kennell, 39. "Bison are intriguing," he says. "They're hard to come by, especially in Iowa."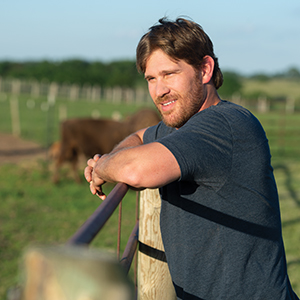 Johnnie Kennel owns Bare Bison in Van Meter and ProteinHouse in Urbandale with Scott Sullivan, Nick Fiala, Dean Quirk and Josh Hoffbraur. Kennell, Fiala and Sullivan also co-own Royal Flooring in Urbandale.
The owners, a group of friends and colleagues, had previous livestock experience but were new to bison. "We visited 10 different farms and learned how healthy it is. It's got more iron than any other meat," as well as fewer calories and less cholesterol than beef or chicken, Kennell says. Visitors to their shop discover other nutritional benefits, including high protein and vitamin B-12 levels.
Their first farm, located in Warren County, started in 2016 with 20 animals. The operation quickly grew to over 200 head with the purchase of their current 350 acres. At the farm entrance, a large building houses the retail shop and an event space with a full kitchen.
Bare Bison hosts monthly gatherings, including a 5K run that, at press time, was scheduled to be held in August. In late October, vintners from the Winterset area plan to pour samples in the modern rustic venue (check Facebook for details).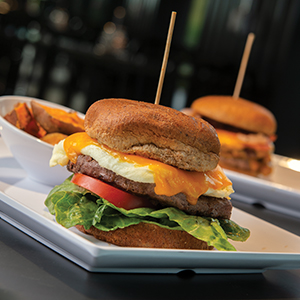 Bison burgers are leaner than beef and are packed with protein and other nutrients.
Kennell says the animals are relatively low-maintenance. They graze grass, live outdoors year-round, and require minimal veterinary care. Fencing keeps the animals enclosed in paddocks. Bison are better for the environment than cattle and have less impact on grasslands. "The farm is ever-changing," says Kennell, who visits with his young family every weekend. (His kids play outside the event space while Kennell maintains the vegetable garden.)   
Bare Bison continues to expand the food production side of the business, as well. The company sells sticks and bars at several local service stations and Hy-Vee stores; packages of sticks are also available on Amazon. And for more dining experiences, their new Urbandale restaurant ProteinHouse offers bison and other lean proteins such as salmon in healthy wraps and bowls; they also have two of the franchises in Kansas City.