Parranderos Latin Combo is a fusion of sounds. Percussionist and composer Ryan Mullin lays down the beat.
Writer: Chad Taylor
Photographer: Duane Tinkey
In the middle of December, amid the pre-Christmas chill and the city's first big snowfall, Parranderos Latin Combo (PLC) is gathering at Sonic Factory in the Drake neighborhood to record. To say this is Parranderos' most ambitious album to date wouldn't be an exaggeration.
"It's going to be a really wild album," says percussionist and composer Ryan Mullin. "There are six or seven different genres of music. There's even our first song in English, which should be a lot of fun."
Ambition is nothing new for Parranderos. The band—whose size can vary from a half dozen members to as many as 14—has been hard at work for the past decade, taking its fast-paced, Latin-party sound to venues throughout the Midwest. Brought together over a love for Latin sounds and a desire to have a good time (their name roughly translates to "partygoers"), Parranderos consists of a globetrotting mix of talent and musical styles.
For this album, for example, Juan Sebastian Ramirez—pianist, composer, arranger and the pride of Medellin, Colombia—has flown into town to lay down piano tracks. Joining him is Juan Carlos Chaurand, a Mexican-born Latin percussionist who lives in Kansas City and splits his time between Parranderos and K.C.'s Making Movies. Locally, the list of talent is just as diverse. Guitarist and accordionist Fernando Aveiga hails from Ecuador, while bassist Eddie Colon and sound engineer Heriberto Roque are both from Puerto Rico.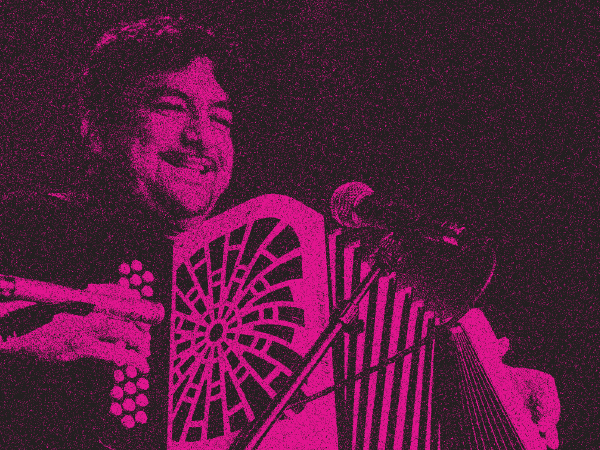 Fernando Aveiga jams on the accordion.
Combining Genres
As might be expected from such a varied cast of musicians, Parranderos' sound is also a melting pot. Drawing inspiration from salsa, merengue and cumbia (Columbian folk music), as well as U.S. rock and Latin pop, there's a lot going on in a typical set. "We'll try and combine [genres] and not really be too serious about it," Mullin says.
"[Our music is] a reflection of our iPods," Aveiga adds. "One thing that's common with everyone that's in the band is that at some point all of us loved the Doors, loved Nirvana. We want to play Latin music with Latin instrumentation, and we love that music. But in our downtime we listen to rap and rock as well. All of that influences how we play."
It's that something-for-everyone approach that has helped make PLC shows engaging, vibrant and popular. People may come to their first PLC show not knowing what to expect, but the experience quickly transforms them into dedicated fans. That's a point of pride for band members, who have always considered expanding the audience for Latin music to be just as important as pleasing longtime listeners.
"Playing around the Midwest, there aren't necessarily huge communities for a particular style," Mullin says. "So we would mix things up until people started dancing. It had nothing to do what we wanted; it was about what the people wanted.
"Now, we can take different styles and make a hybrid; we can do some crossover sounds," he adds. "We're just out here making the music that we want to hear."
This approach, Mullin says, isn't typical of Latin bands. "[Latin musicians] might play in different groups, but it's always 'this is a salsa group, this is a cumbia group,' " he says. "For us, [Aveiga] writes all our tunes on guitar. Then we'll listen to those and, based on how he sings it or what the chord progressions are, we'll say, 'OK, that sounds like a salsa tune, this one's cumbia …' and kind of build from there."
However they do it, the formula seems to have worked. PLC shows are high-energy, loud affairs that get people moving. Whether you catch them in a bar, on a dance floor or at a summer music festival, Parranderos' rhythms will find your feet.
"PLC provided me with the opportunity to measurably improve my salsa dancing skills," says Penne Gatton, executive director of Salsa Des Moines. "The Latin beat, instruments and sound that is created within this group of musicians make them a unique band in Des Moines. … [They've] created a personal awareness of another musical genre and culture that I've grown to embrace."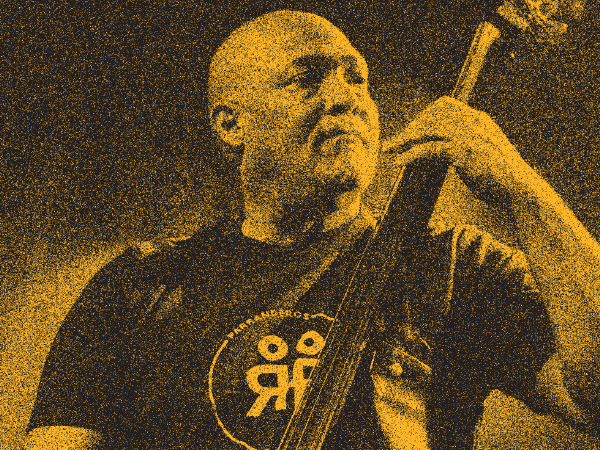 Eddie Colon on the bass.
New Album
Back in the studio for the first time in seven years, the band members wanted to do something big. And with their new album, titled "El Gran Chantaje," they do, as it features a range of styles larger than anything the band has attempted in the past.
Last year was supposed to be a transformative year for the band. The album was conceived and musicians were planning to fly in from around the world to contribute, plus PLC had a packed schedule of shows planned.
Then, COVID. "We had about 30 gigs booked in April, then everything shut down," Mullin recalls. "Thirty gigs! At $1,000 a show at least, that's money that could go a long way towards getting an album done."
Mullin applied for and received a $10,000 grant from the Iowa Arts Council, which is covering the album's production costs. Beyond that, members have been using every available moment to record, and guest musicians have been accommodated whenever schedules have allowed.
All of this has made the recording schedule more chaotic than planned, but PLC is making it work. They hope to release the album this spring and that venues can safely schedule shows by summer.
Whenever the album is ready and shows resume, their fans—new and old—are sure to be waiting. "PLC is one of the reasons why Des Moines is cool," says Amner Martinez, co-founder of the Latino Arts Initiative. "They bring us what we would only be able to get in a big city. We shouldn't take them for granted."