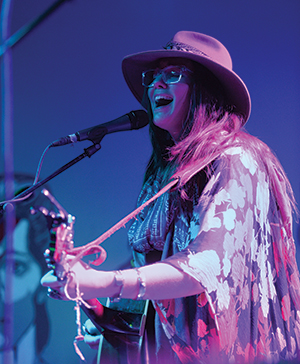 Writer: Chad Taylor
Photographer: Duane Tinkey
In a life that has taken her from tiny Norwalk to giant Los Angeles, to even bigger Shanghai and back again, Sara Routh (pictured, right) has continually looked for ways to walk away from each experience a more complete artist—and a more complete person.
"[With] every step, I've been able to tell myself, 'I need to take something from that,' " Routh said recently over drinks at Smokey Row. "'What's the point of going through this if I'm not going to take away something new?'"
The result? She can speak Mandarin, for example, or regale you with personal stories involving people like musician Bruno Mars and "Seinfeld" creator Larry David. Along the way, she's created tremendous music that speaks to people through honest lyrics layered over simple acoustic guitar. Routh as a songwriter is an amalgam of Joni Mitchell and Ani Difranco, with the former's penchant for clean, unencumbered melodies, and the latter's irrepressible drive to reveal unblinking truths through lyrics.
Routh's musical path started after she graduated from high school in Norwalk and made the short drive to Indianola, where she enrolled in Simpson College's music education program. After realizing that opera wasn't her passion, and declaring herself "not yet brave enough" for New York's musical theater, the then-23-year-old Routh moved to Los Angeles.
It was there, among that city's shabby-chic boulevards, that she began to find herself as a musician.
"The first time in LA really brought me that strength," recalls Routh, now 39. "Playing gigs in LA built up my confidence."
At one of her first shows, she met the charming young Australian who became her husband and with whom she moved to China. While in Shanghai, the pair eventually separated. "When I left China [in 2011], I left a bolder woman," she says. "I left knowing what I deserved in life. When I came back home … I was determined to write a record and find the right people to work with."
She returned to Los Angeles before heading back Iowa. All the while, she was fine-tuning what would eventually grow into the album "Black Sheep," a tour de force that has consumed a large portion of her past three years with writing, recording, promotion and three separate legs of a nationwide tour. Melodic and plainspoken, "Black Sheep" was honored with an LA Music Critics Award for "Best Independent Album" in 2016.
When Routh arrived home from the third leg of the concert tour in the spring of 2016—6,000 miles and 19 days from when she left—she finally put "Black Sheep" to bed. That same week, she found out she was pregnant with her first child. She was exhausted, and for the first time confronted the possibility that her music career could end: "Being pregnant, and being a very emotional person anyway, I thought, 'Am I ever going to write another song? What if I don't sound like I did? What if my kid doesn't like my music?' "
But Routh, now mother to a healthy, happy baby girl, is still playing music. In the fall of 2016, she also became the executive director of the Girls Rock! Des Moines band camp, taking over the title from the camp's founder, Rae Fehring.
"The program had to continue," she says. "[But] there were a lot of conversations with myself that were like, 'Can you physically do it? This summer you'll have a 6-month-old child.' But I've connected with those campers. It's exciting. It's a big job. I'm ready to take it and continue the amazing work that's already been done."