The Joy of Giving
By Suzie Glazer Burt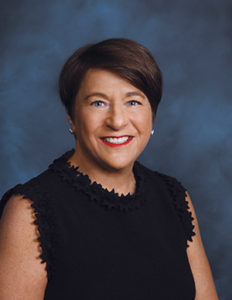 Suzie Glazer Burt made headlines last year with a $5 million gift to the women's basketball program at Drake University and the opening of the Gregory and Suzie Glazer Burt Club, a Boys and Girls Clubs of Central Iowa (BGCCI) facility on the Drake campus. Here she discusses the importance of philanthropy through generations of her family and why Drake and the BGCCI are two of her most ardent passions.
My life has been made joyful by giving. And if by sharing my own story of joyful philanthropy I can help influence others, I will have done something that means a great deal to me.
When I lost my best friend and husband, Greg, I was anxious about facing financial decisions by myself. Although I came to our marriage with money from my own family, I had always deferred to my husband in matters of finance—from purchases to charitable giving. I always sought his opinion on how much I should give to various organizations.
It didn't take long for me to understand how wonderful it is to make my own financial decisions. But it
was sometimes a painful learning process, learning how to invest my money and how best to champion philanthropic causes.
At such times, I would remember what my grandfather Ellis Levitt taught me: Always surround yourself with people who are smarter than you. That led me to my longtime friend Deniz Franke, who owns her own wealth advisory company [Franke Miller Group]. Her expertise helped me to increase my wealth without headaches or fear.
Fortunately, I grew up with a family in which philanthropy was a core value.
My great-grandfather Jacob Levitt came to the United States from Lithuania in 1884. He was a peddler here for 13 years before he started the State Loan Finance Co. in Des Moines. His mission was to ensure that working-class people had access to credit.
By the time my grandfather Ellis Levitt joined the company in the early 1900s, it had added an office in Kansas City. Ellis created the first direct-mail marketing program for any lending institution. His mailing lists included teachers, postal workers and railroad employees. His work ethic and integrity resulted in many loyal customers and the business continued to grow, even during the Great Depression. In 1980, State Loan Finance became Dial Finance with more than 500 branches nationwide.
The example of these ancestors, and their dedication to community service, continues to inspire me. But my mom, Maddie Levitt, was my mentor and my greatest role model. She taught me the two most valuable lessons I have learned in my life.
First, she said, "There's no fun like work." And she lived that philosophy! She worked very hard and she found great joy in it. But she never sacrificed the other things she cared deeply about—her family, friends and community.
The second lesson she taught me is that the greatest responsibility and the greatest gift any of us have is to leave our community a better place than we found it. My mom demonstrated that through her own philanthropic endeavors and the joy she found in sharing blessings with others.
My mom also instilled in me a great passion for higher education. I am the third generation to serve as a member of the Drake University board of trustees. My grandfather served on the governing board; my dad, Edward Glazer, was chair of the Drake board of trustees; and my mom was also a board trustee. She raised over $320 million for Drake.
I'm also the third generation to serve as a member of the Boys and Girls Clubs board of trustees and am a past chair. My grandfather Ellis Levitt was one of the five men who started the Boys Club in 1964, and when my mom told him that girls also needed a safe place to go after school, it became the Boys and Girls Club.
Today, I continue to work on the organization's Club Pathways capital campaign, which has raised $15 million, just short of our $18 million goal. We have seven clubs located throughout the city of Des Moines, including the Gregory and Suzie Glazer Burt Club located on the Drake campus. It's only the second Boys and Girls Club in the United States to be located on a college campus. Of course, my dream is that eventually club
participants will attend Drake University. My mom taught me that any of us, at any time, can be stripped of our material possessions, but we can never be stripped of our education.
She also taught me very early on that it's important for all of us to return more in our lifetimes than we have taken or been given.
EVENTS
MARCH
Big Brothers Big Sisters of Central Iowa
Bowl for Kids Sake
When: March 3-5
Where: Merle Hay Lanes and Val Lanes
Details: Create a team and meet a fundraising goal to earn a two-hour free bowling session with free pizza, beer and prizes. Team registration is free; bbbsia.org.
Community Youth Concepts
Annual Spotlight on Service
When: March 26, 5 p.m.
Where: Decades Event Center, West Des Moines
Details: This annual event recognizes students and adults who make a difference in the community. $50; cyconcepts.org/spotlight-on-service.
APRIL
ChildServe
Bubble Ball
When: April 4, 7 p.m.
Where: Grand Ballroom at the Iowa Events Center
Details: ChildServe's themed runway show and signature gala features bubble wrap creations made by designers, artists and other professionals. Dinner is included. $250; childserve.org/bubbleball.
Central Iowa Shelter and Services
Heroes for Homeless
When: April 13, 5 p.m.
Where: The Meadows Event and Conference Center, Altoona
Details: Recognizes individuals and companies in the community who fight homelessness in Central Iowa. $150; centraliowashelter.org/events/heroes.
Oakridge Neighborhood
Breakfast at Tiffany's
When: April 18, 10 a.m.
Where: Renaissance Des Moines Savery Hotel
Details: Enjoy a fashion show featuring styles from clothing boutiques Lincoln & Lexi and Aimee. A raffle will be held for Tiffany & Co. items, and a gourmet breakfast with a mimosa and bloody mary bar will be available. $100 for adults, $50 for children; oakridgeneighborhood.org.
Animal Rescue League of Iowa
Raise Your Paw
When: April 18, 5 p.m.
Where: Iowa Events Center, Des Moines
Details: More than 350 silent and 100 live auction items will be sold to benefit the homeless pets ARL cares for every year. Company B will perform, and appetizers will be served. $65 before April 1 and $80 after that date; arl-iowa.org.
Young Women's Resource Center
YWRC Gala
When: April 18, 5:30 p.m.
Where: The Ron Pearson Center, West Des Moines
Details: This annual gala includes a silent auction, dinner and an awards program. The night will conclude with a live auction. $125 per person or $65 for young professionals under age 35; ywrc.org/events/gala.
CultureAll
Multicultural Dinner and Concert
When: April 18, 6 p.m.
Where: Franklin Junior High School Auditorium, Des Moines
Details: Join individuals from diverse backgrounds for a dinner, concert and program. The main meal will be prepared by chef Michael LaValle and global chefs. $120 for both the dinner and concert or $40 for the concert only; cultureall.org.
United Way of Central Iowa
Live United Luncheon
When: April 22, 11:15 a.m.
Where: The Meadows Event and Conference Center, Altoona
Details: This annual luncheon recognizes community leaders. Five awards will be handed out, including Impact Maker, Game Changer and Trail Blazer. $20 for individuals or $180 for
a table of 10; unitedwaydm.org.
One Iowa
One Iowa Gala
When: April 24, 6 p.m.
Where: Community Choice Credit Union Convention Center
Details: This annual event includes a dinner, live and silent auctions, live music, and an awards ceremony. $125, or $75 for young professionals under age 35; oneiowa.org.