The average supermarket is home to a whopping 40,000 food and drink "stock-keeping units (SKUs)," according to the Food and Agricultural Organization of the United Nations, and about 18,000 of these are new each year. That means it's surprisingly easy to miss the latest and greatest "wait, they make that?!" items in the blizzard of kombuchas, cold-brew coffees and Cap'n Crunch flavor variations.
So we're cutting to the chase and dishing about three new food finds that are worthy of a spot in your express lane basket or online cart.
Chirps Cricket Chips
Don't be frightened by the massive "EAT BUGS" logo on the front of the bag.
Cricket flour, a new-to-the-scene protein source, is the foundation of these Doritos-like chips. It's likely you won't be able to taste the difference between these and competitor corn chips, though.
Chirps emerged on the supermarket scene in 2017 after receiving a $100,000 investment from Mark Cuban on the reality show "Shark Tank." Since then, they've hopped onto online retailers like Amazon and in U.S. cities from coast to coast thanks to their sneakily healthy nutrition profile and their sustainable
ingredients. My favorite flavor is cheddar, but Chirps also come in Sriracha and barbecue varieties. ($14.99 for three 5-ounce bags, eatchirps.com)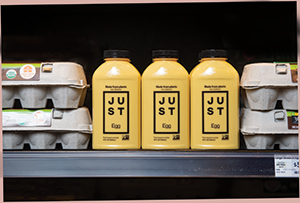 JUST Egg
Hosting vegans or craving something new besides a standard Benedict or breakfast casserole? Scramble up your brunch menu with this faux egg that—unlike flax eggs and most other vegan egg swaps—whips up just like regular whites and yolks. Protein-rich mung beans are the key ingredient, and compared with a conventional chicken egg, each serving has the same number of calories (70), zero cholesterol, just a gram less protein and a 40% smaller carbon footprint. ($4.99, Whole Foods and select Hy-Vee stores)
Delighted By Snickerdoodle Hummus
Don't say "bean there, done that" quite yet when it comes to hummus. The brand Delighted By uses the same blended chickpea base as those it sits next to in the refrigerator case (such as Sabra, Tribe and Lantana) and has a similar nutrition profile, but it has coconut milk, sugar, vanilla and cinnamon in the mix to bring spot-on snickerdoodle vibes to this dessert spread. We love to scoop it up with apple or pear slices, graham crackers or (no shame) a spoon. For the true dessert die-hards, sample your way through the other sweet hummus flavors, including Edible Brownie Batter, Creamy Vanilla Bean, Key Lime Pie and Mint Chocolate Fudge. ($5.99, select Hy-Vee or Target stores)   –Karla Walsh