Pictured: Amelia Grubb
Writer: Christine Riccelli
Photographer: Jami Milne
Hair and Makeup: hairbybrianne.com
To Jami Milne, ballet and wine have more in common than they might seem. Specifically, both "can have an air of inaccessibility," says Milne, creative director of Ballet Des Moines and a longtime dsm contributing photographer. "People may think of either one, 'it's not for me' because they feel they don't know enough about the art form to attend a ballet performance or to buy the 'right' wine."
Milne's desire to challenge that perception led her to develop this photo project. "I wanted to help create awareness and promote the accessibility of both art forms," she says.
She teamed up with Natasha Sayles, executive director of Winefest Des Moines, who chose the wine that Milne then sought to express through photographing the dancers. Sayles selected a Champagne, a sauvignon blanc, a rosé, a red, and a blend; read below for a description of each.
The project builds on an earlier collaboration between the two organizations, which last fall and winter presented virtual wine dinners that included ballet performances. "Every organization has had to determine how to keep engaging patrons and audiences and how to keep creating together, safely and innovatively," Milne says. She adds that after the success of the virtual dinners, she approached Sayles to consider ideas of "collaborating to bring wine and ballet to Des Moines in a fresh way."
As Milne imagined the photos, she sought to capture "what the wine might feel like through how the dancers pose and express themselves," she says. "The concept was never meant to be literal. I didn't want to shoot a dancer holding a glass; rather, I wanted them to embody the spirit of the wine."
As performers onstage, dancers are often asked to look alike and move in synch, Milne adds. But in planning this project, she says, "I wanted to draw upon who they are as individuals."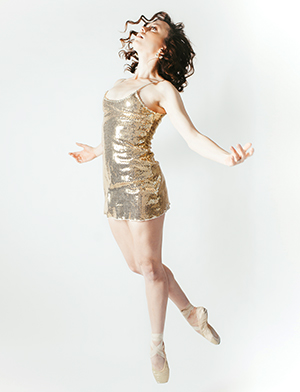 Amelia Grubb
Domaine Ruinart Blanc de Blancs
Grubb's evocation of Champagne "reminds me of the celebratory act of opening a bottle with the cork popping," Milne says. "With her open arms and naturally curly and tousled hair, Amelia just seems to embody the sweet release in the feeling of 'we made it.' "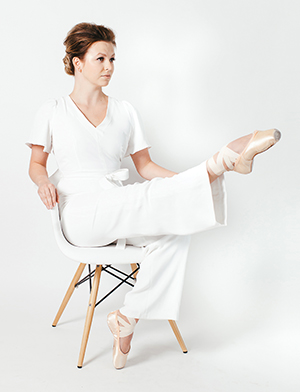 Bobbie Lynn Kandravi
Cliff Lede Sauvignon Blanc
"I know a lot of strong women who drink sauvignon blanc," Milne says. When Kandravi, dressed in white, sat in the chair and stretched out her leg, she conveyed that strength, plus the crispness, sophistication and cleanness of the wine, Milne says. "White wine is sometimes seen as less sophisticated than red, but I think this image proves otherwise," she says. "I want what she's having."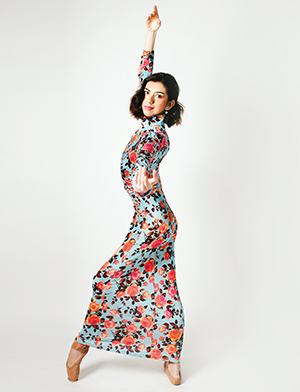 Renee Castonguay
Gonc Winery Rosé Cuvée Anna
As one of Ballet Des Moines' youngest dancers, Castonguay seemed the perfect fit for this fresh, fruity Slovenian rosé, Milne says: "There's such a soft, beautiful, inviting look to her." In shooting the photo, Milne asked Castonguay to "imagine sipping this wine at a streetside Paris cafe in the afternoon, feeling fun and flirty yet the sophisticated ballerina I know you to be."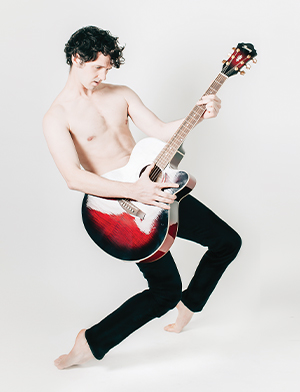 Logan Hillman
Penfolds Grange
When Hillman took off his shirt and grabbed a nearby guitar, the move expressed the boldness of this shiraz. To Milne, the athletic position conveys "a way of celebrating out loud. I like the twist of showing a dancer in an unexpected way."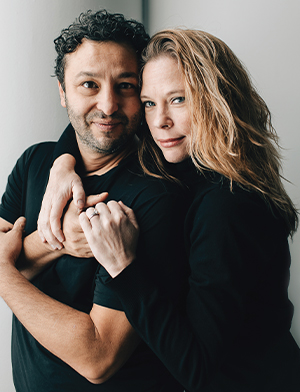 Serkan Usta and Lori Grooters
Sean Minor Nicole Marie Signature
Usta, the company's artistic director, and Grooters, associate artistic director, run the company together. As blends derive their flavor and strength from the combination of grapes, the married couple "balance each other out" in terms of their skills, artistry and personalities, Milne says, and "continue to draw on each other's strengths" in moving the company forward. Another reason the two seemed especially appropriate to represent this particular blend: It's made by married winemakers who bonded over wine similarly to how Usta and Grooters bonded over ballet.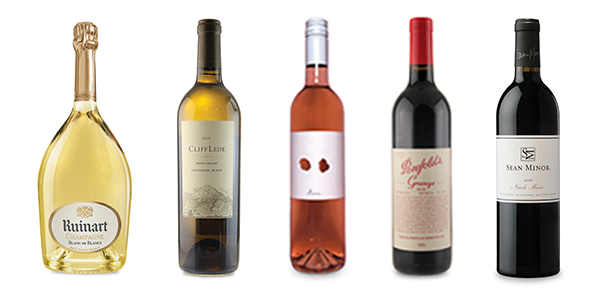 Domaine Ruinart Blanc de Blancs
Inspired by the intuition of a monk well ahead of his time, the House of Ruinart in 1729 was the first established Champagne House. The aroma of this Champagne has ripe citrus fruit notes, but the palate is rounded and supple. In addition, "it has a persistent release of bubbles that illuminate its beauty," according to the winemaker.
Cliff Lede Sauvignon Blanc
Produced in Napa Valley, this 2019 sauvignon blanc is described as elegant and lively, with an aroma of ambrosial lemon curd, elderflower, Bosc pear flesh and apricots. The fruit underwent the whole-cluster pressing process, which releases the delicate juices from the clusters and creates a deep level of complexity and sophistication.
Gonc Winery Rosé Cuvée Anna
The style of this Slovenian rosé is French provincial but has the cool mineral snap for which the central European country is known. The wine offers an aroma of wild berries, strawberries, melons and peaches. On the palate, it's bright and fruity with a refreshing finish. Fifty percent of the rosé is made from Zametna Crnina, which, dating back 400 years, is claimed to be the world's oldest living vine.
Penfolds Grange
Officially listed as a Heritage Icon of South Australia, Grange is one of that country's most celebrated wines. Made with fully ripe, intensely flavored shiraz grapes, the red wine is "sophisticated and sculptured—a dynamic oscillation between muscularity/solidity and polish/sleekness," according to the winemaker.
Sean Minor Nicole Marie Signature
Husband-and-wife duo Sean and Nicole Minor set out to make approachable, everyday wines. The Nicole Marie Signature is a blend of merlot, zinfandel and petite sirah. With aromas of cassis and vanilla, it has flavors of blueberries and dark cherry combined with hints of oak spice, soft tannins and sweet oak.
---