The rugged terrain along the northeast corner of Iowa is like nowhere else in the state—dramatically poised along the Mississippi River. Visiting Dubuque offers plenty of ways to soak in the river's majesty. Photography courtesy of Travel Dubuque.
Writer: Beth Eslinger
Instead of making a beeline to Madison, slow down and take some time to explore the central, eastern and northeastern parts of the state. With university towns, cities on the rise and historic small towns, you may be surprised by the wealth of arts and culture, food and drink, and outdoor activities on these two routes.
Trip 1:
This 292-mile route is the quickest way to Madison. Stop and see what's new while getting reacquainted with some old favorites.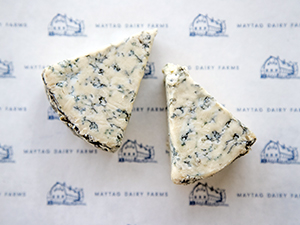 Maytag Farm Reserve cheese in Newton
Local Culture
Whether it's your first or last stop, Maytag Dairy Farms in Newton offers zingy bites of their famous blue cheese. Their newest option, Farm Reserve, retains the natural rind, creating a funky, mushroom-like flavor. They also sell their classic rindless blue, which has a buttery, salty taste. While at the retail shop, pick up some aged cheddar, honey and jelly.
Amid the Icons
Architecture fans flock to Grinnell to check out Merchants National Bank by Louis Henry Sullivan and other historic buildings downtown. Sullivan, a Frank Lloyd Wright mentor, is considered the father of the modern skyscraper. His buildings are known for art nouveau ornamentation—this 1914 bank has plenty to study. Today the building houses the chamber and is open for a quick peek. While downtown, take the half-mile architectural tour—visit grinnelwalkingtours.com to see the map.
Hot New Hotel
Reinvention isn't necessarily a word equated with Amana. But that's exactly what's happening in one of the 166-year-old textile mills. New last fall, Hotel Millwright provides all the amenities of upscale lodging, including suites and studios. A new restaurant, the Indigo Room, elevates Amana fare. The pork chops, for example, are topped with a bacon red-wine demiglace. There's even a new cocktail spot, Electric Thread Social Club. If you're in the mood for classic German fare in a beer hall setting, stop by Millstream Brau Haus nearby.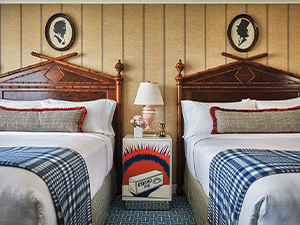 The Graduate hotel in downtown Iowa City
The Place to Play
If you haven't been to Iowa City in a few years, it's worth a revisit. New on the pedestrian mall in 2018, the Graduate hotel makes an ideal base camp for checking out area restaurants and shops. For a quick bite after checking in, head to Bread Market next door. The high-end grocery prepares fresh flatbreads, burgers, tacos and more. For happy hour or fine dining on a patio, Pullman Bar & Diner is a top spot. For an old-school experience, stop by Joe's Place rooftop patio. One of the top patios in town—Big Grove Brewery & Taproom—offers a relaxed attitude and international street food.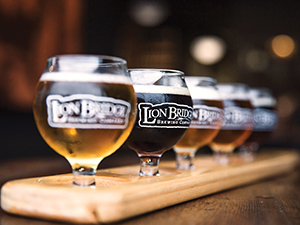 Lion Bridge Brewing in Cedar Rapids
Museums and Murals
A new crop of restaurateurs, makers, brewers and distillers are applying a fresh face to Cedar Rapids. Cobble Hill Eatery & Dispensary, nominated by the James Beard Foundation for Midwest Best Chef, has been the go-to restaurant since 2013 and features outdoor dining. Their sister restaurant, Caucho, dishes tacos and also has a patio. And that's not it for al fresco eats—more than 45 restaurants and breweries have outdoor seating, including fan favorites Lion Bridge Brewing Co., Cedar Ridge Distillery & Winery, and Parlor City Pub & Eatery. While strolling through the city, shop for ceramics, glass, handmade goods and vintage threads.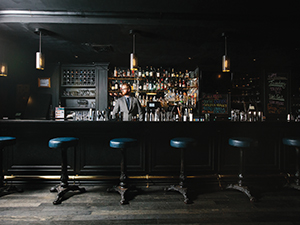 Relax in Dubuque's Hotel Julien's elegantly aged bar
Hip Historic District
Iowa's oldest city, Dubuque is defined by the Mississippi River and surrounding bluffs, plus picturesque brick streets and buildings in the city's historic districts. It's also an up-and-coming city for foodies, specifically the Historic Millwork District. Find tea and coffee at Inspire Cafe, brisket burgers at 7 Hills Brewery, casual bites and retro arcade games at Backpocket Dubuque, and scratch-made pasta and cocktails at Brazen. For an overnight, consider the Hotel Julien Dubuque or a downtown vacation rental (historic brick townhouses are some of the interesting options).
Trip 2:
Though slightly longer at 321 miles, this route takes you through some of Iowa's prettiest terrain in northeastern Iowa.
Dine on crepes at Lockwood Cafe
Best Breakfast or Brew With a View
While Campustown and Main Street are the most common destinations, these outlier businesses offer unique-to-Ames eating and drinking experiences. Located in the Reliable Street complex (it's tricky to find even with GPS—take North Dakota north and turn left at Reliable Street right before the railroad tracks), Lockwood Cafe is one of those hip hangouts where students, young parents, working professionals and retirees converge for conversation with a bite of crepes and locally roasted coffee. If a brew outside is a better pit stop, head north to Alluvial Brewing for an IPA or sour to sip on the patio overlooking the area's verdant farms, or a grab a brew for your overnight destination.
Downtowns to Explore
The Cedar River winding through Cedar Falls and Waterloo means excellent recreation opportunities (over 110 miles of bike trails) and scenic backdrops. Start your visit in downtown Cedar Falls, which boasts independent shops, breweries, coffee shops and restaurants. For an overnight, book a room at the historic Black Hawk Hotel, which dates to the city's founding in the mid-1800s. Enjoy a cocktail from on-site Bar Winslow (currently just to-go) before dinner. One of our favorite hangouts is SingleSpeed Brewery in downtown Waterloo. Housed in a former Wonder Bread factory, the brewery/restaurant has bike storage, a play area for the kids and an outdoor patio complete with vining hops. Also new downtown, Verve is a kombucha brewery that also serves new American cuisine with a global twist.
Favorite State Park
Iowa's oldest state park and one of the most beloved, Backbone near Strawberry Point treats visitors with diverse ways to get active. Drop down from the flat farmlands into the Maquoketa River valley park, which has rich topography for hiking, mountain biking and even fly fishing. Reserve a few hours to hike some of the park's trails, including Devil's Backbone, which traverses one of the limestone outcroppings; rock climbers with their own gear can scale the 70-foot cliffs. Stop by the giant Strawberry sculpture in downtown Strawberry Point for a fun social feed photo.
Water Trails
Another river town, Elkader has the classic natural beauty found in the Driftless Area, a historic downtown, plus watery challenges. With one of three whitewater parks in the state, the town of about 1,400 people draws paddlers with several obstacles, including the Gobbler, a 22-foot-wide wave. You can watch the pros practice from the back patio at Schera's, an Algerian and Mediterranean restaurant with a diverse beer and wine menu. For a day on the river, rent a canoe or kayak in town and spend a few hours floating to Motor Mill Historic Site, where you can also hike near the six-story limestone structure.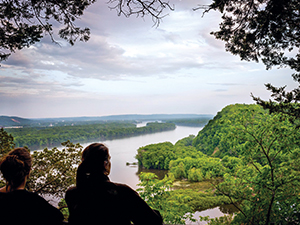 Enjoy the Mississippi River bluff views on a hike at Effigy Mounds National Monument
Scenic Parks and Sweet Downtowns
Less than 20 miles away, the Mississippi River defines McGregor and Marquette (the towns are less than two miles apart). Hike the bluff trails to see Native American burial mounds and stellar views of the river from Pikes Peak State Park and Effigy Mounds National Monument. It's possible to bag nearly 25 miles between the two parks. Explore the historic towns—McGregor is the larger of the two—to find restaurants, breweries and wineries, antiques and more. Several high-end vacation rentals are available in the area if you're up for an overnight before heading across the river into Wisconsin.