Simple ingredients come together quickly to make this no-bake BLT dip developed by local food blogger Rachel Walker. Photographer: Duane Tinkey.
Writer: Karla Walsh
Some food trends fall out of favor more quickly than they burst on the scene, but others stand the test of time. Case in point: dips. Styles and formats might evolve, but the thrill of scooping something creamy, cheesy, spicy or sweet transcends generations and eras. No Midwestern party would be complete without at least one seven-layer dip, hummus, guacamole or ranch-spiked treat.
As of late, dips have become so popular that 35% of Americans surveyed in a July 2022 poll said they often replace their lunch with dunkers and a spread. But why stop at lunch? Amid March Madness season and spring parties on the horizon, we suggest assembling a complete spread of dips.
To ensure they're creative and hearty enough to make a meal, we tapped three local food pros to create or share exclusive—and easy—dip recipes for dsm. Read below to find recipes for warm fava bean dip by chef Rateb Aburas from Mulberry Street Tavern and roasted poblano and corn dip by chef James Arbaugh of Lua Brewing. Whether you select one as the MVP or prep all three, you'll be treated to a delicious snackable supper.
"I find myself usually eating dip on game days. It makes a great snack to share," says Iowa Culinary Institute graduate and blogger Rachel Walker, who has been sharing recipes such as One-Pot Lentil Chili, Peanut Butter Chocolate Chip Oatmeal Blondies, and Pretzel Dogs with Spicy Honey Mustard at Hearty Life (theheartylife.org) since 2018.
For a preview of summer flavors, Walker recommends a BLT dip.
"I love a hearty BLT with fresh heirloom tomatoes from the garden or farmers market, lettuce, and thick-cut bacon that is just perfectly crisp," Walker says. "This dip reminds me of that but can be enjoyed any time of the year."
The dip is easy, and you can assemble most of it days in advance.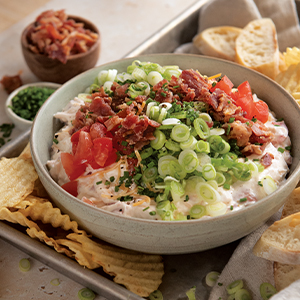 BLT Dip
Ingredients
1 cup sour cream
1/2 cup mayonnaise
4 ounces cream cheese, softened
2 to 3 cloves garlic, minced
1/2 teaspoon kosher salt
Fresh cracked black pepper to taste
1/2 cup cheddar cheese, shredded
6 to 8 slices bacon, cooked and chopped (reserve 2 tablespoons for garnish)
2 to 3 Roma tomatoes, diced (reserve 2 tablespoons for garnish)
Chives or green onions, finely sliced, for garnish
Directions
In a medium mixing bowl, combine sour cream, mayonnaise and cream cheese. Mix until smooth.
Add minced garlic, salt, pepper and shredded cheese. Mix again.
Gently fold in the chopped bacon and diced tomatoes, then transfer to a serving bowl.
Garnish with reserved bacon, tomatoes and sliced green onions or chives, and serve with grilled or toasted sourdough bread, crispy pita chips, thick-cut chips, or romaine lettuce.
To make ahead: Follow the recipe through step 3, then refrigerate in an airtight container for up to 4 days. Refrigerate bacon garnish separately. When ready to serve, add bacon, garnish and enjoy.
---
Taste of the Middle East
Raised in Kansas City, Missouri, by a Canadian mother and Palestinian father, Rateb Aburas was introduced to a variety of ingredients and flavors early in life. He started working at his father's Middle Eastern restaurant at age 12, developed live-fire coastal cuisine at Hotel Haya in Tampa, Florida, and for the past year has been executive chef at Mulberry Street Tavern (suretyhotel.com/mulberry-street-tavern), where he's introduced diners to his fresh takes on ceviche, trout and more.
In the future, expect even more recipes influenced by his childhood, as this warm fava bean dip is. "Easy to make, yet able to add so much flavor to any meal of the day, this was a staple in my house growing up," Aburas says. "[It's] very nostalgic and warming to me, not to mention the fact that it's also healthy and a great source of protein."
Warm Fava Bean Dip
Ingredients
3 cloves garlic
1 teaspoon ground cumin
2 15-ounce cans of fava beans (find at Middle Eastern stores such as 60th Market in West Des Moines or Hilal Groceries in the Drake neighborhood)
3 tablespoons tahini
2 to 3 tablespoons lemon juice  or more to taste
Kosher salt
For garnish: Extra virgin olive oil, 1 cup chopped fresh parsley and 1 diced Roma tomato
Directions
In a food processor, mince garlic until it resembles a paste. Add cumin.
Pour fava beans, including the liquid, into a medium saucepan. Add tahini and garlic mixture.
Cook over medium-high heat, stirring frequently until the liquid retains some brothiness but turns thick and sauce-like, about 5 minutes.
Add lemon juice and salt to taste.
Mash one-third of the beans with a potato masher to thicken; combine with remaining dip. For a smoother dip like hummus, combine in a food processor.
Transfer to a serving dish and drizzle with olive oil. Garnish with parsley and tomato, then serve with crusty bread, pita wedges or chips.
To make ahead: Follow the recipe through step 5, then refrigerate in an airtight container for up to 4 days. When ready to serve, microwave for 1 minute, stir and add 1/4 cup more water for a thinner consistency, if desired. Garnish and enjoy.
---
Mexican Remixed
Since opening day in October 2019, James Arbaugh has been the executive chef at Sherman Hill's Lua Brewing (luabeer.com). While the menu changes seasonally, Lua always offers some dip, and this is a favorite of Arbaugh's. The inspiration comes from his enthusiasm for Mexican cuisine, and he describes this as "a spinach and artichoke dip, but with a Mexican spin."
Editor's note: This dip feeds a crowd. Divide the recipe in half if you don't want the big quantity.
Roasted Poblano and Corn Dip
Ingredients
4 poblano peppers
1 jalapeño pepper
1 tablespoon olive oil
1 tablespoon and a pinch of salt
1 cup corn kernels, fresh or frozen
1 cup queso fresco, 1 tablespoon separated for garnish
3 scallions, stems removed and sliced in half
24 ounces cream cheese, softened
For garish: Tajin (available at Gateway Market) and 2 tablespoons fresh chopped cilantro
Directions
Preheat oven to 500 degrees.
Brush whole poblano and jalapeño peppers with olive oil; sprinkle with the pinch of salt.
Place peppers on a sheet pan lined with parchment paper.
Roast for up to 40 minutes until the surface of each pepper is charred. Rotate using tongs every 10 minutes. Alternatively, roast over an open flame on a grill. Once charred, transfer to a large bowl and cover with plastic wrap or a kitchen towel. Let cool, about 10 minutes.
Reduce oven temperature to 375 degrees.
Use a knife to slice off the stem, scoop out the seeds, then brush off the black skin with paper towels. (Do not rinse the peppers.)
In a medium skillet over a medium-high heat, cook the corn kernels for 10 to 12 minutes, or until lightly browned. Remove from the pan and reserve in a bowl, separating 1 tablespoon for garnish.
In the same pan, sautè scallions for 5 minutes, or until golden brown.
In a large food processor, add the salt, peppers, corn, scallions and queso fresco. Mix on the pulse setting until the mix is uniformly chunky, or about the size of peas. Add the cream cheese to the food processor; mix until smooth. If you don't have a large food processor, combine in a mixing bowl.
Transfer to a large oven-safe skillet or baking dish and bake for 8 to 10 minutes, or until golden brown.
Remove from the oven and top with the reserved corn, queso fresco, cilantro and a dash of Tajin. Serve with tortilla chips, vegetables, crackers or toasted bread.
To make ahead: Follow the recipe through step 9, then refrigerate in an airtight container for up to 5 days. When ready to serve, bake at 375 degrees for 16 to 20 minutes, then garnish as desired.