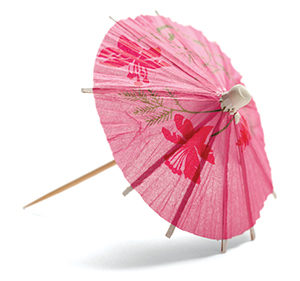 Bellhop, the beachy cousin of the midcentury-inspired cocktail lounge Hello, Marjorie, is set to open this spring in the East Village.
"Tiki cocktails have seen a resurgence over the last several years. There isn't a ton of it yet going on in Des Moines, so we figured it would make for a good second concept for our team," says Nick Tillinghast, partner at DMDT Hospitality and Lifestyle LLC. "We didn't want to go with the cliché style of decor, so we carved our own concept while staying in the tropical family. It feels like you're at a midcentury Palm Springs dinner and like you're at your favorite neighborhood bar, all at once."
Tillinghast clued us in on the drink list, which will include a mix of popular poolside picks (such as margaritas and mojitos) alongside tiki classics and Bellhop originals. To pace yourself, you can alternate between cocktails and mocktails—there will always at least a couple of the latter on the menu.
Bellhop also is aiming to play nice with others: "We want to embrace the neighborhood," Tillinghast says. "We don't have a kitchen, so we [will] allow guests to bring in food from neighboring restaurants." 
Bellhop, located at 440 E. Grand Ave., will be open Monday through Saturday.
–Karla Walsh