"Dead Man's Party": Oingo Boingo might have been onto something. With tours, food trucks and live music, who could ask for more?
Writer: Madeline Cisneros
Photos: Duane Tinkey
This year marks a big birthday for one of Des Moines' historical landmarks: It's the 175th anniversary of Woodland Cemetery, the final destination of some of Iowa's most influential early leaders and colorful characters.
A public celebration is set for 10 a.m. to 3 p.m. Sept. 16, when visitors can learn about Woodland's origins in the nationwide garden cemetery movement of the early 1800s. Back then, before public parks were common, cemeteries were designed for people to enjoy while they were still living — for walks, for meetings with friends and even picnics.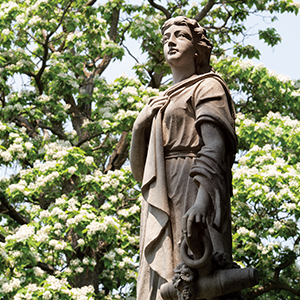 The event at Woodland may have a few modern touches, too, including live music and a food truck or two. If you go, pick up a map at the main entrance at the corner of Martin Luther King Jr. Parkway and Woodland Avenue. From there, you can stroll through the hilly twists and turns or take a golf cart ride to explore the site's 69 acres. At the receiving vault, you'll find informational booths where you can chat with a few local historians, genealogy experts, a gravestone conservator and members of Wreaths Across America, a nonprofit that honors fallen military veterans.
The celebration also includes the unveiling of a new memorial for the family of Absalom Morris, one of the original board members of Equitable of Iowa. By 1946, the Morris Mausoleum was falling apart, and the city decided to slow its deterioration by placing a concrete slab at the front, said Mike Rowley, a member of the cemetery's advisory committee. Now the slab has been painted, with the family's permission, to show how the mausoleum originally looked.
As you make your way through the winding brick roads, be sure to keep your eye out for QR codes you can scan with a smartphone to see short historical videos about the cemetery and the people who were laid to rest there. The videos are part of an ongoing project led by Kristine Bartley, a member of the cemetery's advisory committee. As she put it, "What we're hoping to do is give people an opportunity to enjoy the space, embrace Des Moines's history, and maybe learn something new."
Woodland Cemetery was established in 1848 and designated as a local historic landmark in 1986. It's also recognized as part of the National Park Service's Underground Railroad Network to Freedom because a number of freedom-seekers are buried on its grounds. There are special sections for the Emmanuel Jewish Cemetery and the St. Ambrose Catholic Cemetery, veterans of the Civil War and World War I, and even 536 babies.
One notable burial is William Morrison, a Scottish immigrant who settled in Iowa in the 19th century. He was interested in electricity and built an electric car in Des Moines in the early 1890s. During the September celebration, visitors will be able to see a restored Morrison parked alongside a brand-new electric SUV. Clearly, he was ahead of his time.