Writer: Wini Moranville
Photographer: Duane Tinkey
Brussels Sprouts Salad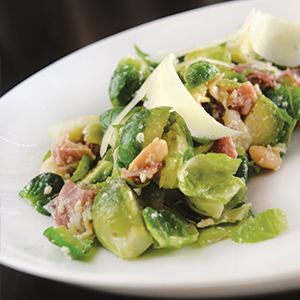 Table 128 Bistro + Bar
"I hate signature recipes," says Lynn Pritchard, chef-owner of Table 128 Bistro + Bar. Instead of being pigeonholed into a constant list of safe standbys, he prefers to build trust between the diner and the kitchen—an ongoing faith that every new dish will hit its mark as well as (or better than) a previous favorite. Such confidence allows new flavors, textures and experiences to continually emerge on the menu.
"Diversity elevates our craft," he explains.
Nevertheless, Table 128's signature Brussels sprouts salad has been good to him. The kitchen plates up around 250 of these salads a week, including the lunch menu version, which is served as either a main dish or a side dish, and the dinner menu version, served with a mustard-seed vinaigrette and a poached egg as a first course,
One taste, and it's easy to see why there could be a mutiny in the dining room if Pritchard ever took this recipe off his menu. The sweet and delicate Marcona almonds (available at Gateway Market) echo the nuttiness of those cool, crisp-tender Brussels sprouts. The dusting of Parmesan cheese brings richness and texture, while a champagne vinaigrette adds some snap. Finish with shavings of salty-nutty manchego, and you'll understand this salad's cult-like following.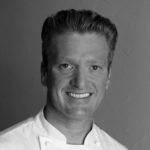 Table 128 chef-owner Lynn Pritchard shared these tips:
• The better the Brussels sprouts, the better the salad. Table 128 buys from local producers during the growing season
• Salt the cooking water well. "It should be salty like the sea," Pritchard advises
• Use plenty of water and don't overcrowd the pan—the water should return to boil quickly after adding the Brussels sprouts. Keep in mind the "boil-and-shock" method (that is, the quick cooking/quick cooling technique) is the key to the bright green color of the salad
• "Drain the Brussels sprouts aggressively," Pritchard emphasizes. "They want to hold on to moisture.
• Do not be tempted to use extra-virgin olive oil. "It will add too much of its own flavor to the dish," says Pritchard. A neutral oil, such as grapeseed or sunflower, will let the other ingredients star.
Brussels Sprouts Salad
12 ounces Brussels sprouts, stems trimmed, wilted outer leaves removed, and cut into quarters (about 3 cups)
1/4 cup Marcona almonds
1/4 cup diced La Quercia prosciutto
2 tablespoons grated Parmigiano-Reggiano cheese
Pinch sea salt
Champagne vinaigrette (see recipe, below)
Shaved manchego cheese
In a large saucepan bring 2 to 3 quarts salted water to boiling. Add the Brussels sprouts and cook about 2 1/2 minutes or until tender-crisp. Immediately plunge into an ice-water bath. Let stand until Brussels sprouts are cool. Drain well.
In a large bowl, combine Brussels sprouts, almonds, prosciutto, Parmigiano-Reggiano cheese and the sea salt. Stir in the vinaigrette until combined. To serve, arrange salad on 4 serving plates; top each with shaved manchego. Makes 4 servings.
Champagne Vinaigrette:
In a small bowl, combine 2 tablespoons grapeseed or sunflower oil,
1 tablespoon champagne vinegar, 1 teaspoon honey, 1 teaspoon chopped fresh parsley, and salt and pepper to taste. Whisk to combine.
---
Grilled Sea Scallops with Edamame Salad
Splash Seafood Bar and Grill
Frankly, I'm surprised I ever ordered this dish; these days, Sriracha is the kale of condiments—a hipster ingredient that appears way too often in too many things. (A glass of Sriracha stout, anyone?)
It might have been the promise of the butter that grabbed my attention. Indeed, amid the buttery lusciousness of the sauce, the Sriracha registers as brightness and spark rather than mere spiciness. The edamame salad, marinated in a vinaigrette inspired by noac cham (that Vietnamese dipping sauce often served with spring rolls), provides a fresh, sprightly counterpoint to the rich flavors on the plate.
According to Chef Dominic Ianarelli, grilling the scallops adds a layer of char-cooked flavor; however, you can cook the scallops in a pan on the stovetop, if you wish.
While Splash's kitchen jazzes up the dish with a lobster-toast roll, we've omitted that feature for the home cook. There are plenty of wonderful things happening in this recipe without it.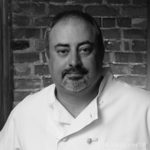 A few tips gleaned from Splash's executive chef Dominic Ianarelli:
• When choosing scallops, "buy them fresh, from a place that sells them dry rather than sitting in a pool of water," says Ianarelli. Also, the busier the shop the better—high turnover equals a fresher product.
• The Sriracha butter sauce also tastes great on other seafood and proteins, including shrimp, chicken, pork and white fish varieties
• You can adjust the salad's vinaigrette to your personal taste. If you like it sweeter, add more sugar; if you like it spicier, double the sambal oelek. For more unctuousness, add more fish sauce
• Ianarelli cooks the scallops until they're a "firm medium-rare." To the touch, they should feel about the same as a steak cooked to a medium temperature
• If you're feeling "splashy," jazz up the cooked rice with sesame seeds, scallions and a little white vinegar, as they do in Splash's kitchen. While the rice is warm, shape it into logs similar in size and shape to that of nigiri sushi.
Edamame Salad
1 cup Asian fish sauce
1 cup water
1/4 cup rice wine vinegar
1/4 cup sugar
1 tablespoon sambal oelek
1 tablespoon chopped fresh cilantro
1 cup diced carrots
1 cup diced yellow bell pepper
1 cup diced daikon radish or red radishes
1 cup frozen shelled edamame beans
Sriracha Butter Sauce
1/2 tablespoon minced garlic
1/2 tablespoon minced fresh ginger
1 tablespoon neutral oil, such as grapeseed or canola
1/2 cup dry white wine
3 cups heavy cream
1/4 cup fresh lemon juice
1/4 cup Sriracha sauce
1 teaspoon tomato paste
1/2 pound unsalted butter (2 sticks), cut into cubes
Kosher salt to taste
Scallops
3 tablespoons grapeseed or canola oil
2 tablespoons sesame oil
18-24 scallops (3 to 4 per person, depending on size)
Hot cooked basmati rice, shaped into
1 1/2-inch-long logs
For the edamame salad: In a mixing bowl, combine fish sauce, water, vinegar, sugar, sambal oelek and cilantro; stir until sugar is dissolved. In a large glass bowl, mix all vegetables together except the edamame; add vinaigrette. Cover and let marinate overnight in the refrigerator.
One hour before serving time, cook the edamame in boiling water for 1 minute; drain and plunge into an ice-water bath. Drain well and add to the vegetable mixture. Mix well and store in the refrigerator up to one hour before serving time.
For the Sriracha butter sauce: In a medium sauté pan, cook and stir the garlic and ginger in hot oil until tender but not brown. Add the white wine and bring to boil, stirring, until reduced by half. Add heavy cream, lemon juice, Sriracha and tomato paste. Cook over medium-low heat until thick bubbles form; continue cooking until the sauce is reduced by half. Add cubed butter, one piece at a time, whisking constantly to reduce chances of breaking the sauce. Season to taste with kosher salt. Set aside.
For the scallops: In a shallow bowl, combine the grapeseed and sesame oils. Coat scallops in oil mixture. Fire up the grill and place scallops directly over medium-hot coals. Cook until scallops turn opaque, turning once halfway through grilling time, about 3 minutes (about 5 minutes for large scallops). Allow scallops to rest, off heat, for 2 to 3 minutes.
To serve, drain the marinade from the edamame salad; place approximately 1/2 cup salad in the center of each of six serving plates. Spoon a circle of the Sriracha butter sauce around the salad. Arrange scallops and rice logs atop the sauce. Serve. Makes 6 servings.
---
Banana Bread Pudding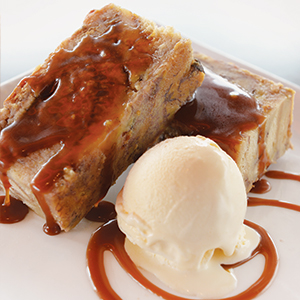 Crème Cupcake and Dessert Lounge
Forget any heavy, soggy bread puddings you've had in the past. Crème Cupcake's signature banana cinnamon-roll bread pudding is as moist, gooey and rich as you desire in a fabulous fall/winter dessert, but also yields an airy lightness. The secret is in the perfect ratio of yeasty cinnamon rolls to egg custard; the latter morphs the bread cubes into puffy pillows of divine sweetness. Finish with some salted caramel sauce for the win!
This bread pudding is emblematic of the pleasures you find at Crème. Next time your night out on the town is coming to a close—but you're not quite ready to go home—head here for a memorable top-off-the-evening experience. Find a rotating menu of confections such as peanut butter lava cake with spiced-berry jam, seasonal cheesecakes, and flourless chocolate torte with almond mousse. All are designed to pair with cocktails, wine or specialty teas and coffees specifically chosen for each dessert.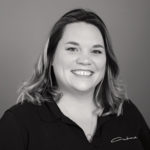 Holly Evans, pastry chef at Crème, shared these tips for bread pudding perfection:
• When it comes to the bananas, "the uglier the better," Evans says. "You want them soft, with black spots on the skins.
• You can use any cinnamon rolls, including glazed. Just be sure to slice off any frosting (though glaze, if present, can remain). For a true-to-Crème version, use the shop's signature cinnamon rolls
• The cinnamon rolls should be at least one day old and a bit dry; that way, they'll absorb the custard mixture
• Make sure you let the custard-soaked rolls sit for 30 minutes before transferring to the baking pan; it's the secret to getting the custard absorbed into the rolls.
• Crème serves bread pudding with salted caramel sauce and rum crème anglaise; to simplify this recipe for the home cook, a purchased salted caramel sauce will do just fine.
Bread Pudding
5 cups loosely packed 1- to 2-day-old cinnamon rolls, chopped into 2-inch pieces*
2 cups mashed ripe bananas
3 eggs
1 cup heavy cream
1 cup whole milk
1/2 cup sugar
1/4 cup brown sugar
1 teaspoon vanilla
2 tablespoons dark rum
Pinch salt
Pinch cinnamon
Garnishes
Purchased salted caramel sauce
Vanilla ice cream
Place the chopped cinnamon rolls in an extra-large bowl. For the custard, in another bowl, whisk together the remaining ingredients (except garnishes). Pour custard over the cinnamon rolls. Mix well, making sure all cinnamon roll cubes are coated. Let this mixture stand at room temperature for 30 minutes.
Spray a 10-inch-square baking pan with nonstick cooking spray. Transfer the bread pudding mixture to the baking pan.
Bake in a 350-degree oven about 25 to 30 minutes, or until golden on top and just set in the middle. Do not over-bake. Cool to room temperature on a wire rack; cover with plastic wrap and chill within 2 hours. Store in the refrigerator.
To serve, slice bread pudding into 4-by-1/2-inch sticks; place two sticks on a microwave-safe plate. Spread caramel sauce over the bread-pudding sticks. Heat each plate in the microwave about 1 minute (per serving) or until warm. Drizzle additional caramel sauce on serving plates; arrange bread-pudding sticks on plates. Serve with ice cream. Makes 8 servings.
* Before chopping the cinnamon rolls, slice off and discard any frosting.