Pho from Pho 515.
Writer: Karla Walsh
Photographer: Duane Tinkey
If you hear "pasta" and immediately think Italian, it's time to expand your horizons. Sure, cavatelli and spaghetti will always have a special place in the hearts of locals, but there's a lot more to explore. Noodle dishes have been made in hundreds of cultures for centuries, and a diverse mix of local restaurants proves the point. Consider this your bucket list of some of the best globe-trotting noodle finds in Greater Des Moines.
---
Head to Vietnam to Try Pho
Where: Pho 515 (pho515.com)
Rice noodles and a bounty of fresh herbs and vegetables star in this robustly flavored broth-based soup (pictured above). You can find pho at several Vietnamese restaurants, but this recently renovated restaurant within C Fresh Market is worth seeking out (they won the Pho King competition in 2021). The menu is designed to allow each diner to choose their own protein adventure; opt for shrimp and brisket, as shown, or chicken, vegetables, or tofu—or a combination of all the beef cuts or seafood in one bowl. The restaurant also has other traditional Vietnamese dishes on the menu if you're feeling adventurous.
---
Jet to Japan for Ramen
Where: Wasabi (wasabidsm.com)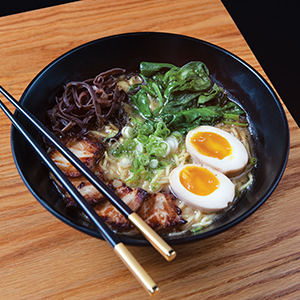 Soup steps from starter into entree territory at all five metro-area Wasabi locations. At these popular sushi spots, you can choose from five flavor variations
when you're craving this Japanese noodle soup. Try Chicken Wonton, Spicy Kimchi Seafood, Spicy Kimchi Pork, Spicy Seafood or the most traditional, Black Garlic Tonkotsu ramen. Owner Jay Wang perfected the latter recipe over months of trials and determined that the perfect bowl features 16 ounces of broth simmered six hours, 6 ounces of noodles, 3 ounces of char siu pork, 1 cup of veggies and one jammy egg.
---
Hit New Flavor Heights with Alpine Mac
Where: Cheese Bar (cheesebardsm.com)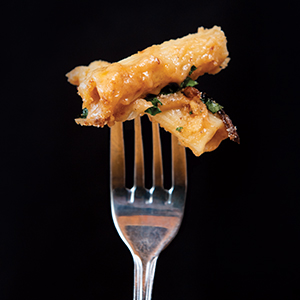 A twist on the Cheese Shop's self-proclaimed "World-Famous Mac" (a real menu item that features Frisian Farms Gouda, Hook's four-year cheddar, Rustichella D'abruzzo Rigatoncini pasta, Mornay sauce and breadcrumbs), this recipe is certainly worthy of its mountain-inspired moniker. In place of the Midwest cheeses infused into the classic recipe, the Alpine mac stars a Swiss mountain cheese blend, thinly sliced apples and sauteed onions, then comes topped with fried onions, breadcrumbs and flecks of parsley. All of this goodness coats chunky rigatoni noodles. It's fun playing with your food to get the perfect forkful of tang from the cheese, sweet from the apples, and texture from the breadcrumbs.
---
Try Out an Alt Thai Flavor
Where: Blu Thai Food and Sushi (bluthaifood.com)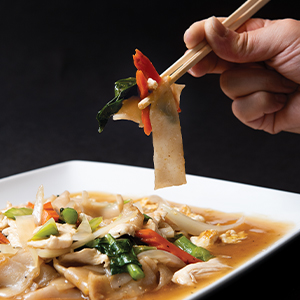 Though classic pad thai is on the menu, it's time to try something new. We suggest the lad na, a popular street food in Thailand consisting of wide rice noodles, stir-fried egg, carrots, onion, Chinese broccoli and garlic in a thick sweet and sour sauce. Choose your spice level, protein (including tofu) and noodle style (crisp or soft). Other options include garlic and drunken noodles and pad see ew, which comes with inch-wide rice noodles that soak up the garlic, sesame oil and black soy sauce. While dining at the casual downtown spot, start with spring rolls filled with thin vermicelli noodles or a specialty sushi roll. The restaurant also has specials.