Over the past 12 years, Des Moines makeup artist Lindsay Kaven has worked with everyone from presidential candidates to rock stars and fashion models. Her artistry appears in print publications, including dsm magazine, on television news networks and in commercial projects. In addition to makeup, Kaven carries plenty of other items to photo shoots. Starting at the top of the photo below and moving clockwise: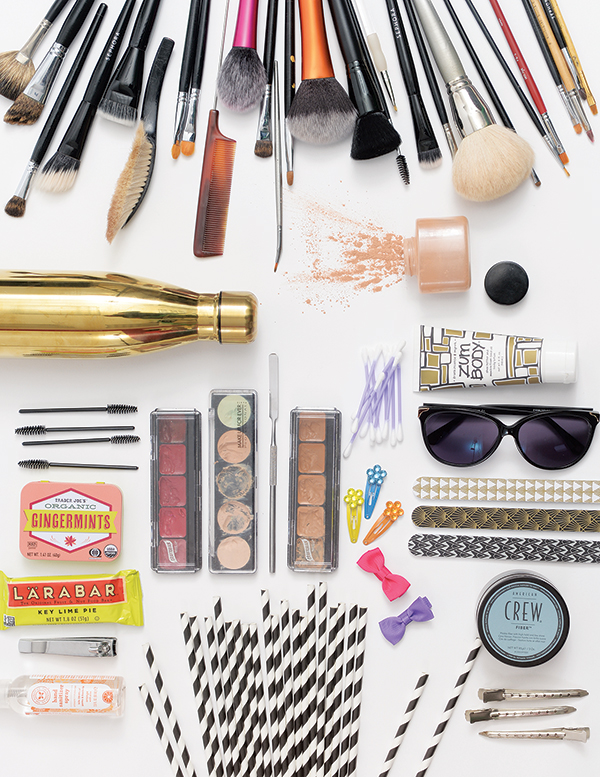 The Brush-off: Each brush has a different purpose. I even use a paintbrush. I carry multiples of the same brush because on a commercial job, I can be responsible for 20-plus people on the talent team.
Best Face Forward: Ben Nye is the makeup line for stage and film; it's truly for a professional artist. This is my favorite powder—it's finely pigmented and goes on very smoothly.
Smooth Going: I carry Zum body lotion for hand shoots or those where models' skin may be exposed, like if they involve lingerie or swimsuits.
Cleaning Tip: I always have a supply of Q-tips to clean up smudges.
The Eyes Have It: I have sensitive eyes, so I always carry sunglasses in case the shoot is outside.
Hard as Nails: I'm always prepared with nail files and clippers for hand shoots.
Big Hairy Deal: Crew pomade is sticky goop to keep hair in place, and the clips help keep hair out of the way when makeup is being applied.
The Last Straws: Models get thirsty,
so I keep straws on hand so they don't get their lips messed up when they take a drink.
Keeping Clean: I constantly sanitize my hands. When you're a makeup artist, your hands are on people's faces, so it's crucial to keep your hands clean at all times. I emphasize cleanliness in every aspect of my work.
Snack Time: When I'm on a shoot, I never know when I'll be able to eat or what food will be on the set. I'm gluten-free, so I make sure to carry my own snacks, including Larabar power bars.
Freshness Counts: Everyone needs mints—me, the talent, everyone.
Magic Wands: For cleanliness purposes, I never use the same mascara wand on different models. These disposable wands are quick and easy.
Thirst Quencher: I'm always drinking water on the set, so I make sure to have a water bottle with me.
Mix and Match: I mix my own lip and foundation colors, so my makeup spatula [center of photo] is critical to my work. On one shoot I couldn't find it and had a meltdown. I ended up finding it in the garbage! I really am lost without it.