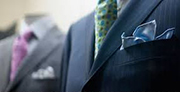 By Belle Du Chene  
As the Iowa weather goes hot-cold, then cold-hot on us, shifting our wardrobe to the next season can feel a bit tricky. What's a girl or guy to do? We asked
personal style consultant Courtney Conlin
to share her thoughts on how to ensure fashionable smooth sailing this season.
"My philosophy is that a slow transition is always best," Conlin says. "This allows us to keep in sight those pieces that will work when we still need a little warmth, while allowing a little room for creativity and versatility to get us through until our weather has officially changed."
Here are her top three tips to help ease your closet into spring:
Say goodbye to heavy fabrics.
Now is a good time to put away those heavy fabrics such as heavy wool, heavy knits, tweed or herringbone patterns (in fall and winter weaves). Go with your instincts when getting dressed: If it feels too heavy, then it is probably time to tuck it away and reach for your lighter-weight fabrics.
Add a pop of color.
Start pulling out (or purchasing) colorful items. This can be a great way to brighten the more monotone outfits that some of us put on to be "safe" during this in-between time of year. Women can add pops of color through a scarf, shoes, handbag, or Conlin's personal favorite, colorful statement jewelry. A vibrant tie, pocket square, button-down shirt or socks are a great touch for men.
Take a day to play.
Once you have taken those steps, give yourself a fit session to try on different combinations and play with layering. When you really like something you have put together, snap a photo to have as a quick reference on your phone (you can either take the pic in the mirror or lay the pieces out together). This will help ensure your confidence in wearing clothes from last year and also help with the process of creating a convenient and functional wardrobe.
Conlin also suggests that as you shop, ask yourself how each piece can work with others in your wardrobe. "One of the keys to easily transitioning your wardrobe is to keep it as scaled down and versatile as possible," she says.
For more information on Conlin's personal style consulting business, visit courtneyconlin.com.