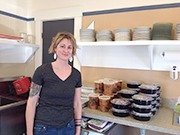 By Wini Moranville
Not long ago, I was invited to dine at the home of one of the best cooks I know. All week, I was looking forward to her food–secretly hoping for one of her Indian specialties.
When we sat down to the table, my friend mentioned that she'd had a whirlwind week and, alas, hadn't cooked this meal herself. My heart sank.
Until I tasted what was on the menu: A chicken sausage gumbo from The Grateful Chef. The head-turning entrée brought a spirited mix of chicken, smoked and andouille sausage, the "holy trinity" (peppers, celery, onions), plus mushrooms, tomatoes and a bonus of cauliflower.
The Grateful Chef is Brandy Lueders, who prepares healthful and inventive home-cooked meals–often with ethnic twists–that she sells every Wednesday from the back door of the Wallace House (756 16th St.). The upcoming week's menu is published each Thursday; you place your order by the following Monday at noon. Then, you pick it up that Wednesday between 4 p.m. and 6:30 p.m. You can pay in advance via PayPal, or pay when you pick your order up via credit card, check or cash.
Last week, I finally got around to trying The Grateful Chef myself, and I might be the last food enthusiast in town to have given this gem a go. "We get between 100 and 150 customers per week," Lueders told me, adding that some customers purchase foods from her for their entire week of meals.
Choices usually include two entrees ($30 for four servings; $15 for two servings), a salad ($10 a quart) and a soup ($10 a quart). Many options are (or can be made) vegetarian or vegan.
As for my order, the Moroccan shepherd's pie was phenomenally good–a warmly spiced meat and vegetable filling with a luscious sweet potato topping. I'll be back.
Get more details on The Grateful Chef here.