Above: Alec Davis of Papa Keno's offers up one of the Drake neighborhood shop's signature slices, large and loaded.
Editor's note: At press time for our May/June issue, COVID-19 had not yet forced the closures of dine-in restaurants. Please check each restaurant website for updated hours, options and menus. 
Writer: Karla Walsh
Photographer: Duane Tinkey
You'd be hard-pressed to find a more perfect food than pizza. A well-seasoned sauce, a just-crispy-enough crust, plus ooey, gooey cheese? Sold. Italian legend places the origin of the modern pizza in 1889, and since then humans have been on a quest to perfect it. While we'll continue our hunt for the absolutely perfect slice (tough research, we know), we've narrowed down our current favorite pies in Central Iowa, including the biggest, the brunchiest, and the most off the beaten path.
Best Use of Local Ingredients
Gusto Pizza Co.
"Divine pies" are what Gusto promises, and they deliver, now more than ever, on that promise. New for 2020: Four crust options (Chicago deep dish, Detroit pan, New York thin and Gusto original) are now offered at both locations. They come crowned with local toppings like house-made "vegan sausage," Graziano's hot Italian sausage, Gusto Pizza Seasoning (sold by the jar at AllSpice Culinarium and Gusto locations), and Russ & Frank's Sassy Barbecue Sauce. Deal-lovers, listen up: 2-4 p.m. weekdays, signature pies are half price, and 4-6 p.m. weekdays, beer and wine are 50% off. (1905 Ingersoll Ave. in Des Moines and 2800 University Ave. in West Des Moines; gustopizzaco.com)
Most Unique Pizza Mash-Ups
Mama Mia's
Mama Mia's has recently relocated (from Southwest Ninth Street to the Equitable Building), but the creative menu remains.
Available on New York or Chicago thin crust, nearly all toppings on their unique combos are prepared from scratch, including the sauce, dressings and sausage. When you can't decide between pizza and curing another craving, this is the parlor for you. Steak de Burgo, buffalo chicken, shrimp scampi and baked PoTOTo (sour cream, potato tots, bacon, cheddar, mozzarella, chives) pies can all be ordered online and delivered to your door. (604 Locust St.; mamamiasdsm.com)
Most Filling
Papa Keno's
With pies spanning up to 26(!) inches, you won't leave this Drake destination hungry. Watch from the dining room as the pizzaiolos get a workout hand-tossing the oversized crusts. Then devour a slice—or more, if you dare—of one of the specialties. Melvin (Canadian bacon, pineapple, Maytag blue cheese, spinach, jalapenos) and Tuskeno (cream cheese, roasted chicken, sun-dried tomato, basil, Romano) are among the more distinctive options.
It might be best to split a slice, though, because you're going to want to save room for a warm, buttery cinnamon stick for dessert. (2330 University Ave.; papakenosdesmoines.com)
Most Worthy of a Drive
Pyra Pizzeria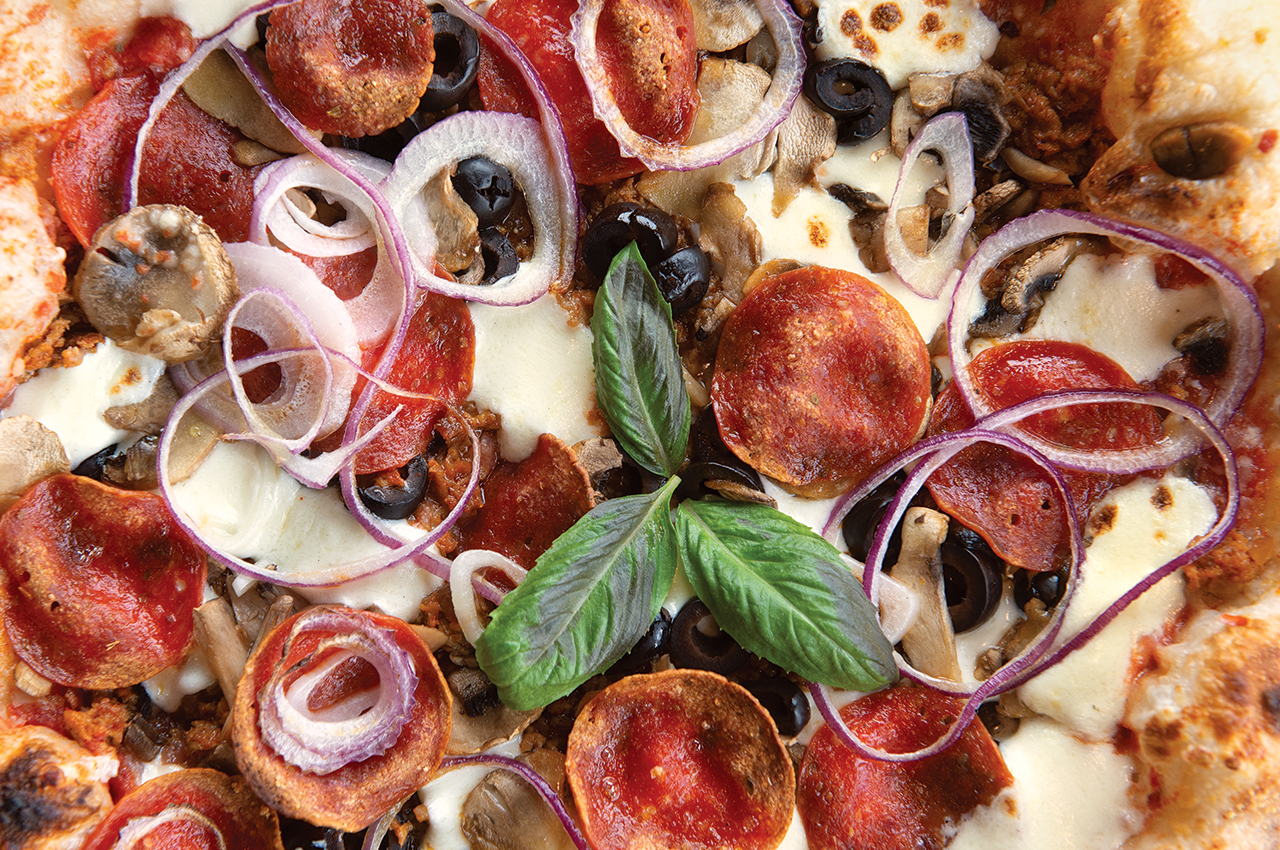 Pyra Pizzeria's Warrior stars Graziano's sausage, pepperoni, red onion, mushrooms, black olives and fresh mozzarella.
You'll feel like you've stepped onto the set of a classic sitcom after entering this tucked-away small-town gem. Part "Cheers," part "All in the Family," everyone will know your name after one visit—and you'll feel like part of the brood thanks to a warm welcome from owner Steve Taylor, his wife, Deb, and their daughter, who just might be your server. Open since late 2018, they follow all the official rules for a classic Neapolitan pizza: Italian "00" flour, San Marzano tomatoes, fresh mozzarella cheese and a cook time of 90 seconds or less in an 800-degree oven. If you're a white sauce fan, try their namesake pie, the Pyra, with garlic white sauce, Romano, prosciutto, artichokes, kalamata olives, mushrooms and fresh mozzarella. If red's more your style, root for the home team in Norwalk with the Warrior, featuring tomato sauce, Romano, bacon, Graziano's sausage, pepperoni, red onion, mushrooms, black olives and fresh mozzarella. (729 Main St., Norwalk; pyrapizzeria.com)
Best By-the-Slice
Taste of New York
"It's actual New York pizza, not New York-style. Our pizza cook is from New York," the Taste of New York team would like to clarify. So step right up and get a bite a la the Big Apple at this West Des Moines strip mall spot. Grab a lasagna or chicken bacon ranch slice and add a side of garlic knots with marinara. After one bite, you'll swear you're standing under the Brooklyn Bridge. (165 S. Jordan Creek Parkway, West Des Moines; tasteofnewyorkmenu.com)
Best Pizza Truck
515 Pi
These pies fly all across town from a beer hall and West Des Moines parking lots to weddings and backyard parties. Monitor the truck's whereabouts on their website or via the Klickle app (find it in the iTunes App Store or Google Play). Track 515 Pi down and you'll be rewarded with wood-fired crusts adorned with bacon, blue cheese and caramelized onions (Bacon 'n' Bleu) or slow-roasted pork, red peppers and salsa verde (Carnitas). (Serving at the Hall, located at 111 S. 11th St. in West Des Moines; select businesses; and private events. See 515pi.com for the full schedule.)
Best Date Night Pizza
Eatery A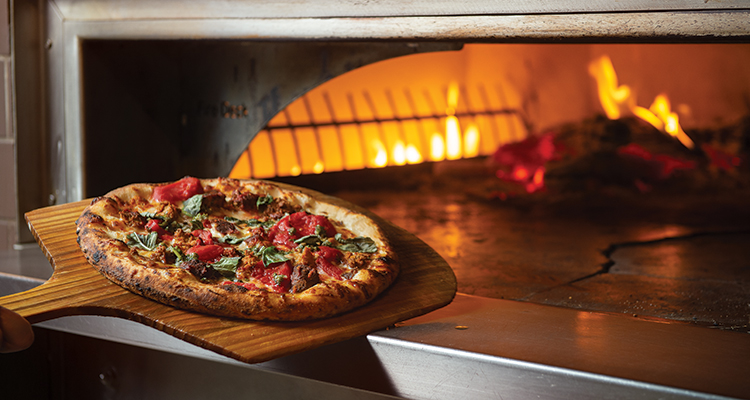 Eatery A's popular and flavorful wood-fired pizzas are an ideal size for splitting in two.
Eatery A is our go-to for a casual yet chic date night when we're craving pizza. Elevated toppings like those found on the No. 5 (lamb gyro, feta, pickled onion, tzatziki) and the No. 6 (figs, prosciutto, greens) are joined by more traditional picks such as the No. 2 (tomato, mozzarella, balsamic reduction, basil) at this Ingersoll hot spot. If you can't agree, keep the peace by ordering a half-and-half for $2 more. As always, pizza, beer and wine are half price from 3 to 6 p.m. daily. (2932 Ingersoll Ave.; eateryadsm.com)
Best Brunch Pizza
Centro
While they don't come on an all-you-can-eat buffet, you won't regret waking up your taste buds with a Centro wood-fired pie. The greatest hits from the dinner menu can be yours during brunch (Saturday from 11 a.m. to 3 p.m. and Sunday from 10 a.m. to 3 p.m.). But we're especially fond of pairing a Bellini with a slice or two of Centro Breakfast Pizza, which comes piled high with scrambled eggs, Graziano's Italian sausage, green pepper, mushroom, red onion and cheese sauce. If you prefer a suppertime slice, swing by on Mondays when pizzas and Peronis are 50% off. (1003 Locust St.; centrodesmoines.com)
---
Something Old and Something New
As one of the most classic local cuisines, Italian dishes have deep roots in Des Moines. Consider this your bonus pizza bucket list. Revisit the classics, then try a few new kids on the block for a taste of the past and of the future.
OLD
Chuck's
(3610 Sixth Ave.; chucksdsm.com)
Scornovacca's
(1930 S.E. 14th St.; scornos.com)
Paesano's
(2804 S.W. Ninth St.; facebook.com/PaesanosPizzeriaDesMoines)
Noah's Ark
(2400 Ingersoll Ave.; noahsarkdesmoines.com)
Pagliai's
(5312 Merle Hay Road; pagliais.com)
NEW
Curbin' Cuisine
(2713 Beaver Ave.; curbincuisine.com)
The Dam Pub
(2710 Beaver Ave.; facebook.com/thedampub)
Fong's Pizza Drake
(3018 Forest Ave.;
fongspizza.com/drake-contact)
Gameday
(3800 Merle Hay Road; gamedaykcsf.com)
Urban Cellar
(640 S. 50th St.; urbancellarwdm.com)