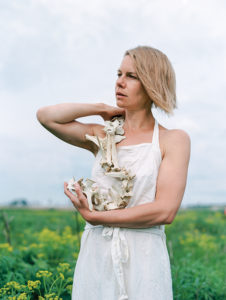 Writer: Brianne Sanchez
She finds the bones strewn in the culverts and ditches that lie between Iowa's expansive cornfields and rural highways—anywhere a deer might dash out and meet its demise. Artist Lee Emma Running gathers them carefully as she reckons with the similarity their skeletons, stripped of muscle and fur, share with her own slight frame. She will take them from their unmarked graves to eventual art gallery exhibitions.
The first stop, though, is back to her Grinnell studio, where Running, 39, soaks the bones, sanitizes them and sets to work. She painstakingly polishes each prize to a porcelain sheen. Using jewelers' tools, she etches the surface of the bones in intricate patterns that mimic the texture of their hidden marrow. Under a microscope, the marrow's lacy design seems to echo the paths of waterways as seen in images from space.
"It feels to me like the drawing of all things," Running says. She points to pieces in her studio where other biology-based patterns play a role in her work. "It's natural but complex," she says. "I'm just trying to dig it out and see it."
Bones are just one of the materials Running uses in her art. She also works in vinyl, paper, wool, silk, graphite, ink and other media, utilizing myriad techniques. Each project is unique, but all retain an essence of their origins within the artistic transformation.
Gilded in 24-karat leaf and illuminated to reflect a warm glow, Running's collected roadkill ascends to a new fate. In a gallery space, mounted on microsuede and positioned as they were found afield, these tragic fragments of anatomy are made precious.
"I'm always attracted to the most natural state of things," Running says. Her artistic process, she adds, "is about being attentive to materials."
Running's collections of prairie detritus are treated as respected relics. In her garden-level studio at Grinnell College, where she is an associate professor of art, tiny drawers are full of seed pods, shells, snakeskin, bark. They inspire her work and lend integrity to her sculpture.
Running's ability to pay attention opened hidden pockets of wilderness in Iowa. As an artist, she explores environments here much as she did the mountains of her Colorado childhood. She turns over stones. Examines fallen leaves.
"I never would have made this work if I'd continued to live in Brooklyn," she says.
As a student at Pratt Institute in Brooklyn, New York, Running gravitated toward papermaking. During that time, she became an assistant at Dieu Donné, a non-profit studio devoted to handmade papermaking whose experiential, collaborative environment laid the groundwork for her career.
A postgraduate apprenticeship with Timothy Barrett, renowned director of the University of Iowa Center for the Book, brought Running to Iowa in 2001. Under Barrett's mentorship, she developed her artisanal practice and gained a deep understanding of paper composition. Running's great strength, Barrett says, is her interdisciplinary approach and perpetually curious personality.
"When the situation calls for paper, she'll use paper," he says. "But her primary point of departure in making a work of art is drawing on all the forms of inspiration to determine what solves that artistic question for her."
For Running, solving those questions rarely happens in solitude. Some days, she turns to a colleague in the Grinnell biology department to examine insect wings under a microscope, or a physicist whose knowledge of apertures helps her capture the dappled light and shadows leaves make on the ground. She calls on her knowledge of chemistry to create a skin-like coated surface on the paperwork for her "Predator" sculpture series. They are an artistic interpretation of a skin and fur cape, cut in a lacework and dashed with gold automotive paint.
"The laboratory and studio are both spaces where you generate knowledge from material interactions," Running says.
On other projects, she'll be in collaboration with a photographer or a naturalist or be elbow-deep in dye, experimenting alongside a textile artist. She'll walk down the hall to talk with fellow faculty members or fly across the country to participate in an intensive residency program. Running is thoughtful and meticulous in her work, and exudes an enthusiasm that rubs off on those around her.
"We always create things together that are more interesting than if we created the project apart," says Denise Bookwalter, director of Small Craft Advisory Press in Tallahassee, Florida. Her ongoing collaboration with Running has resulted in "Lining" and "Sheathing," two projects that look deeply into the composition and tactile nature of textiles.
"The work is most valuable to me when it's in conversation," Running says. "I really do feel like it's a relationship."
That conversation seems to extend to those who view her work, says Susan Watts, owner of Olson-Larsen Galleries in West Des Moines. Running's installations are unlikely to bring huge commercial returns, but Watts embraces their power to stop window-gawking pedestrians in their tracks.
"Lee is working on two levels—the visual level and the conceptual level," Watts says. "If an artist can marry both of those things and keep them steady, that's a success."