Above: Steep rural hills and speed-resistent gravel are essential to the training regimen of record-setting ultracyclist Sarah Cooper.
Writer: Brianne Sanchez
Photographer: Duane Tinkey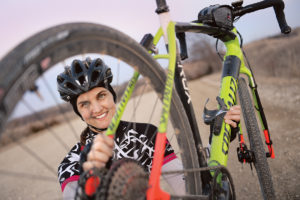 For Sarah Cooper, a 100-mile "century ride" could be considered a warmup. Known nationally as a record-setting ultracyclist, the 45-year-old mother of four from Urbandale is an unlikely competitor in a male-dominated sport she discovered less than a decade ago. Cooper now has more bikes than kids and is bringing on sponsors as she gears up for what's sure to be her most grueling race yet.
"I think everybody has a competitive, fighting spirit," Cooper says. "It just took me a while to tap into it, and now it's all about winning because winning is fun."
Unlike famous European bike tours such as the Tour de France, ultracycling races don't have stages and rest days. The "course" is an unsecured route spanning hundreds of miles. Once the clock starts, it does not stop until riders cross the finish line. Men and women compete alongside one another.
Cooper is expected to be a top finisher in the Race Across America (RAAM) this June, which is considered by some to be the world championship of ultracycling and the the world's toughest bicycle race. RAAM involves pedaling from Oceanside, California, to Annapolis, Maryland, on as little sleep as possible. Racers must cycle 3,000 miles across 12 states and climb over 170,000 vertical feet.
"The mental aspect of it is as important as the physical," Cooper says. "You have to spend a lot of time preparing to deal with problems you might face."
Before each race, Cooper reads James E. Loehr's "The
New Toughness Training for Sports," which emphasizes the emotional training necessary for elite athletic competition. She also listens to the music of Slipknot when she's working out indoors, and snippets of heavy metal songs run through her head when the going gets especially tough. Which—in ultracycling—it definitely does.
Cooper has "raced and won with a broken toe, an abscessed tooth, through nearly horizontal rain and hypothermia," says coach Greg Grandgeorge. "She excels when others will quit. … I really don't know anyone personally who can tolerate more pain than Sarah."
Grandgeorge marvels at Cooper's time management skills as much as her toughness. She gets creative to mesh the rigorous training schedule of an elite athlete with her role as a stay-at-home mom. On weekdays, Cooper wakes up at 2:30 a.m. and throws in a load of laundry before she hops on the bike trainer. She works out until it's time to get the kids, who range in age from 12 to 16, off to school. Then she does errands and tries to squeeze in an outside ride before school pickup. On weekends, when Cooper's not busy rehabilitating an injured racehorse with her daughter, she will try to knock out an eight- to 12-hour ride.
"The key is to get 50 miles from home by the time I start missing my family, because then at least I get 100 miles in," she says. If she's riding pavement, she may ride 200 miles in a stretch.
Although her children don't attend her races, they seem to like that their mother has a passion of her own. "It's nice to know I have one of the most badass moms in the state," says Stephen, 16.
Cooper started riding seriously in 2008 after registering for the Hy-Vee Triathlon, inspired by seeing finishers at the previous year's race. She dialed up the intensity with a few Ironman competitions and then decided in 2013 to focus on a single sport after winning a 200-mile cycling race in Death Valley.
"I came to things late in life," Cooper says. "I don't have a ton of years I'm going to be as competitive with the men as I am now. It's really intense."
Although Iowa doesn't have mountains, Cooper's home training ground could provide an advantage for the RAAM competition. Some of her favorite places to ride are the gravel roads south of St. Charles. Many have much steeper climbs than paved roads, and gravel adds extra resistance. They offer fewer opportunities to coast and more bumps and jolts to strengthen her core.
The beautiful byways in Clarke and Union counties also inspired Cooper to create the Spotted Horse Gravel Ultra, an October race of 150 and 200 miles that starts and ends at Wildwood Hills Ranch. Registration is now open, and it could offer an entry point for athletes looking to give ultracycling a spin.
Cooper had exceptionally strong finishes in 2016. Locally, she won the notoriously challenging Trans Iowa, a self-navigated, self-supported gravel road event of more than 300 miles. She dominated out-of-state races like the No Country for Old Men 383-mile race in Texas (she completed it in 21 hours and 54 minutes) and most notably came in first overall in the 2016 Race Across the West (RAW). Cooper burned across 928 miles from Oceanside, California, to Durango, Colorado, in just two days, 11 hours and 59 minutes, including only a power nap of sleep.
"My whole job was to ride," Cooper says. "There's no excuse. You've got everyone taking care of you, so you don't stop for anything."
RAW presented plenty of circumstances to test toughness. Cooper rode in temps as high as 112 degrees and lows in the 40s, through desert sandstorms, punishing crosswinds, traffic (of both vehicular and animal varieties) and massive changes in elevation (a total of 50,000 feet of climb). A support crew of eight kept her hydrated and safe—and waved a bag of cheddar Ruffles as she came up the final mountain to set a new record.
"Sarah dominated RAW last year in every way," says Rick Boethling, the Race Across America race director. "It is difficult to predict how anyone will do [on RAAM], but Sarah certainly is showing the pedigree of someone who has a great chance at the highest level of success."
Many choose to compete in RAAM in teams, but Cooper will be among the solo riders, although she won't be alone. A dozen supporters have signed on as her race crew, and sponsors are also giving her a boost. Kyle's Bikes in Ankeny supplies the Specialized brand bikes Cooper favors. Carbo-Pro, her preferred form of nutrition while racing—Cooper mostly sticks to water mixed with the supplement when she's on the course—has also signed on. And Velorosa, a Des Moines-based women's cycling apparel company (see story, page 188), has designed a limited-edition "Road to Glory" jersey inspired by Cooper's RAAM quest and her love of horses.
The encouragement of the cycling community is exciting, but it's Cooper's own learned confidence that will get her across the finish line, and hopefully in record-setting time. For the other 3,000 miles—she'll try to stay alert enough to appreciate the view.
"I enjoy seeing things from the back of the bike," Cooper says. "It's a better, richer experience."
---
Fun and Functional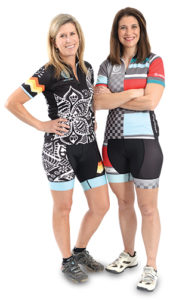 Although she prefers to train solo, ultracyclist Sarah Cooper would love to see more women come to the sport.
"If it hurts, there's a solution," Cooper says. "[I want women to know] cycling can be comfortable. It can be fun. You can ride for days and be OK."
The local women's cycling apparel brand Velorosa is a part of that equation. Velorosa, which was launched by friends Kim Hopkins and Lisa Carponelli in 2015, was inspired by the same philosophy of fun and function. The designs have pep, and the shorts feature padding in all the right places.
Like Cooper, both Hopkins and Carponelli are moms who plugged into the cycling community in their 30s and 40s and had their hobby take on a new life.
Stylish and practical, their apparel started out as designs for a local women's cycling team of the same name. Velorosa (a mash-up of the Italian and French words for "pink" and "bike") grew into a business based on a demand for attractive pieces that could stand up to long rides.
Five collections of mix-and-match jerseys and shorts and a limited-edition "Road to Glory" jersey ($100) are available online at velorosacycling.com.