Above: Craig Verm (pictured) will perform the title role in "Billy Budd," which takes place on a British naval ship. The iconic opera has never been produced by a company of Des Moines Metro Opera's size.
Photographer: Ben Easter
Writer: Christine Riccelli
A Little Night Music
June 24; July 2, 5, 7, 15 (sung in English)
Written by Stephen Sondheim, the Tony award-winning musical "A Little Night Music" follows the tangled romantic lives of several couples during a weekend in the country. The production, which stars soprano Kelly Kaduce (pictured), features the hit "Send in the Clowns."
"It's rare for us to do a musical," says Michael Egel, general and artistic director of Des Moines Metro Opera, "but this one is highly sophisticated."
Enhancing that sophistication will be costumes and sets by well-known American fashion designer Isaac Mizrahi. "This is his first foray into doing costumes and sets for a stage production," Egel says, praising Mizrahi's "style and vision."
Egel hopes Mizrahai—also known for his appearances in television shows and movies—will come to Indianola for the production, noting the designer "is a big fan of opera."
Billy Budd
July 1, 9, 11, 14 (sung in English)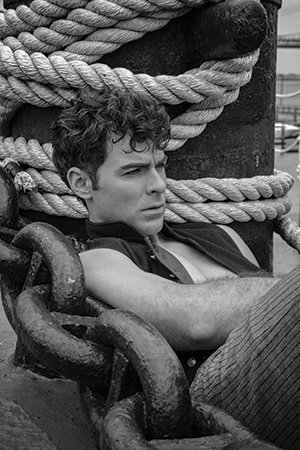 This dramatic production by Benjamin Britten is based on the novel by Herman Melville, with the libretto by British novelist E.M. Forster. Set in 1797 on a British naval ship, the opera has an all-male cast and chronicles the persecution and destruction of a young sailor. Craig Verm (pictured) stars in the title role with a cast of more than 50 performers, plus the boys' choir from Heartland Youth Chorus.
Presenting "Billy Budd" is a "dream come true for me," Egel says, noting that DMMO is the first midsized company in the United States to stage the production.
"This is an iconic opera in our industry that is rarely performed and then usually only in the world's largest opera houses. It has never been produced by a company of our size in America," a fact that has gained DMMO recent industry recognition and even envy from other opera company executives.
Blank Performing Arts Center's stage configuration is especially suitable for the shape of an English naval ship, Egel says: "It will work beautifully in our intimate theater."
Turandot
June 23, 25, 30; July 8, 13, 16 (sung in Italian)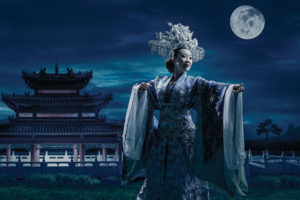 Set in Imperial China, Giacomo Puccini's final opera is based on a legendary fable of the beautiful but brutal Princess Turandot (performed by Alexandra Lobianco), whose suitors must solve three impossible riddles—or die.
The production includes what's arguably the world's most famous and recognizable aria, "Nessun Dorma," sung over the years by great tenors including Luciano Pavarotti. In the show, Prince Calaf (performed by Jonathan Burton in the DMMO production), sings the aria, claiming he can melt the princess's icy heart. (Astute audience members may catch a glimpse of Nate Carter, cover model for dsm's January issue, in the brief role of the Prince of Persia.)
"Turandot" is "beautiful, exotic and vibrant," Egel says. "It could safely be called the most epic opera ever written. … It's a piece best programmed on special occasions like an anniversary season."
---
DMMO Transforming Offices to 'Opera Center'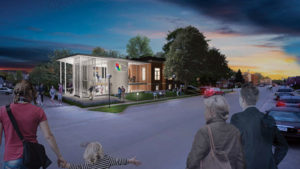 Preparing for its 45th summer festival isn't all that's been occupying Des Moines Metro Opera lately. Offstage, the company is raising money for a $3.5 million renovation and expansion of Indianola's former Carnegie library, which has been DMMO's administrative home since 1985. The project will transform the 113-year-old building into a redubbed Opera Center.
Planned additions include a 1,200-square-foot space for educational programming and off-season rehearsals; and a two-level, 1,800-square-foot glass atrium, which will be used for meetings, presentations, receptions and recitals. The existing building's renovation will include enhancing work spaces to make them more efficient, updating mechanical systems and improving accessibility. Michael Egel, DMMO's general and artistic director, expects the entire project will be completed in late 2018 or early 2019.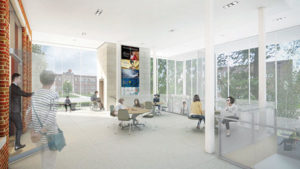 The "quiet portion" of the capital campaign, launched in April 2016, raised $2.8 million and "went more quickly than we expected," Egel says. Leadership gifts included $1 million from Nixon Lauridsen and Virginia Croskery Lauridsen, and $500,000 from Fred and Charlotte Hubbell. In addition, donations of $100,000 or more were received by the campaign's three co-chairs, Nancy Main, Ardene Downing and Cherie Shrek; Harry Bookey and Pamela Bass-Bookey; and the Laverty Foundation of Indianola. The city of Indianola also has provided leadership support, Egel says. At the beginning of this year, DMMO announced the public phase of the campaign.
The need for an upgrade became increasingly evident over the years, Egel notes, as the building constrained DMMO's ability to grow. The organization considered constructing a new building to meet its needs, but after "a lot of fiscal soul-searching" and a feasibility study, DMMO decided to proceed with the current project, he adds.
"This facility has served us well," Egel says, "and the renovation and expansion will preserve its beautiful architecture and honor our history while providing us with a way to move forward and grow for years to come."