Above: Detail of Urchin, a cocktail table made of lengths of metal pipe welded to a metal base.
Writer: Vicki L. Ingham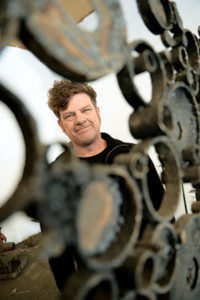 James Bearden thinks of the steel figures he creates as people from an alien world, with their fluid lines and rough texture expressing an otherworldly language. His other work, which includes both biomorphic and architectural shapes, "might be the objects from that world," he says. "That's how I look at it."
Suggesting archaeological artifacts from the future, these sculptures and functional pieces have been described as post-apocalyptic and brutalist in style, and they're capturing the attention of collectors and galleries across the country.
Bearden was born in Alabama but grew up in Des Moines and received bachelor's degrees in fine art and visual communications from Grand View University. He worked in graphic design for 20 years, most of that time as an award-winning art director at Flynn Wright advertising agency. In 2007, at the age of 43, he decided to leave that job and focus on fine art.
A longtime painter, Bearden found himself drawn to sculpture. "I liked the biomorphic sculptors of the '50s," he says. "A lot of those sculptors had an established style, but they struggled to get there. I looked at the struggle [and watched] a lot of documentaries, trying to figure out what it was they had and how I could use it for my own bag of tricks, looking for the rhythm, forms, compositions." The work of Pablo Picasso, Harry Bertoia, Alexander Calder and Louise Nevelson particularly inspired him.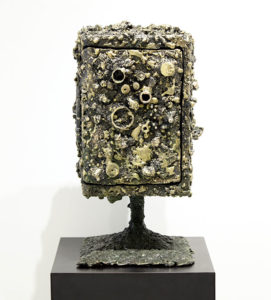 Bearden had no experience in welding or other metalwork, but steel appealed to him as a more long-lasting sculpting material than wood, stone or clay. He found a local craftsman to teach him the basics of welding and then began experimenting.
His early pieces were smooth, abstract shapes made from wire and sheets of steel painted with bright colors, evoking pop art. That felt like a dead end, he says, so he went in the opposite direction, building both organic and architectonic forms encrusted with craggy texture and charred, corroded or patinated finishes.
"I like to call it lunar surfacing," he says. "I like the surface to be rough, textured. [The imperfection] gives me a way of finding a happy accident a lot of times, and every piece is different."
In 2012 Bearden entered his first public art competition. His sculpture, Paths Unite, was accepted for Clive's Art Along the Trail and then purchased for the city's permanent collection. He also has outdoor sculptures at Blank Park Zoo and Lowe Art Center in Marion, as well as in Ames, Coralville and Plymouth, Minnesota.
His big break came in 2013. A specialist at Rago Arts and Auction Center in New Jersey (longtime appraisers for the television series "Antiques Roadshow") spotted one of his pieces in the background of a photograph of an unrelated object that one of Bearden's friends hoped Rago could sell. Instead, the specialist wanted to sell Bearden's piece, so the friend put Rago in touch with the artist.
"We got a call on a Monday," says Stephanie O'Neal, Bearden's assistant. The auction house asked if Bearden could get his "biggest and best pieces" there by Wednesday.
"We drove out; I had a tiny truck," Bearden says. "Eighteen hours—we broke down on the way—but we got it there."
The auction brought Bearden's sculptures to the attention of Larry Weinberg, owner of Weinberg Modern in New York. Weinberg began collecting Bearden's work for himself and his gallery. This past winter, he curated a solo show of Bearden's sculptures and functional pieces at 1stdibs Gallery in the New York Design Center. Weinberg compares Bearden's style to the brutalist furniture of Paul Evans (1931-1987), a midcentury modern craftsman described as "the father of the modern art-furniture movement."
Brutalism as an architectural style emerged after World War II and was characterized by the use of rough concrete as the primary building material. The term has been revived in the past few years to apply to a raw, un-prettified approach to web design as well as to the 1960s-1970s interior design aesthetic that emphasized rugged textures, distressed metals, unfinished concrete and industrial materials. As a pioneer working in that style, Evans collaborated with and oversaw a team of craftsmen to construct most of his metal furniture. Bearden, on the other hand, builds every piece himself.
Everything he creates, from small figures to massive cabinets, is crafted in his gallery/workshop in an aging brick building on Grand Avenue, where Fleur splits off to the south. In winter, a radiator bangs out a raucous, random rhythm that makes conversation difficult. It can't compete, though, with the noise of the power saw and grinder when Bearden is working. Using a chop saw, he cuts 20-foot lengths of angle-iron, round and square pipe, and hollow steel tubing into pieces of varying sizes. Then he begins welding pieces together to build up the form.
Bearden often starts with drawings to develop an idea, but random shapes of cut metal lying on the floor also can inspire him. He's constantly experimenting with techniques and finishes, and he likes to have several projects going at once. One experiment resulted in a construction that resembles barnacles when composed of square segments of steel pipe, and oversized cloisonné when built from round ones. Panels of barnacles became the sides of boxes and a statement-making console table for
the 1stdibs show. The cloisonné design, which Bearden dubbed Moon Pool, lent itself to dramatic fire screens and a wall-hung cabinet.
In 2011, O'Neal says, "he had the idea to make a sculpture that also had a hidden compartment." The result was titled Lunar Locker. He went on to create cabinet-like boxes that he categorized as Dwelling Boxes, Harry Boxes (a tribute to the late sculptor and modern furniture designer Harry Bertoia), Barnacle Boxes and Nugget Boxes, which are gilded with 24-karat gold leaf. Although each piece is unique, Bearden organizes them into categories based on his approach to constructing them.
As Bearden welds shapes together to build a form, hot metal drips randomly like candle wax, building up the crusty, rugged texture. Sometimes he leaves the blackened surface as is, but more often he adds complexity by fusing bronze, copper or glass enamel to the steel or by applying layers of oil enamels and patinas. The 24-karat gold leaf is the latest addition to his finishing options. "I taught myself how to do it," he says. "It's a more expensive and time-consuming process, but it has a totally different color," one that can't be imitated with paint. "It's really beautiful."
As Bearden's national reputation grows, Weinberg has been pleased to see how the artist continues to evolve. "He likes to keep challenging himself," the gallery owner says. "He loves working, the creativity and the craftsmanship both." To the extent that he is working in the tradition of Paul Evans but making brutalism his own, "his style is unique today," Weinberg says. "I don't see anyone else doing this."
Where to Find Bearden's Work
In Des Moines, Bearden's Lunar Blooms and Animals sculptures are available at From Our Hands in the East Village. The pricier brutalist sculptures and furniture can be seen by appointment at Bearden's gallery on Grand.
Elsewhere: Bearden's artwork is available through Weinberg Modern and Lowy galleries in New York City, Rago Arts and Auction Center in New Jersey, and Pegboard Modern in Chicago. In addition, Bearden has an exclusive relationship for designated furniture lines and pieces with Studio Van den Akker, a luxury to-the-trade custom furniture company in Manhattan.