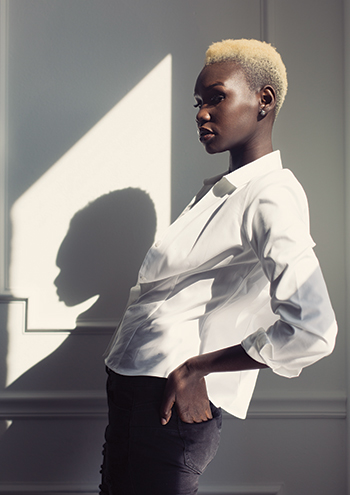 Photographer: Elizabeth Carrie
Adot Gak
When dsm caught up with 21-year-old Adot Gak, she was in the midst of a move to New York to pursue her modeling career. A native of Egypt, Gak has worked as a hairstylist and model in Des Moines.
How would you describe your style? Edgy, fun, colorful.
Your style icon: Rihanna. She's my idol.
The part of your style you're known for: My shoes. I love heels. When I go to a store, I simply must buy shoes. I have them in all kinds of colors; what I wear depends on how I'm feeling that day.
Where do you shop? Mostly online because of my size. It's hard to find extra-small sizes in Des Moines, though there are a lot of options in New York. And you can always find good sales in New York.
What people would be surprised to learn about you: I'm a clown. I'm always the funny person. I love jokes. I've even thought about becoming a stand-up comedian.
Picky about: Choosing my friends.
Not so picky about: Food. I'm one of those people who will eat anything. There's nothing that I hate.
Would always: Dance and sing—even though I can't really sing.
Would never: Go hiking in the mountains or ride a roller coaster. I'm afraid of heights.
Too much in my life: Work. I'm a workaholic.
Not enough: Sleep.