Abby Strobbe
House-call Vet
A veterinarian for 15 years, Dr. Abby Strobbe has operated Abby's Road Veterinary Care since 2012. "I provide house-call services such as wellness care, acupuncture and end of life care," she says. She also schedules "wellness clinic care" at pet stores. She is pictured with her pal, Hunter, whom she adopted as a senior dog from a rescue group.
Fit to a Tea: I drive about 20,000 miles a year, and I can provide 95 percent of what my patients need out of Little Blue, my Honda Fit. Packing along this Yerba Mate tea or my homemade kombucha helps me avoid sugary beverages from gas stations.
Needling Details: As an integrative veterinarian, I provide vaccinations and other traditional services as well as holistic services such as aquapuncture, which is the injection of Vitamin B12 into acupuncture points. Injections do not have to be a scary thing for our pets.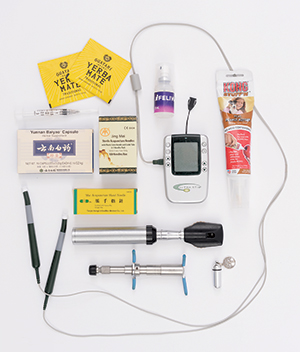 Herbal Relief: The Yunnan Baiyao is a Chinese herbal treatment that reduces the risks of bleeding tumors.
Boxed Sets: The yellow box and the box above it contain acupuncture needles, which are based on an animal's size. I have worked with cats, dogs, horses, miniature horses, cows, horses, a pig, a chicken and a ferret.
Fair Enough: Feliway is a cat pheromone I spray on myself when I am heading into a situation where a cat could be stressed. If I can mask my scent and the smell of other animals that may be on me, I have a better chance of making friends with a cat who is afraid.
Treat-ment: I carry a variety of pet treats like this Kong peanut butter—anything to make pets more comfortable with their treatment experience.
Very Stimulating: The "Alpha-Stim M" is FDA-licensed for treating human anxiety, insomnia, depression and pain. Through microcurrent stimulation, it has worked beautifully to treat muscle pain in animals.
Vial Substance: The silver vial with the tree of life attached contains a small portion of my dear dog Chance's ashes. He still can go with me wherever I go, and he's my No. 1 guardian angel.
Manipulative: When I lived in Maine, I learned VOM—Veterinary Orthopedic Manipulation. This chiropractic activator device is used instead of hands to produce the manipulation along the spine.
Something to See: My ophthalmoscope helps me inspect the retina, lens, cornea and other parts of the eye.