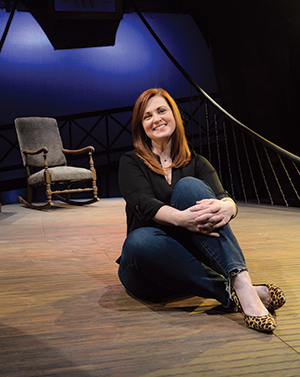 Writer: Ashlee Kieler
Photographer: Duane Tinkey
For Kerry Skram, theater is more than entertainment. It's also a way to encourage progressive change.
After more than a decade of being involved in local theater, the well-regarded actress and playwright is now entering her own second act, focusing on sparking conversation on important issues as well as creating a warm, inclusive theater community in Des Moines.
"I've been working hard on not just being creative, but also on using [my creativity] to promote change," says Skram, a resident member of Iowa Stage Theatre Company who also has done some film and commercial work. "There's been a shift recently related to where I am in life, and there's a feeling, a sense, of wanting to be a good example for my kids."
Skram—who has two sons, 15-year-old Ben and 13-year-old Sam—took that example to the stage in February when she performed her original one-act play titled "The Hashtag Me, Too" at the Des Moines Social Club and moderated a panel discussion on the recent sexual harassment awareness movement.
"We had a lot of support for the #MeToo piece from the theater community," says the 46-year-old Skram, adding that it's an example of "rapid response activism," which she defines as an effort by people working in theater to address real-world problems as they occur. "I'd like to do more pieces like that. That might be my niche: finding and using theater as a way to promote change."
Skram's "quiet" leadership at Iowa Stage could be an asset when it comes to stimulating conversation around social issues, says Matthew McIver, the company's artistic director.
"She's a wonderfully committed and generous performer, she's smart and funny, and at the same time she has an access to real emotion and depth," he says, noting that Skram's ability to tap into her own perspective and experiences have helped shape the local theater community.
Skram's passion for theater was sparked when she was cast as a Munchkin in Dowling Catholic High School's production of "The Wizard of Oz." After earning a degree in English at Iowa State University in 1995, she moved to New York City, where she graduated from the American Academy of Dramatic Arts in 2000 and performed in several off-Broadway productions. After a three-year stop in Minneapolis, Skram returned to Des Moines in 2004.
Since then, she has performed in a number of productions, such as Oscar Wilde's "An Ideal Husband," Arthur Miller's "All My Sons" and, most recently, Miller's "A View From the Bridge." As a playwright, she adapted Jane Austen's "Sense and Sensibility" for the stage, which was performed by Repertory Theater of Iowa (a predecessor to Iowa Stage) in 2012. She's currently adapting Austen's "Persuasion," a project she hopes to finish this summer before hosting readings of the work. As with "Sense and Sensibility," Skram has consciously aged up the characters, from around 18 to a range of 30 to 50.
"By aging up, I'm creating social change on another level: opening the doors for older women," Skram says, noting that it's been historically difficult for older women to obtain meaty parts. "It's about trying to make the little bit of change that you can."
McIver notes that Skram's adaptations are giving a voice to actors who may have otherwise been relegated to smaller parts in the often male-dominated industry: "I think Kerry is very conscious of that, and works very hard to change that in a way that is always thoughtful and inclusive of all voices."