Herbie Hancock. Photo: Nick Letellier
Keyed Up
The jazz pianist Herbie Hancock was just 11 years old when he played a Mozart concerto with the Chicago Symphony Orchestra in 1952. He's still tickling the ivories more than 70 years later, after earning a degree from Grinnell College, 14 Grammys, an Oscar for the 1986 movie "Round Midnight," and a Kennedy Center Honor during a ceremony that included tributes from Snoop Dogg and the Beastie Boys. He'll visit Hoyt Sherman Place on Sept. 8. hoytsherman.org
---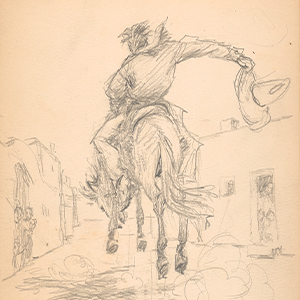 Stamp-Ede
When the Des Moines Register cartoonist Jay "Ding" Darling sketched a few birds on a piece of cardboard back in 1934, he couldn't have guessed it would eventually hatch the Federal Duck Stamp Program, which has raised more than $1 billion to buy and preserve more than 6 million acres for wildlife habitat nationwide. Some of Darling's rarely seen sketchbooks from his travels in the Southwest will be on display Sept. 15-16 at Drake University's Cowles Library while the school and the Jay N. Darling Institute co-host the U.S. Fish and Wildlife Service's Federal Migratory Bird Hunting and Conservation Stamp Art Contest. The sketchbooks will travel to Germany, Norway and the Czech Republic in 2026, 150 years after the artist's birth. Photo: Courtesy of Samuel Koltinsky. drake.edu
---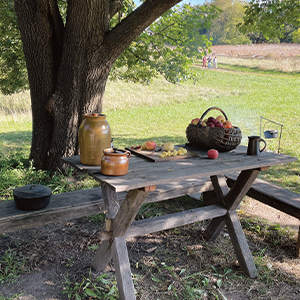 Hardcore Fun
Celebrate fall with a trip back in time to Living History Farms' Applefest on Sept. 16, when you can learn a few old recipes — for apple cake, apple pie, apple butter — and print them on a hand-cranked press at the local print shop. Stock up on apple treats for home or, better yet, nibble on them while you take in an old-fashioned medicine show or a genteel, Victorian baseball game. (Please, no spitting.) Photo: Living History Farms. lhf.org
---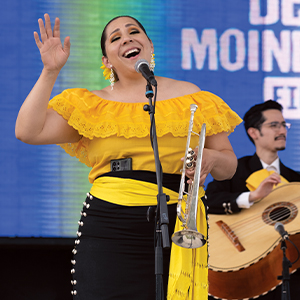 Esencia Latina
The essence of Latino culture will be on full, multisensory display during the annual Latino Heritage Festival Sept. 23-24 in Western Gateway Park. The fiesta features some of the sights, sounds and flavors from more than a dozen countries in Central and South America where members of Iowa's fastest-growing minority community can trace their roots. At last count, Iowa's Latino population numbered more than 215,000, surpassing the entire population of Des Moines. Photo: Alan Jacobs. latinoheritagefestival.org
---

Toe Tappers
The A-list violinist Anne Akiko Meyers revisits the Des Moines Symphony for its season opener Sept. 23-24, when they'll fill the Des Moines Civic Center with dance rhythms from Mexico and Spain. For a different kind of energy, head back on Oct. 21-22 to hear the Sandbox Percussion (pictured) quartet play water goblets, compressed air cans and other nontraditional instruments that suggest hydro, wind and solar power in Viet Cuong's concerto "Re(new)al." Photo: Noah Stern Weber.  dmsymphony.org
---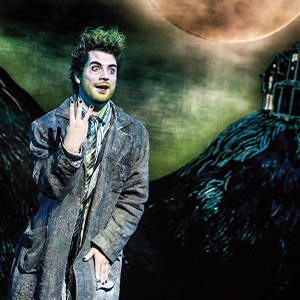 The Musical. The Musical. The Musical.
Beware: The national tour of "Beetlejuice" haunts the Des Moines Civic Center Oct. 3-8. The musical adaptation of Tim Burton's 1988 hit movie retells the twisted tale of a quirky teenager's encounter with a couple of wannabe-spooky ghosts and the title demon, who can be summoned by saying his name three times. Photo: Matthew Murphy. dmpa.org
---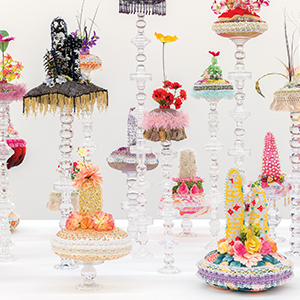 Inside Job
The Des Moines Art Center's next big show, "Transform Any Room," features what senior curator Laura Burkhalter calls "subversive, politicized and sometimes glamorized" touches of home decor. You can learn a lot about people from the things they choose to fill their homes — rugs, blankets, pillows, lamps, tchotchkes — and what they reveal about culture, class, labor, globalization and more. The exhibition opens Oct. 7 and runs through Jan. 14 with a full slate of gallery talks, teen workshops and related programs. desmoinesartcenter.org
Max Colby (American, born 1990) "They Consume Each Other" (detail), 2018-2021. Crystal, plastic, and wood beads, sequins, found fabric, trim, fabric flowers, ribbon, costume jewelry, keychains, ornaments, toys, polyester batting, thread, and glass stands. 78 x 168 x 72 inches. Photo: Courtesy of the Artist.
---

Literary Feast
Andrew Sean Greer, the Pulitzer-winning author of "Less" (2017) and "Less Is Lost" (2022), headlines the annual Iowa Author Awards Dinner on Oct. 20 at the Embassy Suites. Organized by the Des Moines Public Library Foundation, this year's event honors four Iowa writers — Tracey Garvis Graves, Abena Sankofa Imhotep (pictured), Amy Lee Lillard and Denise Williams — along with literacy advocates Steven Jayne and Karen Shaff. Photo: Duane Tinkey. dmpl.org