Oak Park's strawberry beet salad packs bright flavors into each beautiful bite.
Writer: Karla Walsh
Photo: Billy Dohrmann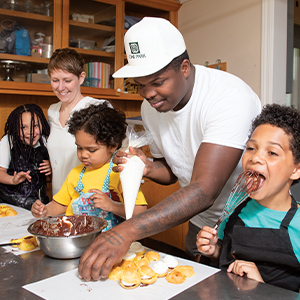 Like many great things, Jessica and Ian Robertson's bond started simmering in the kitchen.
"We met at Baru 66 in 2012, where I was the pastry chef," Jessica said. "Ian was hired on the savory side, and he kept asking me for a ride home from work. When we'd get to his house, we'd sit and talk in his driveway for hours."
He found her funny, charming and hardworking. She found him passionate, driven and kind. Those drives home turned into drinks after work, then Sunday brunch dates and, eventually, cooking together at home — and cooking up a family. They married in 2018 and now have three kids: Charlie, 9, Claire, 7, and Alex, 4.
Over the years, they've worked together or individually at local favorites (Bistro Montage, Crème, 801 Chophouse) and some of the most famous restaurants in New York (ABC Kitchen, Daniel, Eleven Madison Park). They sharpened their skills in each kitchen but were missing the familiar taste of home.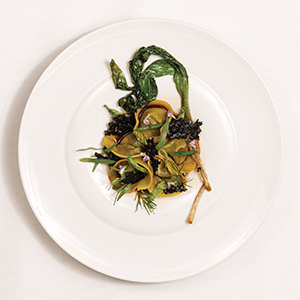 So this fall, the duo will be inviting a lot more people to their table. Oak Park owner Kathy Fehrman tapped Ian to be the executive chef and Jessica to be the pastry chef at the forthcoming restaurant on Ingersoll Avenue. When it opens in mid-October, diners will be able to grab a spot at the bar or take a seat in the Prairie-style dining room to enjoy new American fare featuring produce from the garden right outside. Folks can visit for the full tasting menu or just pop in for a glass of wine from the 7,000-bottle cellar and a dessert to cap off the night.
Whatever diners order, the Robertsons promise the restaurant's cuisine and culture will reflect what they've learned throughout their distinguished careers. As Jessica put it, they aim "to cultivate a healthy, balanced, creative, educational and organized kitchen that makes our family — and Des Moines — proud."
It helps, of course, that the couple has so much experience cooking together professionally and personally. Whenever they work side by side, Ian said, "the whole meal always flows really nicely from start to finish."
Find recipes for the Robertson family's saffron pasta and cream puffs below.
Saffron Pasta
Yield: 12 servings
Ingredients
1 cup durum semolina flour
1 cup all-purpose flour
1/2 teaspoon, plus 1/2 cup salt
3 eggs
1 tablespoon olive oil
1 pinch saffron
1/2 teaspoon minced garlic
8 tablespoons butter
1 tablespoon truffle oil
1/2 cup (4 ounces) grated Parmesan cheese
Zest from half a lemon
Salt and black pepper to taste
Optional garnish: fresh basil, chives or dill
Directions
In a stand mixer fitted with the paddle attachment, add flour and 1/2 teaspoon salt. (Alternatively, use a large bowl and a sturdy spatula, then knead the dough by hand.)

In a medium bowl, add eggs, oil and saffron. Pour the egg mixture into the flour mixture, then mix until all of the dry ingredients are incorporated.

Allow the pasta dough to rest for 10 minutes, then switch to the dough hook attachment and mix for 10 minutes more.

Transfer the dough onto a clean surface dusted lightly with flour. Use a rolling pin to press the dough until it's 1/2-inch thick, in a rectangle about 12 inches long and 5 inches wide.

Add the pasta maker attachment to the stand mixer. Starting at level 0, roll the pasta through the attachment. Next move the thickness to level 1, roll the pasta through the attachment, adding flour if necessary. Continue this process to roll out to level 5.

Use a knife to cut the dough into 10-inch-long sheets. Lightly dust the sheets with flour, then roll each sheet lengthwise. Slice into 1/2-inch noodles.

In a large pot over medium-high heat, add 2 gallons of water and 1/2 cup salt.

Bring to a boil, then add noodles. Use a wooden spoon to mix gently so the pasta doesn't stick to the bottom.

Cook the pasta for 3 1/2 to 4 minutes.

While the pasta cooks, heat a large skillet over medium heat. Add 4 tablespoons of butter and the garlic. Cook, stirring frequently, for 3 to 4 minutes, or until the butter is foamy and the garlic is transparent.

Reserve 1 cup pasta cooking water, then drain the noodles.

Add pasta cooking water to the skillet with the garlic mixture. Bring the water to a boil, add the cooked pasta, then add 4 tablespoons of butter and the truffle oil. Cook until the liquid is slightly thickened and coats the pasta. Then stir in 1 ounce of Parmesan cheese. Season with salt and pepper.

Serve in bowls with additional Parmesan and fresh herbs.
Cream Puffs
Yield: 45 cream puffs
Ingredients
1/2 cup milk
1/2 cup water
1 stick (8 tablespoons) butter
1 cup all-purpose flour
1 tablespoon sugar
1 teaspoon salt
4 eggs
1/2 cup, plus 1 cup heavy whipping cream
1/2 cup powdered sugar
1 teaspoon pure vanilla extract
1/2 teaspoon salt
1 cup chocolate chips
Optional: powdered sugar for dusting
Directions
Preheat oven to 375 degrees.

In a medium saucepan over medium-high heat, add water, milk and butter.

Bring to a boil. Then add flour, sugar and salt. Mix quickly with a wooden spoon until a ball forms.

Transfer the dough to the bowl of a stand mixer fitted with the paddle attachment. (Alternatively, use a large bowl and a hand mixer.) Mix for 4 minutes to allow the dough to come closer to room temperature, then add eggs one at a time. Mix for 2 minutes more.

Line a sheet pan with parchment paper, then spoon 1-inch balls of dough 2 inches apart.

Bake for 25 minutes, or until dark golden brown.

Allow the cream puffs to cool while you make the cream and ganache.

In a stand mixer fitted with a whisk attachment (or a bowl and a hand mixer with a whisk attachment), add 1/2 cup heavy whipping cream, powdered sugar, vanilla and salt. Whip until stiff peaks form, or until the consistency of Cool Whip.

In a medium saucepan over medium-high heat, add 1 cup heavy whipping cream. Bring to a boil.

In a large heat-safe bowl, add the chocolate, then pour the hot cream on top. Allow this to sit for 1 minute, then whisk until smooth.

Cut the cream puffs in half horizontally. Fill the bottom half with chocolate ganache, spoon or pipe the whipped cream on top, and place the top half on the cream to assemble. Sprinkle powdered sugar on top if desired.