For a portable salad on a stick, find the recipe for panzanella skewers below.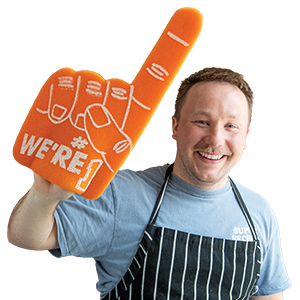 Writer: Hailey Allen
Photographer: Duane Tinkey
Chef and Food Stylist: Casey Halder
Forget "fall." Casey Halder marks "tailgating" as a literal season on his calendar. And why not? The swirl of team colors and the energy of stadium crowds signal autumn in Iowa as clearly as any changing leaves.
Through the sea of jerseys and the resounding chants, there's another unmistakable hallmark of the season: the food.
When Halder, a chef at Bubba and a freelance food stylist, thinks about tailgate food, two essentials come to mind: It should be easy to make ahead and portable. He crafted three upscale dishes that are as convenient as they are delicious for your next game day gathering. So, gear up (grab your apron) and get cooking.
---

Pull-Apart Barbecue Chicken Sliders
These melty, savory sliders are tiny but mighty. You can easily fit one or two on your tailgate plate, but they're so tasty you'll probably come back for three or four. Halder picked up a rotisserie chicken from Gateway Market to keep assembly quick and easy.
Serves 12 (two sliders apiece)
Prep: 20 minutes
Total: 40 minutes
Ingredients
1 rotisserie chicken, shredded (about 1 1/2 pounds of meat)
1 1/2 cup barbeque sauce
4 ounces low-moisture shredded mozzarella, divided in half
4 ounces smoked gouda, shredded and divided
4 Tbsp. unsalted butter, softened
5 cloves garlic, chopped
1 tsp. kosher salt
1/2 tsp. cracked black pepper
Parchment paper
1 24-count package of King's Hawaiian slider rolls, cut in half lengthwise
1/2 cup thinly sliced red onion
1/2 cup cilantro, roughly chopped
1 tsp. black sesame seeds
1 tsp. white sesame seeds
Instructions
1. Preheat the oven to 350 degrees. In a medium bowl, lightly toss to combine shredded chicken, 1 cup barbeque sauce, and 2 ounces of each cheese. Set aside.
2. Mix butter, garlic, salt and pepper in a small bowl and set aside.
3. On a parchment-lined baking sheet, place the bottom half of the sliders. Spread chicken mixture evenly over the bottom half. Sprinkle with remaining cheese, drizzle with remaining barbecue sauce, top with red onion and cilantro. (Pro tip: Halder suggests submerging the sliced onions in ice water for a few minutes beforehand to reduce their sharp bite.) Place the other slider half on top. Brush tops of buns with garlic butter mixture, and sprinkle with sesame seeds.
4. Place in the oven and bake for 12 to 15 minutes, or until the cheese has melted and the tops of the buns are golden brown. Remove from oven and allow to cool for 5 minutes. Garnish with additional cilantro, if desired. Serve warm.
---
Grilled Panzanella Skewers
If you've never figured out how to eat salad gracefully, you're not alone. Fortunately, the bite-sized chunks of this panzanella make it easy to hold and snack on during the game. Plus, as any fan of the State Fair can attest, food on a stick just tastes better. (Pictured above).
Serves 8 (two skewers each)
Prep: 20 minutes
Total: 45 minutes
Ingredients
1 eggplant
3 small green squash
2 small yellow squash
1 resealable gallon-size bag
1/2 bottle (about 6 ounces) Dog Patch
Apple Cider Vinaigrette Dressing
2 Tbsp. freshly squeezed lemon juice (from 1 lemon)
1 tsp. kosher salt
1/2 tsp. cracked black pepper
4 cloves garlic, chopped
1/2 loaf of rustic white bread (about 4 slices)
Olive oil, for grilling
4 Roma tomatoes, chunked
1 English cucumber, chunked
16 8-inch wooden skewers
Instructions
1. Preheat a charcoal or gas grill for direct cooking over medium-high heat. (Indoors, a large grill plate over a medium-high stovetop will work just as well.) Cut the stem and bottom ends off the eggplant and squash. Cut eggplant lengthwise into 3/4-inch planks and set aside. Cut squash lengthwise into 1/2-inch planks and set aside. In the resealable bag combine eggplant, squash, vinaigrette, lemon juice, salt, pepper and garlic. Seal and marinate for 20 minutes.
2. Brush both sides of bread slices with olive oil and place on grill. Cook for 4 minutes on each side or until grill marks have formed. Remove from heat, remove crusts, cut into bite-size cubes and set aside.
3. Remove vegetables from marinade and place on grill grate, reserve marinade and set aside. Cook for 4 minutes on each side or until vegetables easily release from grill. Remove vegetables from grill, cut into 1-inch pieces and set aside. In a medium bowl, toss to combine tomatoes, cucumbers and leftover marinade.
4. Make skewers beginning with bread cubes, alternating with vegetables, tomatoes and cucumbers in between, finishing with an additional bread cube. Repeat the process with remaining ingredients. Brush with marinade just before serving and garnish with additional black pepper.
---

Goat Cheese Bacon-Wrapped Dates with Hot Honey
This fancy finger food can be made entirely ahead or easily assembled on-site if you prep the dates at home. You can use any store-bought hot honey, but Halder suggests a simple homemade version if you want to customize the kick.
Serves 12 (two dates each)
Prep: 30 minutes
Total: 55 minutes
Ingredients
Dates
12 ounces bacon (about 12 to 14 slices)
4 ounces goat cheese
24 whole Medjool dates (two 8-ounce packages)
24 4-inch bamboo skewers
Parchment paper
2 Tbsp. fresh chopped parsley
Hot Honey
1/3 cup honey
2 tsp. crushed red pepper flakes
1 tsp. apple cider vinegar
1/2 tsp. paprika
Instructions
1. Preheat oven to 350 degrees. On a cutting board, cut bacon slices in half and set aside. Unwrap goat cheese and allow it to soften at room temperature. Carefully, using a sharp knife, cut dates in half lengthwise, three-quarters of the way through. Pull both ends of the date apart to open, remove the pit, and leave the date open. Repeat process with remaining dates.
2. Using a teaspoon, evenly fill each date with goat cheese, and carefully close both ends of the date around the cheese.
3. Place all bacon slices flat on work surface. Place the filled date at the bottom end of the bacon slice and begin to roll away from you. Once it's tightly wrapped, skewer the date and set aside. Repeat process with remaining ingredients.
4. On a parchment-lined baking sheet, arrange dates evenly apart. Place in the oven and bake 15-18 minutes or until bacon is crisp and cheese is slightly melted. Remove from oven and allow to cool for 5 minutes. Drizzle with hot honey and garnish with parsley.
For Hot Honey: Combine all ingredients in a small saucepan over medium-low heat. Using a rubber spatula, continuously stir until simmering or just until small bubbles begin to appear (about 3 to 4 minutes). Remove from heat immediately and transfer to a heat-safe container for later use.