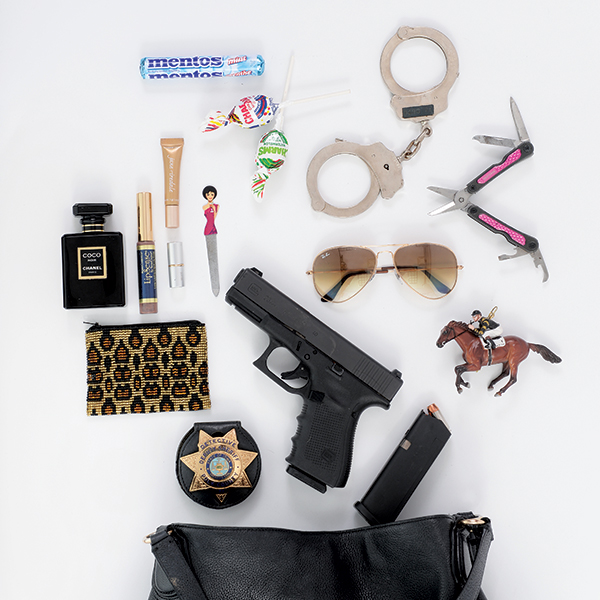 Robyn Bartholomew
Detective

A 25-year veteran of the Polk County Sheriff's Office, Detective Robyn Bartholomew, 47, wages a daily fight with crime and the burden of her large Coach purse, a gift from her mother. "I have been known to have shoes, underwear, full changes of clothes and pretty much anything else you can think of in my purse," she says, "including Ziggy, my Japanese chin dog." And when off duty, she still totes the tools of her trade, including a pistol, badge and handcuffs.
Sweet Addiction: I love candy! It's in my desk, my car, my purse—all kinds.
Off the Cuff: I try to carry cuffs whenever I carry my gun, which is almost always. If I'm prepared to point my gun at someone, I'd better be prepared to make an arrest.
Tool Time: This little multi-tool comes in so handy. I use it to take plates off the cars of people who really should not be driving.
Cover-Up: I'm a casual makeup lover, and makeup is a girl's best friend. I mostly buy budget-friendly products; however, once in a while I splurge on pricier stuff—like my Coco Chanel.
Flight Risk? I think aviator sunglasses are sexy, and this pair was a gift from a very special person.
Badge of Honor: The gold shield indicates that I'm a detective, the rank I reached seven years ago. Working as a detective offers a sense of belonging and family that you won't find in many other careers. And, as a detective I truly like the feeling that I've done something to make someone else's life just a little better.
Serious Business: My .40-caliber Glock handgun is issued by the department, and it's with me on- and off-duty. An off-duty gun is like a parachute: When you need it, you really, really need it. The extra magazine of ammunition is a "just-in-case" necessity.
Win, Place or Show: I carry my racehorse ornament because it makes me smile. It reminds me of my first racehorse, Friendly Glide, who won his first race.