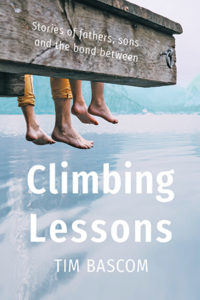 We've been fans of award-winning writer Tim Bascom ever since he published his memoirs chronicling his childhood years spent in Ethiopia as the son of missionaries ("Chameleon Days" in 2006 and "Running to the Fire" in 2015). Now Bascom, who previously taught at Drake University and is now chair of the English Department at Waldorf College, has a new book that was expected to be released in early April: "Climbing Lessons" (Light Messages Publishing) consists of 40 short, interlinked stories—based on his own experiences—that explore the bond between fathers and sons. "I am intrigued by what might be universal in the relationship between sons and fathers, and I am intrigued by what has to change," Bascom writes in the book's intro.
Bascom has a deft prose style that immediately draws you into these often-poignant tales, whether he's reflecting on his mixed reactions to Quick Piss, his teenage son's punk band, or describing the "embarrassment factor" he experienced with his father. ("Sometimes my father didn't seem to realize he was embarrassing me. Other times he seemed to know quite well, taking pleasure in the fact. Being embarrassed never killed anyone, he liked to say.")
Tim isn't the only writer in the family; his wife, Cathleen Bascom, also has just published a book, her first.
Cathleen served as dean of the Cathedral Church of St. Paul in Des Moines for seven years and last year was elected the first female bishop of the Episcopal Diocese of Kansas. Now she adds novelist to her accomplishments with the publication of "Of Green Stuff Woven" (Light Messages Publishing).
The novel is set in Des Moines at a historic Episcopal cathedral downtown (we think we know where the inspiration for that came from). A group of parishioners is restoring the tallgrass prairie on land connected to the cathedral, but when a developer approaches the dean about building a hotel on the land instead, she and the parishioners must choose between nature and the need for money.
Over the years, the nonprofit organization Above and Beyond Cancer, founded in 2011 by oncologist Richard L. Deming, M.D., medical director of Mercy Cancer Center, has sponsored adventures to such far-flung locales as Tibet, Peru and Nepal, where cancer survivors have experienced life-affirming transformations. "Above and Beyond Cancer," by Deming and Des Moines photographer Dylan
Huey, chronicles the physical, mental, emotional and spiritual journeys of cancer patients and survivors. Each of the chapters begins with insightful and inspiring comments by Deming, followed by first-person narratives and quotes from patients and survivors.
A collaborative project published by Drake Community Press, the fully illustrated book also features Huey's stunning photography, which captures the resilience, courage and hope recounted in the stories. The messages that emerge aren't just pertinent to those with cancer or their loved ones; they're universal. As Deming writes in the introduction: "This book will take you to every dimension of what it means to be human and what it means to live in a world both fraught with suffering and lit with joy. No cancer diagnosis required."
—Christine Riccelli