Writer: Lisa Rossi
When Geneviève Salamone was 10, she failed to practice the piano. 
So when she asked her mom for a violin instead, her mother said no. Salamone decided to make her own, an instrument out of a tissue box, toilet paper rolls, duct tape and rubber bands. Her mother saw the creation and acquiesced. 
Now, at 29, Salamone's talent that started with a craft project has taken her to the global stage. 
This past fall, Salamone, a West Des Moines violinist from the Huron-Wendat Nation—based in the reservation Wendake, which is just outside of Quebec City in Canada—performed at Paris Fashion Week. And she's already been invited back to this year's Fashion Week as well as to perform at the Cannes Film Festival. 
"It's exciting that she's bridged the gaps and gotten in the world of fashion—new native fashion," says Taos, New Mexico-based Osage artist and designer Dante Biss-Grayson, who has collaborated with Salamone on several projects, with more in the works. "I've termed it the 'Native avant-garde,' a collective of people pushing the envelope on creativity." 
This new era for Salamone marks a major milestone in a music career punctuated by overcoming internal struggles and turning them into ways she can advocate for the critical needs facing Indigenous communities. 
"Violin is what saved my life, honestly," she recently said over coffee at Horizon Line Coffee downtown. "That became my outlet. It became my way of channeling through issues and what I was experiencing growing up." 
Salamone, who grew up in Florida and Iowa with the majority of her family from the Wendake reservation in Canada (her family moved around a lot), says she was sexually abused before the age of 15. "I now use the voice I developed over the time of my healing to help others to be outspoken," she says. 
She met her husband, Marcus Walczyk, while she was here over a summer working with Des Moines Metro Opera. She moved to the area after graduating from McGill's Schulich School of Music in Montreal and has lived in West Des Moines for seven years. 
Salamone is known for her work performing across the United States and Canada as the One Woman Symphony, which refers to her work merging technology with the classical violin. She also performs with Dueling Fiddles, which consists of Salamone and local violinist Hanna Wolle. The two are both classically trained and play a variety of genres. In addition, Salmone has her own recording studio, called Wendat Records, and designs fashion for her own Indigenous apparel store, 4DirectionWear, which she sells through Etsy.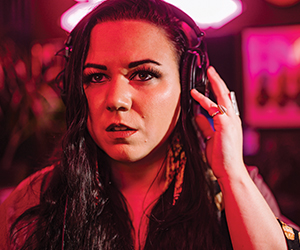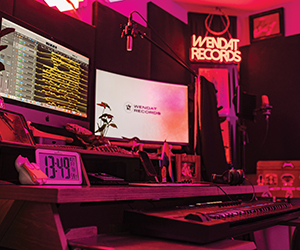 Salamone has a studio, Wendat Records, where she composes and records music. Last fall, she was hired as a composing assistant to Hollywood filmmaker Marcel Dios Herrera. Photographer: Justin Salem Meyer.
Music as a Platform
Salamone's Indigenous name is Umęndaterih, which in Wendat means "She Recognizes Her Voice." She uses music as a platform to raise awareness about a variety of issues facing Indigenous communities, including mental health, sexual violence and the Indian Residential Schools. Those were institutions in Canada and the United States that mainly from the late 1800s to the late 1970s forced children away from their families in order to assimilate them into the mainstream Western way of life, according to Partnership With Native Americans, a Native-led national nonprofit that provides services and programs focused on enabling self-sufficiency among tribal communities. 
Salamone also is outspoken about today's Missing and Murdered Indigenous Women (MMIW) movement, which refers to the high rates of murder, abduction and assault of Native women, according to the U.S. Department of the Interior Indian Affairs. In 2021, there were 5,203 missing Indigenous girls and women, according to the FBI's National Crime Information Center. What's more, the Centers for Disease Control reports that murder is the third leading cause of death among Indigenous women. Of the 6,300 missing persons in Iowa in 2021, 107 involved Native Americans, reports Investigate Midwest, an Illinois-based nonprofit news organization. State data is not broken down by gender. 
The Path to Paris 
It was Salamone's work with MMIW that eventually led her to Paris. 
In 2021-22, she collaborated with Biss-Grayson to create "The Unforgotten," a combination of his spoken word and her original music that culminated in a music video. The project was funded in part by a $5,000 Iowa Arts & Culture Resilience Grant. 
Biss-Grayson's poetry refers to "the missing women, the lost daughters." And the music video is packed with imagery designed to raise awareness for MMIW, down to the red handprint stamped over Salamone's mouth. The handprint represents the "unspoken voices who are no longer with us," she says. 
Biss-Grayson invited Salamone to perform "The Unforgotten" at the Empower Fashion Show in August 2022. The show was part of the Santa Fe Indian Market, the world's largest market of Native American art, according to Tourism Santa Fe. 
"As a result of this performance and working with these incredible artists, I was then invited to perform at Paris Fashion Week" Salamone says. The Canada-based nonprofit Indigenous Fashion Week, which features Native designers, models and musicians, invited her to attend and perform in Paris. 
While in Paris, Salamone performed an original piece called "Brave," written to draw attention to MMIW, on the runway. She also premiered a composition called "For Our Sisters," also the name of Indigenous Seattle-based designer Mary Kelsay's Meka collection, which is based on a painting that shares that name. 
"This entire collection of artworks titled 'For Our Sisters' is dedicated to the awareness for the Missing and Murdered Women, Girls and 2 Spirited Peoples," Salamone says. 2 Spirited Peoples is a term Indigenous people use "to describe individuals embodying both the male and female spirits," Salamone says. "These individuals are held [in high regard] within our societies as they offer the wisdom and point of view of both sexes." 
Three Iowa-based Indigenous businesswomen also went to Paris: Alicia Velasquez, an Iowa City designer, jeweler and owner of the House of DOTŁ'IZHI (Dot-Cluh-Gee) who is is a descendant of the Apache and Yaqui; Jenni Machir, a photographer, model and owner of the Farmhouse Studios in West Des Moines who is a descendant of Cherokee and Sioux; and Yvette Webster of the Winnebago tribe, who is a Farmhouse Studios photo assistant, florist and owner of the venue Baqara in Newton. 
Salamone poses in front of the Louvre Museum during 2022's Paris Fashion Week. "We really wanted to show fierce Indigenous representation in these symbolic places," she says. Photographer: Yvette Webster.
'A Life-Changing Experience'
Performing in Paris, Salamone had the opportunity to be "on the doorsteps of some of the original colonizers of the United States and her area of Quebec and the Wendat nation," says West Des Moines-based Sara Routh, from the Kickapoo nation, who has worked with Salamone in her Wendat Records recording studio and recently became her manager. "I believe she has a giant heart and a giant voice." 
On Salamone's Facebook page is a picture of her outside the Louvre Museum in Paris, standing atop a podium (pictured above). She is wearing a full-length red trench coat with traditional Osage designs by Biss-Grayson from Sky-Eagle Collection over a black dress by Meka. Her moccasins were made by Bastien Industries from her reservation Wendake. A 4-foot braid cascades down her shoulder, a hairpiece sponsored by Salon Spa W in Des Moines. 
"We really wanted to show fierce Indigenous representation in these symbolic places and we absolutely did that," Salamone says. "It was a life-changing experience as an artist." 
Her advocacy work also led to an invitation to perform "For Our Sisters" with Mary Kelsay in Anchorage, Alaska, in November as part of a conference with the Tribal Advisory Committee, which advises the Centers for Disease Control and Prevention and the Agency for Toxic Substances and Disease Registry on issues affecting Native American and Alaska Native communities. 
Salamone says her dream job is to write music for film, and this past October she took a big step toward that goal when she was hired as an assistant to compose Hollywood film and television music. She's composing in her West Des Moines studio but will fly back and forth to Los Angeles as needed. 
"Storytelling is an integral part of Indigenous heritage, and film music epitomizes this by telling the story through the music," she says. "I honor my ancestors each day by bringing these stories to life through the original melodies and harmonies of my compositions." 
Click here to see and hear "Brave," which Geneviève Salamone composed to draw attention to Missing and Murdered Indigenous Women. She performed the piece at last fall's Paris Fashion Week.