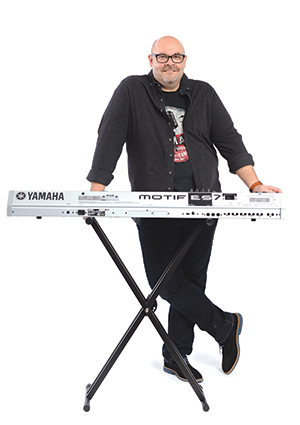 Andy TeBockhorst
Roving Piano Man
As a member of Iowa's Rock and Roll Hall of Fame—he is the longtime keyboardist with the popular Flying Marsupials and performs occasionally with two other 'supes as the trio Monkey Monkey Monkey—Andy TeBockhorst has hauled his gear to countless shows. By day, he's chief marketing officer for United Way of Central Iowa, where he also rocks. Here, he tells us about the essentials in his gig ba
Koozie: You just never know when you'll encounter a bottle or can that you want to keep cold and protected.
Order! Order! Order is maintained by our set lists (under the koozie), which tell us what songs we're playing and in what order. Three to four one-hour sets per show; each set has a little more energy than the one before.
Cable Vision: Cables, cords and connections go everywhere onstage. Guitarists can move around and risk tripping. Me? I stay behind my keyboard.
Out of the Mist: If we perform a second night in a row, I can get croaky. This Singer's spray really helps.
Not Blown Away: If we're playing outdoors, clips like this keep the set lists from blowing away.
Band o' Beads: We don't wear these, but each of us keeps one with us for luck. They were gifts from Dave Stalder, the Marsupials' band manager.
Pick, Pick, Pick: I keep a few guitar picks handy for the guys. It's always good to have backups close by.
It Goes to 11: This decibel meter helps us set just the right level of rowdiness.
Phone It In: I'm not really listening to the Cubs; headphones allow me to isolate some sounds when we're playing.
Oh, Shure: That's my Shure SM58 microphone that picks up all the sweet nuances of my voice, then makes me sound better than I am.
Shots Rang Out: The flask is an essential piece of band gear. We have had a shot of tequila before every show since 1991 (currently, Cuervo Gold).
Sharp Idea: We have to have a Sharpie on hand for all the autograph seekers … who might someday appear.