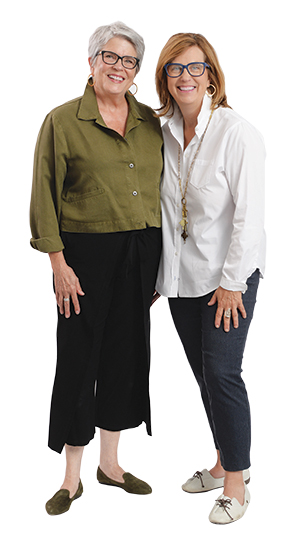 A nonprofit group fosters opportunity for female culinary professionals while also raising money to address local hunger.
Writer: Karla Walsh
Photographer: Duane Tinkey
Close your eyes and imagine a home cook. Who comes to mind? Maybe your grandma stirring pancake batter for breakfast? Or Rachael Ray whipping up one of her "30-Minute Meals?"
Now name the first person you think of at the mention of "chef," someone who rakes in Michelin stars and James Beard nods. Perhaps the French Laundry's Thomas Keller, Alinea's Grant Achatz or Le Bernardin's Eric Ripert?
Notice a trend? All women; all men. Plus, this past June, the World's 50 Best Restaurants list for 2018 was announced and just five of those restaurants are helmed by female chefs. In light of this, it seems prime time for Les Dames d'Escoffier (pronounced "ess-CAW-fee-yay") International (LDEI) to make a move globally—and locally.
LDEI's Greater Des Moines Chapter "is a group of women culinary professionals who network, celebrate and support each other and offer education and philanthropy related to food, beverage, and hospitality," explains Lisa Holderness Brown, LDEI communications chair and the owner of Ginger Jam Communications.
On Sept. 13, the local group will host its first official fundraiser: a screening of "The Starfish Throwers" at the Des Moines Social Club's Kum & Go Theater. Director Jesse Roesler will be on hand for a post-film Q&A. All proceeds will benefit the Food Bank of Iowa and Eat Greater Des Moines, two nonprofits that work to increase accessibility to nutritious—and sufficient—food for Iowans.
"The movie tells the stories of three individuals who saw the problem of hunger in their communities and what they did to help solve the problem," says Sue Hoss, LDEI philanthropy co-chair and the owner of the recipe development and food content creation company Main Dish Media. "In each case, their passion to help others in need created a movement within their communities and is making a real difference." 
Founded in 2016 by 24 female food professionals from the metro area, the Des Moines chapter participates in bi-monthly calls with the other 36 chapters to share ideas. "Iowa has some amazing women that are leaders in the food field—both in the kitchen and beyond," says Jill Means, past president of the local LDEI chapter and co-author of the cookbook "Two Chicks from the Sticks."
With a focus on educational opportunities (such as food styling demos and field trips to Maytag Dairy Farms) and charitable events, LDEI aims to "mentor [and] foster growth, trust and friendship. Serving as support systems for each other means so much," says Teresa Adams-Tomka, LDEI president and the owner of Kitchen Collage in the East Village.
The group also includes farmers, philanthropists and business owners. Seventy-three percent of LDEI members own their own businesses. "In Iowa, many innovators, advocates and leaders in feeding the hungry, and those organizing for sustainable healthy food systems, are women," says Joyce Lock, LDEI membership committee co-chair and president of the culinary consulting company Stir, LLC. "Plus, women in Iowa own nearly half of all the state's farmland."
In the future, LDEI aims to expand its reach to include more young women. "We want to support each other, sharing laughs and creating memories along the way, but we also want to mentor the next generation of females who want a successful culinary career," Holderness Brown says.