Writer: Karla Walsh
Photographer: Duane Tinkey
Now more of a compliment than a criticism, the hashtag #LiftLikeaGirl has been making waves on social media—and inspiring a new generation of buff females along the way. While only 3 percent of women hit the recommended quota of strength training—20-plus minutes more than two days a week, challenging all muscle groups along the way, according to the Centers for Disease Control—more ladies than ever feel welcome in the weight room.
As body norms have changed, so have fitness trends. Just think: 
18th century Body norm: corseted cores.
Fitness trend: How can you breathe, let alone break a sweat?
1920s Body norm: straight and narrow flapper chic.
Fitness trend: Dance. It. Out.
1950s Body norm: Marilyn Monroe-style voluptuous.
Fitness trend: Simple calisthenics are the name of the game.
1960s Body norm: Twiggy-thin.
Fitness trend: Less eating, less energy.
1990s Body norm: model-like waif is the way.
Fitness trend: Count all the calories—and burn even more—via step class, aerobics and cardio VHS tapes.
2000s Body norm: Kardashian curves.
Fitness trend: Interval train like a celeb, with a heavy focus on bum-boosters.
2010s Body norm: buff bods.
Fitness trend: Boot camp, kickboxing and basically anything that makes you feel like a badass.
As you can see by all the fit females streaming into boxing and karate classes, being in shape in 2018 isn't just about pounding out miles on the treadmill or doing the grapevine in aerobics class. Here three local women let us in on how they discovered the most tenacious version of themselves, both physically and mentally, by way of barbells and boxing. 
---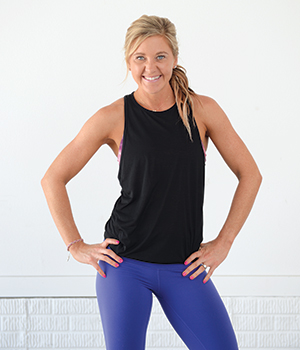 Saved by the (Bar)bell
Heather Osby, 34, Urbandale
In 2006, just six months before our wedding, my fiance Josh died in a plane crash along with his colleagues at Two Rivers Marketing. I was 23. One of the many lessons his death taught me was mortality is so real. I became intensely aware of how fragile our lives are. Josh's death was devastating, but the loss actually made me really love my life. I am lucky to be walking on this earth, and I want to be able to truly live while I'm here. I need to be strong to do that, so I began making my well-being a priority.
Since then, I met Tyler, who is now my husband. Our home is hopping with two amazing girls, Piper (4) and Lucy (2), plus two dogs. They are all priorities in my life, as is my health. For me, wellness is about so much more than how my body looks. Wellness is about being physically active, nourishing my body with mostly good food—and sometimes pizza because that is what the body wants, too. It's also about caring for my soul, sharing my emotions, getting sleep and being an example to other women. This inside-out strategy is way more important than getting ready for swimsuit season. My body is the vessel that allows me to do the things I want to do while I'm alive. I have so much more to do, so I better take care of the one that I have!
I'm a postpartum fitness and nutrition coach and trainer. In between my career and my family, I try to make it to three CrossFit classes a week, lift with my own strength coach once a week, plus sneak in the occasional garage workout. We might also go for a family walk or two. With my schedule, the only thing I can count on is life being pretty chaotic. I like having a plan, but I also have to roll with it—because #momlife—so this is all subject to change.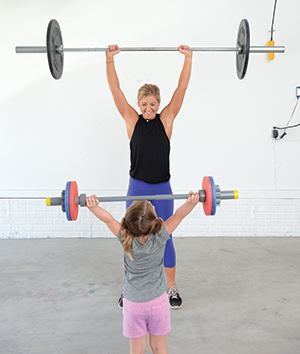 I used to follow a strict eating plan and found that "good" and "bad" foods made me focus far too much on the numbers rather than on flavors, enjoyment or how it made me feel. Eating off plan would generally leave me with a lot of guilt and shame, so I had to form my own way. Now I eat pizza every single week and I have a small treat, like a couple of all-natural peanut butter cups, almost every day. Why? Because I am alive and that's worth celebrating. 
Being strong means being able to carry all my groceries in at one time, to lift heavy 5-gallon glass jugs of water off the floor, to carry both of my girls kicking and screaming through the grocery store … and not be out of breath all the while. Now I'm strong and I'm capable of doing all the things I want to do. It's not a contest about being able to lift more than anyone else; it's the clarity to look at everything from a workout to a tough life situation and think, "Yeah, I got that." Physical strength has given me confidence in other realms, and I feel ready to overcome any obstacle.
You don't have to eat perfectly or exercise 60 minutes every day. I don't! Just keep showing up and doing the best you can despite your crazy-busy life. A bad day, bad week or even a bad season of eating or not working out doesn't mean you fail. It means you're human. Try again tomorrow. Because we're all so blessed to have a tomorrow.
Heather's Food Diary
Breakfast: Plain Greek yogurt, sweetened to taste; two eggs scrambled with spinach, peppers and cheese; coffee.
Lunch: Natural sliced turkey, spinach, cheese and hummus on a thin whole-wheat sandwich bun.
Snack: An apple with a spoonful of almond butter.
Dinner: Homemade turkey burger (no bun) with a leafy green salad; berries.
Dessert: One or two all-natural peanut butter cups or a small cookie.
Heather's Go-To Workout
1. Barbell back squat: 5 sets of 8 reps. 
2. Dumbbell Romanian dead lift: 4 sets of 15 reps.
3. Alternating forward lunges: 4 sets of 15 reps.
4a. Glute bridges with resistance band loop just above knees: 5 sets of 30 seconds.*
4b. Standing side shuffles with resistance band loop just above knees: 5 sets of 30 seconds.
*Alternate between 4a and 4b with no rest between to finish with 5 straight minutes.
---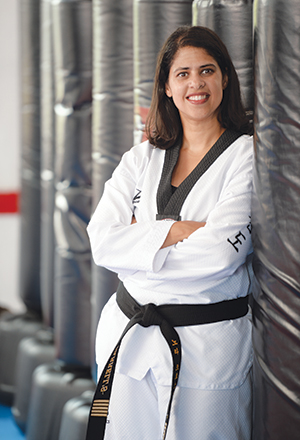 Fitness Through Focus
Nora Crosthwaite, 40, Waukee
Fitness was a foe when I was young and the chunky kid. You know, the one who was always last to be picked for a team or finish the mile. Desperate to move up the ranks and feel more confident, I joined my sibling for taekwondo classes when I was 15. I've not looked back at the starting line since. In fact, I recently passed my test for a fifth-degree black belt. The hobby-now-habit has taught me to focus on what matters rather than the internal and external "noise."
I've taken hiatuses as life got in the way—college graduation, my first job as a Realtor, getting married to Paul, giving birth to my daughter, Layla, 10 years ago—but I always boomerang back to it. Taekwondo played such a massive role in helping me define and discover the true "me" that I feel driven to share that with others. Layla asked to join me at Farrell's and just achieved her black belt! I know how mean kids can be. I hope our mother/daughter training sets Layla up to be able to master all the resiliency skills that taekwondo trains: courtesy, integrity, perseverance, self-control and indomitable spirit. If she gains those five qualities, she'll be set for life inside and outside of the 'dojang' (Korean for training place).
I take three or four 45-minute martial arts classes at Farrell's on a typical week, and I also instruct one or two classes per week, sometimes including other mother/daughter duos. When I'm training for a big martial arts event, like the USA Taekwondo National Forms Competition I hope to qualify for next year, I tack on an extra two or three classes a week. I may throw in a few sets of push-ups and sit-ups at home, too. When my husband senses I'm stressed, he takes "Layla duty" so I can punch and kick out my worries on the bags and boards.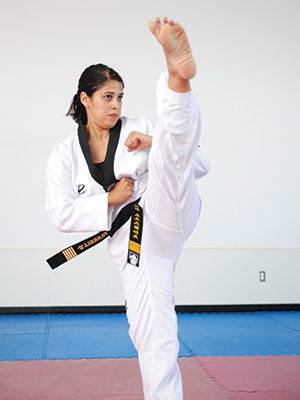 With my unpredictable schedule as a Realtor, I often find myself refueling in the car during the day. (Sandwich artists are among my BFFs!) Come dinner, I have a pact with Paul and Layla that we'll cook at home together at least three times a week.
I love the technicality of taekwondo—how a tiny tweak in something as small as foot position can make a huge difference in technique and power. It's a fascinating correlation to how a small change in the way you view your body can make all the difference in the way other people treat you and relate to you at school and in the workplace. I didn't make Layla join me for classes, although I sure was happy when she asked, as I know martial arts aren't for everyone. Fitness can be. My best advice for others? Find something you love. Find a tribe you love. Find a finish line you want to cross—and keep going until you get there.
Nora's Food Diary
Breakfast: Protein shake with almond milk; coffee with milk.
Lunch: A Subway or Jimmy John's sandwich.
Snack: A piece of fruit, string cheese or small bag of baked chips.
Dinner: Grilled chicken with whole-wheat pasta and green beans.
Dessert: Pudding cup.
Nora's Go-To Workout
45-minute taekwondo class, including: 
Forms, defined patterns of defense and action motions.
Self-defense techniques.
Marching techniques, performing hand and foot techniques while moving across the room.
Paddle and bag-kicking drills.
Footwork drills.
Sparring.
Board-breaking.
---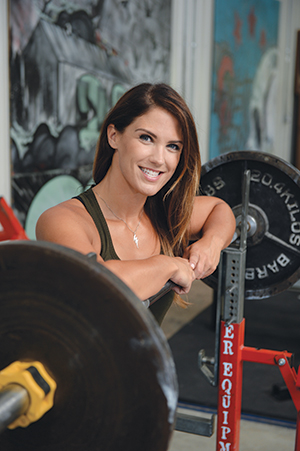 Stronger Together
Annie Brees, 35, West Des Moines
The weight room is like my church. It's a place to connect with myself and my body and develop relationships with others in the community. This spring, the impact of that community became evident as we joined forces at the first Women's Barbell Classic to raise money for a female lifter who was injured in a motorcycle accident. It was like passing around the donation basket! One hundred women signed up for the bench press and dead lift meet. We raised nearly $10,000 and hope to make it an annual event.
True, fitness is my job: I'm a certified personal trainer, kettlebell instructor and co-founder of the online community Balance 365. I haven't always found it easy, though. I grew up thinking I hated cardio; I thought cardio meant running, and I loathe running. Now I know there are a lot of ways to get similar results without a treadmill. In the past few years, I've discovered a passion for kettlebells and rowing. 
I often tell my clients to ask themselves this question: "If I knew exercise wouldn't change my body, how would I choose to move?" In any aspect of life, it's naturally easier to stick to activities you enjoy. Why force yourself to do exercises you hate? You'll want to quit! I get it. I've been there myself many times. Rather than diving into the deep end, add up several small changes to get things started. If you can't do five workouts a week, what can you do? Two? Start there. Sure, it might take a little longer to reach your goals, but when it comes to exercise, something is almost always better than nothing.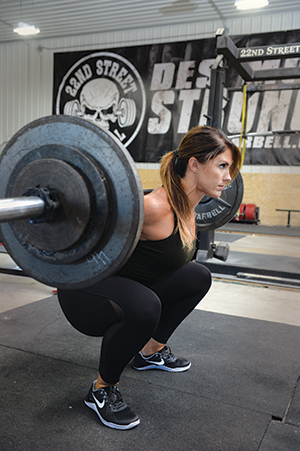 Personally, sticking to an exercise routine—even when my hands are full with to-dos alongside my husband, John, [and children] Sloane (9), Adler (6) and Blaire (2)—often boils down to two things: 1. What does my body need right now? and 2. What do I have time to do? My days are full, but I know they flow better when I've moved my body, whether that's with a short walk or a full sweat session. 
I aim to attend CrossFit three or four times a week, and usually add one additional day of strength training at 22nd Street Barbell. I enjoy moving my body most days—not because I have to, but because I've discovered activities I genuinely enjoy. Days off often still include slow walks or backyard body weight workouts in the sunshine.
When It comes to food, I've tried all the plans. I'm happy to say that after years of practice, I've gotten pretty good at listening to my body. I eat when I'm hungry and stop when I'm full. As a general rule, I focus on getting plenty of protein and veggies. I also enjoy pizza, brownies and wine. No food is off-limits. If the trade-off is a few pounds for food I love, I'll happily make that exchange.
Strength is a physical attribute. It's also a state of mind. Being strong isn't only about feeling tough and invincible. It's about being strong enough to show vulnerability, weaknesses and imperfections. To be human. If you feel you're strong, psychologically and physically, you are strong. What a blessing.
Annie's Food Diary
Breakfast: A whole-wheat waffle; coffee.
Snack: Protein shake.
Lunch: "Power bowl" with chicken, seasonal vegetables and potatoes, dressed with vinaigrette.
Afternoon pick-me-up: Coffee.
Dinner: Ground turkey with roasted Brussels sprouts.
Dessert: Brownie, glass of wine.
Annie's Go-To Workout
1. Barbell squat:
5 sets of 5 reps.  
2a. Dumbbell Romanian
dead lifts:
3 sets of 12 reps.*
2b. Walking lunges:
3 sets of 12 reps per leg.
2c. Bent-over rows:
3 sets of 12 reps.
3. As many rounds as possible in 15 minutes of: 
10 push-ups.
10 right-arm kettlebell swings.
10 left-arm kettlebell swings.
One-minute row. 
*Alternate between 2a, 2b and 2c, doing one set of each exercise for three rounds.