Above: Jaiden Martel, the niece of break dance instructor Anthony San, demonstrates her youthful agility in a hallway of the Des Moines Social Club.
Photographer: Dylan Huey
Writer: Barbara Dietrich Boose
Sure, dancers are light on their feet. But a troupe from Harding Middle School also dances on their hands, their backs … even their heads.
Break dancing is nothing new, of course, but on this spring day in 2016, the kids are wowing the crowd, taking solo turns like jazz musicians as their peers clap and shout encouragement. One does backflips, another freezes in a contorted, gravity-defiant pose before springing to his feet. For four minutes of energetic talent, they own this room.
Just another day in May for some high-energy kids … except the guy leading the clapping and urging them on, Anthony San, is their inspiring teacher and coach. And this is the East Room of the White House. And there in front of them, smiling and grooving in the audience, is Michelle Obama.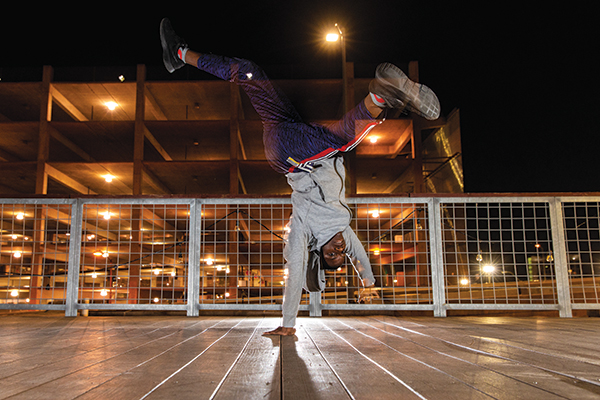 Aime Mukiza's body whirls around a hand that is the sole source of support during a rapid series of moves.
Academic Roots
Just a year earlier, Nicolas To was a Harding sixth-grader when a friend encouraged him to join an after-school break dancing club. Although he'd been practicing the athletic style of street dance in a friend's basement, he knew other students in the club were "pretty advanced."
"I was just beginning, so at first I was a little shy," he says, "but it gave me motivation."
A year later, in spring 2016, To and six other members of the Harding Breakerz were at the White House, performing steps, flares, flips and other moves they had practiced so carefully.
To, now a sophomore at North High School, has started a break dancing club there called the Ice Breakerz. A big inspiration behind these events, he says, is San, a 28-year-old Des Moines native who teaches break dancing at Harding, Oak Park Elementary School, the Des Moines Social Club and BU Dance Company in Urbandale.
"He's very committed to making our scene as big as possible," To says. "Being a good coach and teacher is what he really wants."
The son of Cambodian immigrants who fled the brutal Khmer Rouge regime in the late 1970s, San—known in local break dancing circles as A-San—leads performances at local events such as the 80/35 music festival, Harding Park Block Party and CelebrAsian, in addition to his teaching.
Lighted cuffs on his wrists and ankles trace the movements of dance instructor Anthony San, "A-San" to his students and fans.
'Unleashes Creativity'
In these high-energy performances, the Harding Breakerz form a semicircle as members take turns in the center, one to four at a time, while the others soul-clap and cheer them on. They begin by toprocking, or dancing upright, then drop to the floor where the action is near-constant, punctuated by "freezes," when members briefly pause in twisted and balance-intensive positions on their palms, shoulders, even on their heads.
When he isn't doing moves himself, San works his arms up and down to fire up the crowd. His overall mission is to use this form of artistic performance to give kids an outlet to persevere, express themselves and succeed.
"Sometimes at school, they struggle and give up," San says. "I want them to see that if they can work hard and succeed in their break dancing, they can apply that focus to work on their education. It gives them confidence and unleashes their creativity."
That can boost students' academic success. The Harding Breakerz are part of the Turnaround Arts program, a federal effort supporting the use of arts education to improve some of the nation's lowest-performing schools.
Founded in 2011 and now part of the John F. Kennedy Center for the Performing Arts, the program currently works in 84 schools in 17 states and the District of Columbia, including six north-side Des Moines elementary and middle schools.
A three-year evaluation of Turnaround Schools released in 2015 found those schools significantly improved in academic achievement, reduced disciplinary referrals and increased attendance, among other findings. Participating Des Moines schools cut out-of-school suspensions by 57.1 percent and disciplinary referrals by 35.1 percent between 2011 and 2014.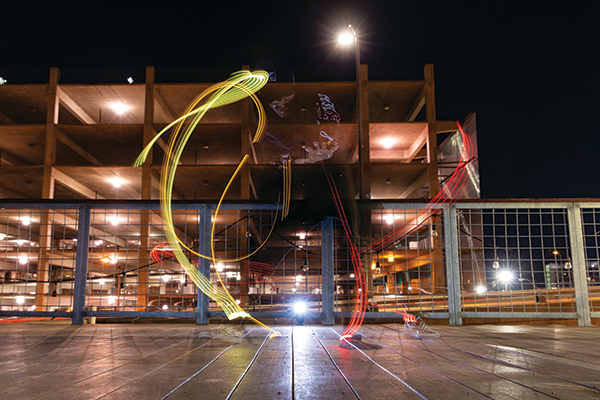 Gnique Davis "paints" the air above the Des Moines Social Club roof with streaks of light, captured with a long photo exposure.
"There's proof that when kids feel confidence and have something each day they can be successful in, that increases their confidence in all they do," says Cassie Kendzora, Harding's arts integration coach who brought San on as an instructor in 2015 for the after-school break dancing club. In her role, she supports opportunities for students to express themselves through art, works with teachers to incorporate the arts in their courses, and connects the school to local artists. 'An Innate Gift' Kendzora credits San in large part for the success of the Harding Breakerz, which has grown from about 10 students in his first year at the school to more than 40 now—and, yes, they include girls. "Anthony has an innate gift of being able to meet kids at their level," she says. "As a mentor, friend, coach, leader and role model, he really brings out the best in the students."
That "best" came alive during the Breakerz' 2016 White House performance. It began with two members lip-synching those famous lines from "Field of Dreams": "Hey, is this heaven?" "No, it's Iowa." They followed that with toprocking, steps and power moves like windmills—in which breakers rotate almost top-like around their upper bodies, with legs and feet spinning blade-like in the air—and flares—where they alternate balancing on their straight arms while swinging their legs in circles underneath, pommel-horse-style. At one point, San hopped vertically on the top of his head. Later, he and To briefly brought their hands together to form a closed heart, which they pushed forward toward Obama; To then performed a "suicide," in which he did one flip and then another, landing on his back.
"That got her attention," To says.
Years earlier, San had attracted the attention of Des Moines high school teachers Emily Lange and Kristopher Rollins, founders of Movement 515, an urban arts community where students and mentors come together to create spoken-word poetry and graffiti art.
They invited him to lead a break dancing performance at one of Movement 515's events at Harding Middle School. "They kept telling me I need to be teaching and getting paid for it. A couple years later, I finally accepted a break dancing instructor position at the Des Moines Social Club," San says. "They continued to reach out, asking me if I needed help with anything. I wanted to put in just as much energy as they did working with youth."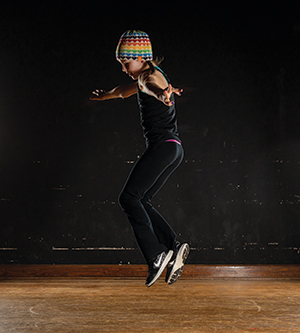 Ava Hansen is a study in mid-air concentration, dancing above the floor as she rehearses a routine.
Positive Impact
San and the Breakerz also have received the support of Aaron Sarmiento and Maria Mendoza, the husband-and-wife founders and owners of Made4Mankind, a Valley Junction clothing line with a self-described "mission to promote positivity in the community, encourage diversity and support self-expression." Lovers of urban culture—fashion, break dancing, graffiti—who want to counter its negative perceptions, they sponsor San as an artist with clothing and support.
"We support A-San because he does so much for the kids. That's important, because they're going to be president one day," Mendoza says. "Education and knowledge are two things no one can ever take away from you, and he gives them the self-esteem to follow their dreams."
"We love going to A-San's events and seeing these kids' confidence," Sarmiento adds. "They're giving their best, showing what they've got and cheering for each other. They're very positive events, and they touch my heart."
San wants to do that for everyone in Central Iowa and beyond. Break dancing became popular among youths in the South Bronx, New York City, in the 1970s—"I remind the middle-schoolers that this was started by kids like you," San says—and it has since hit mainstream. In October, it made its debut as an official sport of the Youth Olympic Games in Buenos Aires. Charles "Lil Buck" Riley, a street-dance artist who worked with the Harding Breakerz during their 2016 White House trip, has performed on stages worldwide, including his 2011 interpretive performance of "The Dying Swan" with famed cellist Yo-Yo Ma and a 2015 Rag & Bone ad with classical dance artist Mikhail Baryshnikov. In other words, break dancing is breaking borders and exciting broader audiences as well as San's students.
"I'm trying to let Des Moines know about these kids. It's amazing to watch their talent and growth," San says. "They've found something they're passionate about. They practice their moves over and over and then build on their success. They bring so much energy and enthusiasm to my life. I can't wait for what this year will bring, and I hope one day they can travel the world."